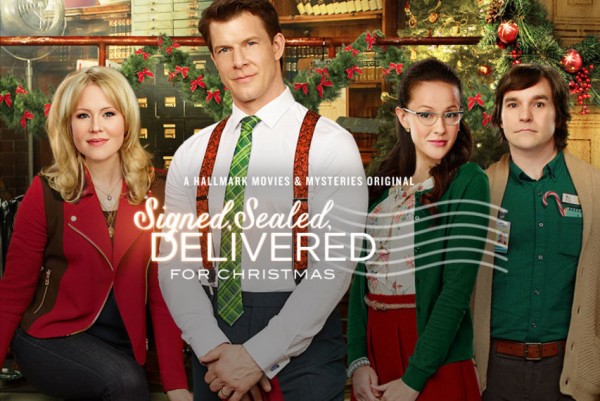 (Photo via Hallmark Movies and Mysteries)
This year, I was very behind on my regular TV watching, leaving my DVR bursting at the seams. But yesterday, I finally saw the film "Signed, Sealed, Delivered for Christmas," which originally aired on Hallmark Movies and Mysteries (as opposed to the regular Hallmark Channel). The story followed the Postables – the characters who work in the Post Office's Dead Letter Office who we got to know on the regular series "Signed, Sealed, Delivered" earlier this year – as they try to find a little girl who wrote a letter to God. (I covered the show here and here.)
As a fan of Christmas movies, this one qualified as the best I've seen in quite a while because it managed to be both entertaining and substantive. It wasn't just about romance and mystical-but-nondescript Christmas magic. Instead, it overtly addressed God's grace and love and the gift of His Son. Creator and executive producer Martha Williamson wrote the script and did a masterful job of exploring the challenges of believing in a loving God in a world that's often full of hurt. And while the film does produce happy endings, they're not the simplistic kind because they acknowledge that sometimes we need to shift our perceptions about what happiness and answered prayers look like.
Unfortunately the film doesn't seem to be repeating anymore as of this date, but it can be bought or rented on Vudu at the following link.
Here's a description of the film from its website:
With a duty to deliver every last letter before Christmas, the beloved quartet of post office detectives—Oliver (Eric Mabius), Shane (Kristin Booth), Rita (Crystal Lowe) and Norman (Geoff Gustafson)—are working around the clock to redirect Santa's mail just as Oliver runs into his former Sunday school teacher (Marion Ross). When they receive an emotional last-minute plea not meant for Saint Nick, but instead written to God, they must delay their own travel plans to make sure one little girl doesn't lose her Christmas joy—something Oliver and Shane are also struggling to find as they each face painful holiday memories. With a little guidance from a mysterious post office volunteer, Jordan (Rob Estes), the Postables are more surprised than anyone to discover they've been a part of more than one miracle on this Christmas Eve.