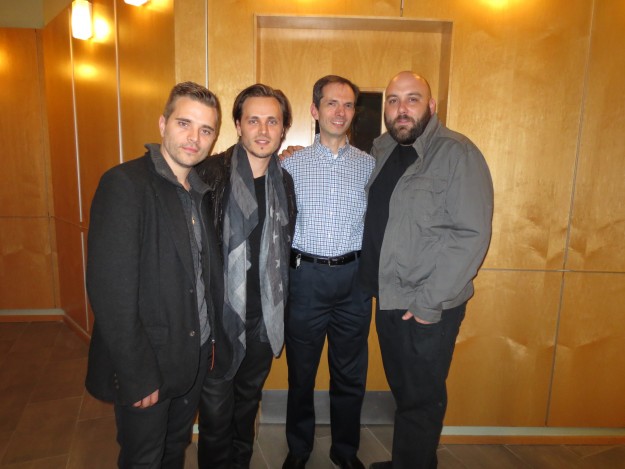 When I interviewed Jonathan Jackson, Richard Lee Jackson, and Daniel Sweatt of Enation a few weeks ago about their album "Radio Cinematic" (photo above), I also referenced the fact that Jonathan performs the classic song "Christmas (Baby Please Come Home)" on the new Christmas album from the cast of "Nashville."
While we were on the topic of Christmas, I was curious how the guys manage to balance the sacred and the secular sides of the holiday for themselves and their wives and kids. For time purposes, I couldn't include their answers in our regular interview, so I added it to the end of my Christmas-themed Michael W. Smith show.
Here's a transcript of what Jonathan, Richard, and Daniel had to say – along with the full podcast:
TR: Since I mentioned Christmas – you enjoy the secular side of the holiday, but I know faith is also important to you guys, so you want to focus on the sacred too. How do you stay in that for yourself and your kids?
Jonathan Jackson: That's a great question. It's something my wife and I have talked about a lot over the years because it always seems like Christmas gets busier and busier and more frantic and more frantic. But it's a time when you feel like things should slow down. I know for me over the last few years by becoming an Orthodox Christian, I've entered into the liturgical life of the church, so that's been really helpful. Having the 40 day fast before Christmas, it kind of focuses your mind on what's going on. I found that 40 day period before Christmas is very enriching because you're constantly in this place of being reminded of what's coming: that we're here to celebrate the birth of Christ. So that's been really helpful.
Richard Lee Jackson: I think it's a matter of the heart – of making sure that myself, my wife, and my kids understand what Christmas is really about: the genuine miracle and wonder of Christ. So we try and do things that are centered in that, whether it's church-related or – when we lived in Oregon, we would go to this place called The Grotto where they have the Nativity set up, choirs there. Last year I got to make a trip to Israel with some of my family, and that obviously centered me in the time of year and [my] faith. So it's a beautiful time of reflection and, for me, it's a matter of the heart.
Daniel Sweatt: I think life is pretty hectic so we try to set aside extra time, kind of on a daily basis as soon as it gets close to Christmas, just to be together with the family, talking with the girls about what Christmas means, and reminding the kids and ourselves and focusing on the true meaning of it. It's not easy to do sometimes. As Jonathan was saying, as the years go by, it gets busier and busier. So making the effort to focus and have that time is very centering in the season.