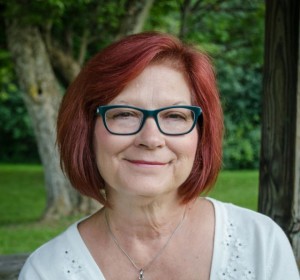 The poinsettia and note on her front porch were the beginning of a Christmas mystery that Joanne Huist Smith wouldn't solve for years to come. They were also the catalyst for the healing process that she and her three kids needed during the most devastating time in their lives.
Christmas brings with it the expectation to be happy and joyful, but in 1999 Joanne was anything but. Her husband Rick had died a few months earlier after putting off surgery on a leaky heart valve. He delayed it because he wanted to be home recovering when his kids – 10-year-old Megan, 12-year-old Nick, and 17-year-old Ben – were home for Christmas vacation. Unfortunately, he didn't make it that long, throwing his family into a tailspin.
During an interview on "Christopher Closeup" about her book "The 13th Gift: A True Story of a Christmas Miracle," Joanne recalled, "I was in a very dark place. I was angry with my husband, I was angry with God, I was angry with my children. I just wanted to skip Christmas. I wanted nothing to do with it."
Responses to grief can be radically different from person to person, so Joanne's kids' attitudes toward Christmas ran the gamut. She said, "Megan was our glue. She held us together. She never gave up on Christmas. As a matter of fact, I think she desperately needed it. She needed things to be normal – or to find a new normal…She's still, in my mind, one of the hearts of the family…Nicholas was really struggling. In the book I talk about him having nightmares about the night his dad died and reliving that over and over again. It's hard to think about Christmas when you're going through something like that, especially at the age of 12. And Ben was a lot more like me. He was very angry. But even through his anger, he saw the need to give a boost to his brother and sister and make sure they got Christmas."
Joanne had grown up Catholic and gone to Mass six days a week as a child. As she got older, though, she "typically turned to God in times of trouble. When we first learned Rick was going to have surgery, I didn't realize how serious it was. But I turned to God then and I prayed. I think that most times in my life, God answered in a positive way. But this time I felt let down. It took me a long time to realize that Rick's death was a lesson I needed to learn in my life – and I believe God is the one who taught it to me."
That road to healing began the morning of December 13 as Joanne rushed out of her Bellbrook, Ohio house to warm up her car because the kids had missed the school bus and she needed to drop them off. She nearly knocked over the poinsettia sitting in front of the door. Attached was a note that read, "On the first day of Christmas your true friends give to you one Poinsettia for all of you."
Joanne told me, "When I saw that flower on my front porch, my first instinct was to take it and throw it as far as I could. But Megan was there with me and she would have nothing of it. She forced me into rescuing that flower. I knew it was going to be trouble. I knew it would just keep her asking about putting up the tree and buying presents. She just had Christmas in her heart and I think that she felt that she could give it to us if she just was persistent enough. I think it really helped."
At first, Joanne, who was working as a reporter for the Dayton Daily News at the time, thought the flower might have been left by a co-worker, a relative, or a member of the community. She wasn't happy about it, but figured it was a one-time act of kindness that made somebody else feel good. But then a new gift started arriving every day, making Joanne feel "bamboozled by unwanted acts of kindness" (as she writes in the book).
"But with each gift," Joanne said, "my attitude slowly began to change, going from anger to 'who's doing this' to 'thank goodness they're doing it for us.' The people who left those gifts knew a lot about grief and they knew that one gift wouldn't be enough. And they were right."
It seemed that none of the people Joanne suspected of leaving the gifts were behind the daily deliveries. Initially, the Smith's tried to find out who was doing it, but these anonymous gift givers were simply too clever to be caught. And even though the items they left were simple things like red bows and wrapping paper, the gifts exerted a profound influence over the Smith family.
Joanne said, "Trying to figure out who had left [them] for us, who cared enough to come day after day after day, that got us sitting down at the dinner table and the breakfast table talking about it – and that was something we had not done for a while. Rick was the person who brought us all together. I was the one who cooked the meals and helped with the homework. He was the core, and without him the conversation had stopped. These gifts gave us reason to come together and talk again."
The Smith's found a renewed sense of life, love, and purpose that Christmas, prompting them to move forward with the determination to do for others what was done for them. But the mystery of the gift givers remained a mystery until Joanne investigated the matter in 2013. While I can't give away the ending of the book, I will say that the motivation behind their actions made an already-moving story even more powerful.
Joanne is now on better terms with God than she was in 1999. She also keeps a gratitude journal, which she never did before her experience with the 13 gifts. "I always take the time now to be thankful for all the blessings I have in my life. Number one on my list are my three kids, my grandkids. I feel like I'm a very lucky woman."
Her experiences have also qualified her to give some advice to others who are enduring grief during the Christmas season: "I think the best thing you can do when approaching the holidays when you're feeling so low is to reach out and help somebody else. I really believe that no matter your situation, there are others who need help more. Find them, help them. Don't sit at home and be unhappy. Get out in the world. Go to the library and read to a child. Volunteer at a school. Get involved with people and it will make all the difference."
And for those who know someone who is grieving the loss of a loved one, Joanne offers this observation: "I think so many people when they know a friend who has lost someone, they'll come to the funeral. And the days before the funeral, everyone is around. Everyone is offering to help and asking what you need. But in the months that follow, you kind of become a disease. People don't know what to say to you, they're afraid of offending you. And if they're having a great time, seeing you might bring them down so they avoid you. Don't do that. Stay in contact, put it on your calendar to give friends who've lost family a call. Contact them on Facebook. If you're so inclined, become a gift giver. That 12 days of healing goes a long, long way. Just reach out."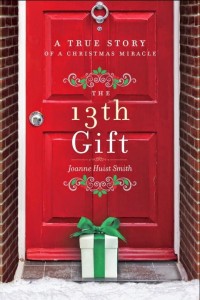 Ultimately, Joanne wants readers to finish "The 13th Gift" with the following thought: "I would hope that more people will help me to pay it forward this holiday season and all year, to start a movement where we all become gift givers in our own special way: smiling at strangers, giving a gift to someone you don't like, visit a family like ours who's suffered a lot. I guarantee that the reward for your actions and the good feeling you get in return will far outweigh your effort. That's my Christmas wish."
(To listen to my full interview with Joanne Huist Smith, click on the podcast link:)