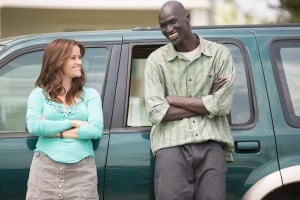 UPDATE: Congratulations to our winners Doug H. and Nancy! The contest is now closed.
—————————————————————————————————-
We've got a special opportunity for you this holiday season: you can win a free DVD of "The Good Lie" starring Reese Witherspoon in our blog contest.
All you have to do is leave a comment below saying why you'd like to see the film – or what you liked about it if you've seen it already. Comments need to be left by 11:59pm on Wednesday December 17. (Delivery is not guaranteed by Christmas.)
I reviewed "The Good Lie" a few months ago when it was released theatrically, but I'm reposting the review below in case you missed it and aren't familiar with the story. Even if you don't win, it's a moving and powerful film that is definitely worth buying or renting when it's released on Dec. 23. And it's the perfect stocking stuffer for anyone who likes inspirational fare.
Finding Strength in Sticking Together: A Review of "The Good Lie"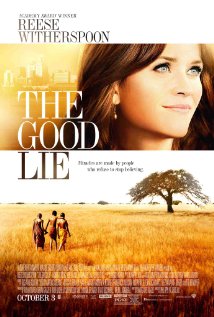 "How long shall it be till the end of these troubles?"
That's a quote from the Book of Daniel that's spoken by a refugee from the Sudanese Civil War in the new movie "The Good Lie" – and it accurately reflects the violence and hardship endured by boys and girls there throughout those horrific times.
During the mid-1980s, more than 100,000 children in Sudan were displaced or orphaned because of the civil war that raged for political and religious reasons. Many of these children only escaped death themselves because they were working with cattle out in the fields at the time soldiers arrived in their villages to murder everyone.
Such is the case in "The Good Lie" with the characters Theo, Mamere, their younger sister Abital, and their friends Paul and Jeremiah. Though they're composite characters, screenwriter Margaret Nagle talked with 1,000 "Lost Boys of Sudan" (as they came to be known) in order to portray their plight realistically.
These five siblings, friends, and others journey a thousand miles by foot, fighting off cougars for food, drinking urine for hydration, and evading soldiers to survive. In the process, they display levels of maturity, resiliency, selflessness, and cohesiveness from which American young people can learn a lot.
By the time they reach a refugee camp in Kenya, they've lost several members of their band of brothers, including Theo who gave himself up to some soldiers in order to avoid them finding the other kids. Mamere bears some responsibility for unintentionally creating the situation which led to Theo's surrender, and the guilt he feels over it never goes away.
Though life in the camp is peaceful and the aid workers are kind, everyone gets by on the bare necessities. They also apply for visas to the United States, where they hope to resettle and build new lives. It takes 13 years, but they finally achieve their goal in the year 2000.
They're met in Kansas City, Missouri, by Carrie Davis (Reese Witherspoon), whose job it is to find them jobs – though considering their lack of experience, this proves a challenge. Not all is well even in the U.S., though, because Abital is sent to a different state for bureaucratic reasons. The rest of the story follows the former "Lost Boys" and girl as they adjust to life in a land totally different from their own, and even teach Carrie some important lessons about building bonds of genuine friendship.
The first half-hour of "The Good Lie" is focused on the young people's harrowing experiences in Sudan. Though there are images of death and violence, they're not portrayed too graphically. These scenes also give witness to the presence of evil in the world because seeing innocent children mercilessly gunned down can't be called anything but evil.
The tight-knit bonds that form between the kids are also cemented during this time. "We found strength in sticking together," they say. And when they get word they're going to America, the actors (Arnold Oceng as Mamere, Ger Duany as Jeremiah, Emmanuel Jal as Paul, and Kuoth Wiel as Abital) bring a palpable joy to the moment, maybe because they are actually Sudanese who experienced the war personally or via family stories.
The film's tone lightens significantly once they arrive at the refugee camp, and even moreso when they get to the United States. I'd say it even veers into "fish out of water" comedy territory – though I don't consider that a bad thing. Seeing these young men who have suffered so much being introduced to American staples like McDonald's and lime green jello reminds us how funny and strange our culture can sometimes be.
But along with American oddities and culture shock, Mamere, Paul, and Jeremiah also discover wastefulness, such as when a supermarket manager would rather throw out his barely-expired food than give it to the homeless.
Reese Witherspoon is the movie's biggest star and conveys a brash charm and sense of exasperation in her role as Carrie. Thankfully, Carrie is not some whitewashed saint of a figure, but rather a force of nature who's got her own personality flaws to deal with.
The movie's title "The Good Lie" refers to a quote from Mark Twain's "Huckleberry Finn," in which Huck tells lies in order to save the life of his black friend Jim. Huck's contention is that these lies are good because they are saving someone. Mamere relates this to the lie his brother Theo told in order to save him from the enemy soldiers. Justifying lying can be a slippery slope and many contend there is no such thing as a "good lie." In the context of the movie, however, it makes sense to a certain degree – though a later lie is a little more morally problematic. (In order to avoid spoilers, I won't go into it.)
As the film's production notes indicate, this story was a labor of love for screenwriter Nagle, who not only talked with refugees, but also interviewed volunteers, pastors, church leaders, and "everybody under the sun" who had been involved with the Lost Boys and bringing them to the States. In addition, producer Molly Smith grew up in a family that took in a Lost Boy, so it was a passion project for her as well.
And producer Brian Grazer said, "Around the time we were making the movie, I brought my kids to an orphanage in Kenya because I wanted them to understand and appreciate the freedoms and privileges they have in their lives. I think that's one of the things our film speaks to: being grateful and thanking God for what we have. And perhaps to ignite something in us to help where we can, however we can."
Overall, the makers of "The Good Lie" have done a service by creating an enlightening and entertaining story grounded in a history with which many people are unfamiliar. See the trailer below.