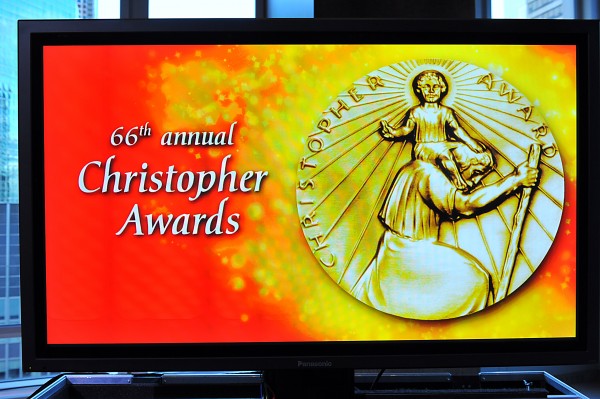 (Photos courtesy Paul Schneck)
Every year I look forward to the Christopher Awards because I don't know of any other event like it. We bring together people from publishing, film, television, and philanthropy for a fun time in one room to celebrate everybody's good work. And what's more, since we honor projects that have a faith dimension and others that simply highlight common values, there's an incredible amount of diversity in that room. While I didn't poll everyone who was at last night's ceremony, I suspect our guests include people with a wide range of political and religious opinions. (We even had some Red Sox fans!) But the Christopher Awards are a night when we celebrate what brings us together, not what divides us – and we find that we all actually have a lot in common.
The awards may not draw a ton of paparazzi, but you'd be hard-pressed to find someone who didn't leave the event feeling a little more hopeful about life and humanity. And who knows, maybe we even planted some seeds of faith along the way.
Below are some pictures from last night's Christopher Awards party and ceremony and brief descriptions of the winning projects. Video of the event will follow next week. And Sirius-XM's The Catholic Channel plans to air a special broadcast about the event. Stay tuned for information on that.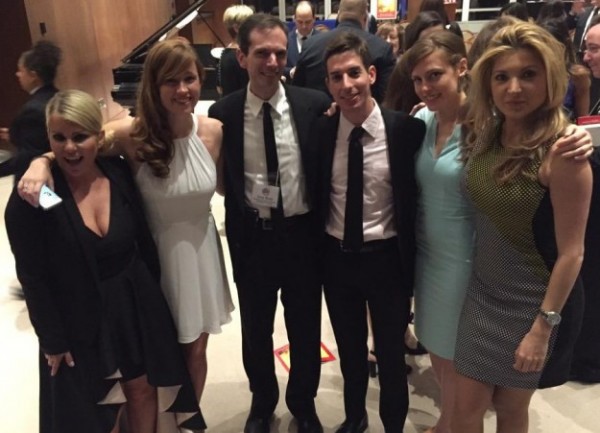 (l to r. The infectiously enthusiastic, hootin' and hollerin' "NY Med" crew of nurse Katie Duke, nurse Diana Costine, me, producer Andy Genovese, Dr. Ashley Winter, and nurse Marina Dedivanovic)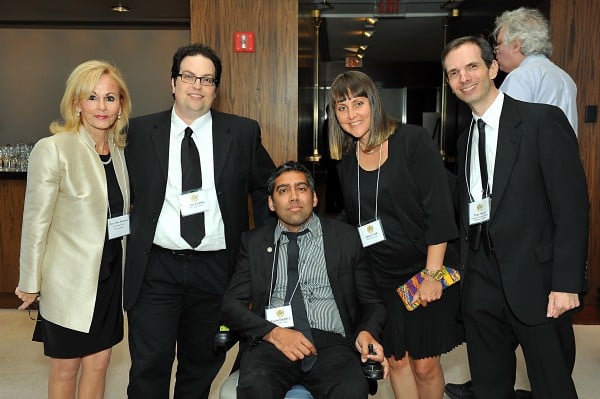 (l to r. The Christophers COO Mary Ellen Robinson, POV Communications manager Brian Geldin, "POV: When I Walk" directors/producers Jason DaSilva and Alice Cook, me)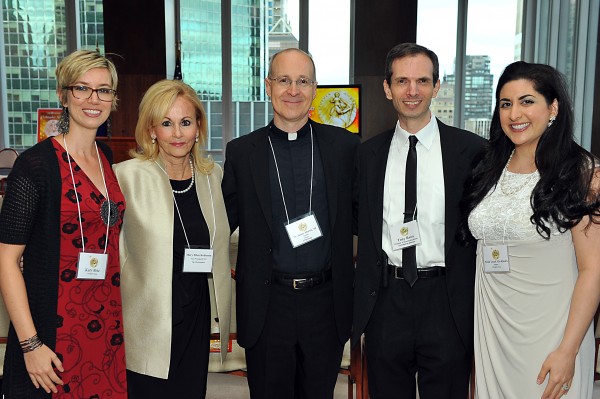 (l to r. "I Forgive You" illustrator Katy Betz, The Christophers COO Mary Ellen Robinson, "Jesus: A Pilgrimage" author Father James Martin, me, "I Forgive You" author Nicole Lataif)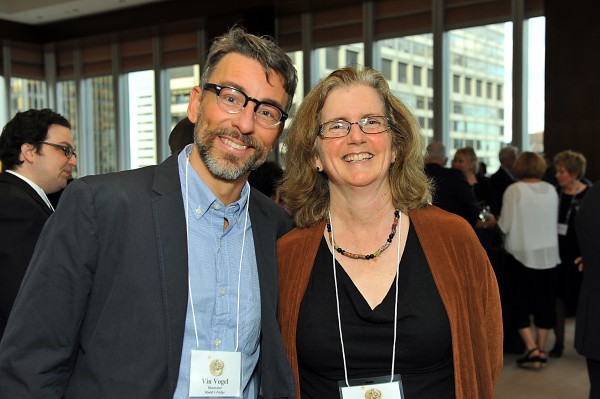 (l to r. "Maddi's Fridge" illustrator Vin Vogel and author Lois Brandt)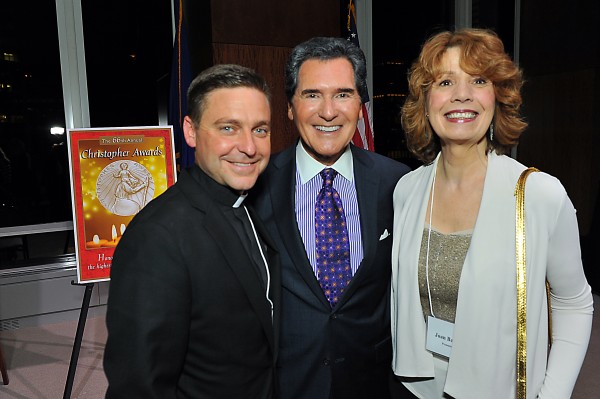 (l to r. Father Jonathan Morris, MC Ernie Anastos, and Christopher Award-winning author/presenter Joan Bauer)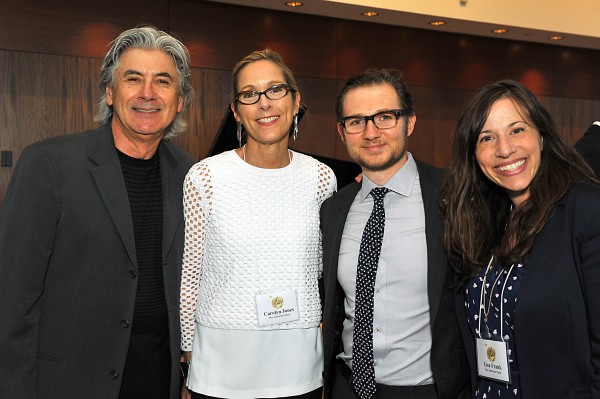 (l to r. Jacque Borris, "American Nurse" director Carolyn Jones, Max Schwartz, "American Nurse" producer Lisa Frank)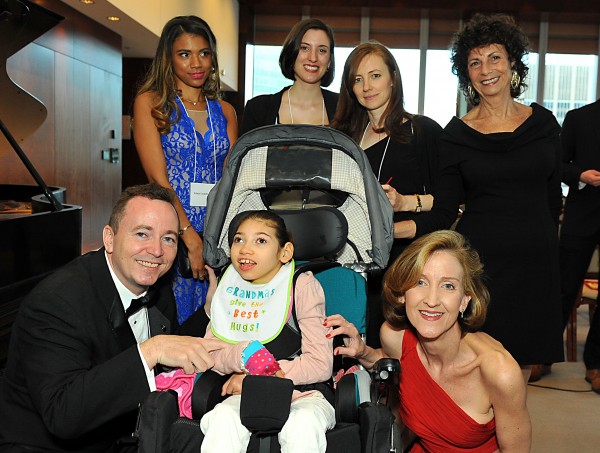 (James Keller Award winner Patrick Donohue, his daughter Sarah Jane who inspired his work on behalf of children with traumatic brain injuries, and his colleagues from the International Academy of Hope)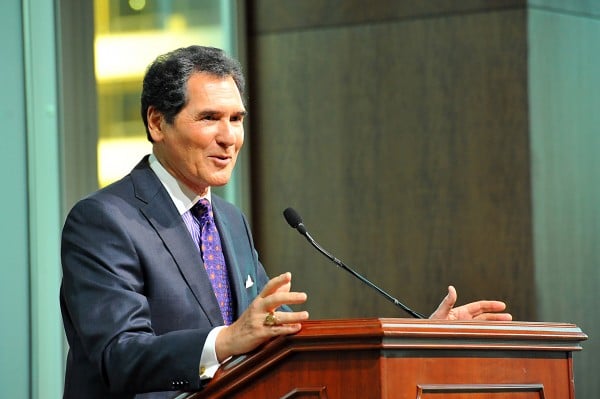 (Fox 5 TV anchor and Master of Ceremonies Ernie Anastos greets the crowd.)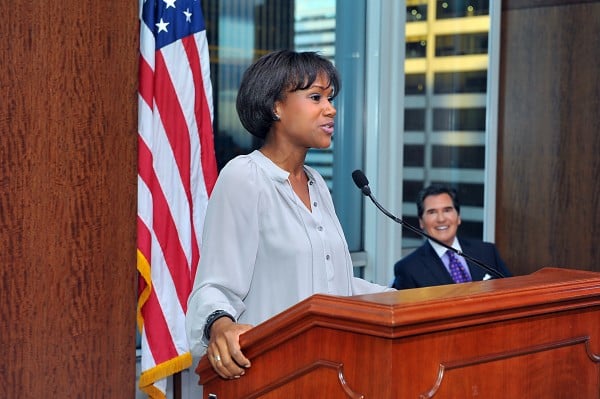 (Christopher Award-winning "60 Minutes" producer Magalie Laguerre-Wilkinson presents awards in the "Books for Adults" category)
Books for Adults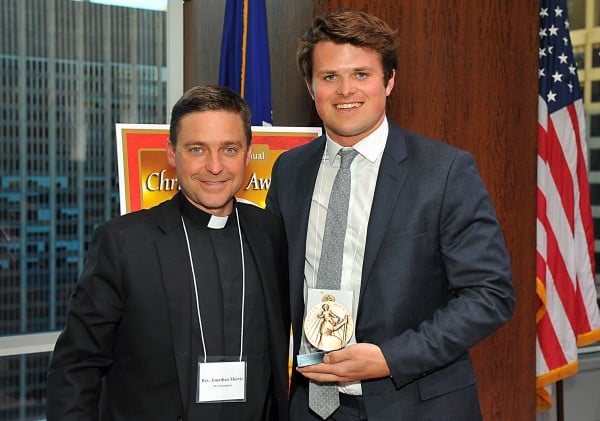 (Fr. Jonathan Morris presents Tim Shriver's Christopher Award for "Fully Alive" to his son Sam Shriver)
As a young adult, Tim Shriver felt confused about how to make a difference in the world, and integrate his faith with his work life. Instead of finding answers among cultural role models like celebrities and politicians, he found guidance in an unexpected place: the intellectually challenged young people of Special Olympics. In "Fully Alive," Shriver documents the violence and injustices to which people with disabilities have been subjected throughout history. He also reveals how much this seemingly powerless minority has taught him about God, purpose, and finding true happiness.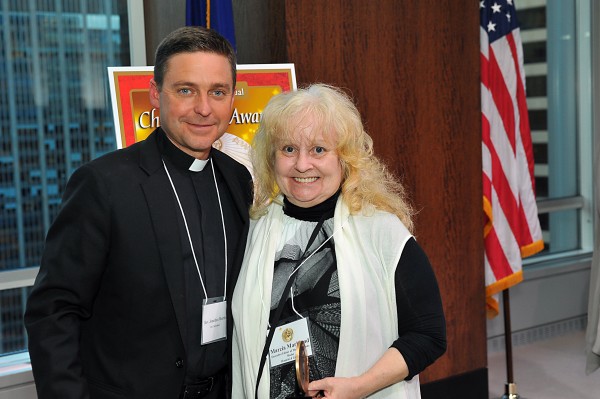 (Fr. Jonathan Morris presents Wendy Holden's Christopher Award for "Haatchi and Little B" to her editor Marcia Markland.)
Nine-year-old Owen "Little B" Howkins felt isolated and alone because of a rare muscle disorder that left him unable to walk and develop normally. Then, his parents adopted Haatchi, an abused puppy that had been left for dead on a London railroad track, and lost a leg in the process. When Haatchi and Owen met, their bond was instant – and even spiritual. Owen realized that if Haatchi could keep fighting through all his pain, so could he. This heartwarming book highlights the friendship that gave both Haatchi and Owen newfound strength and determination.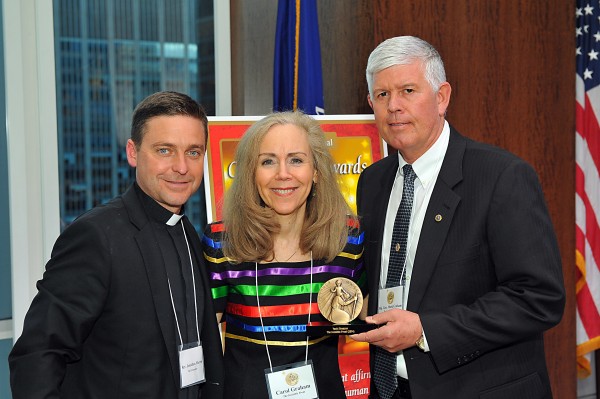 (Fr. Jonathan Morris presents Yochi Dreazen's Christopher Award for "The Invisible Front" to the subjects of the book, retired Major General Mark Graham and his wife Carol.)
For several years now, Major General Mark Graham and his wife Carol have waged a different kind of military campaign. Though their son Jeff was hailed as a hero after being killed while serving in Iraq, their son Kevin's death by suicide was met with silence from the Army. Since then, the Grahams have worked to change the Army's treatment of soldiers with Post Traumatic Stress Disorder – and erase the stigma that surrounds those with mental illness. "The Invisible Front" exposes a problem that's spiraling out of control for our veterans. It also reminds them that seeking help is not a sign of weakness, but rather of strength.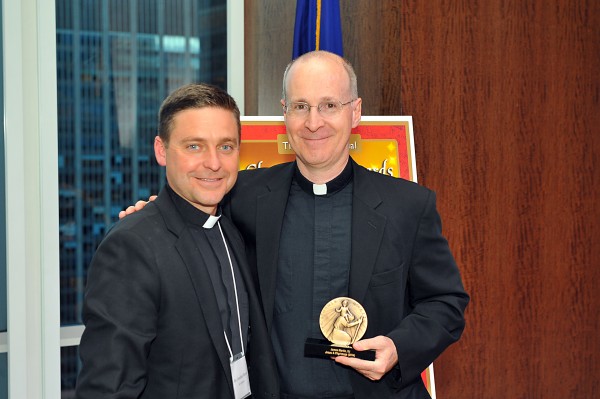 (Fr. Jonathan Morris presents Christopher Award for "Jesus: A Pilgrimage" to Father James Martin)
When Stephen Colbert's favorite priest invites you on a pilgrimage through the Holy Land – even if it's in book form – you should go. That's what Father James Martin does in this best-seller that's accessible to both believers and seekers. He visits the places Jesus walked, talked and healed, coming to better know the historical figure who was a marginalized Jewish man under Roman tyranny. Father Martin also offers a fresh perspective on the Christ of faith, who he came to see less as someone demanding perfection, and more as a savior offering freedom through love.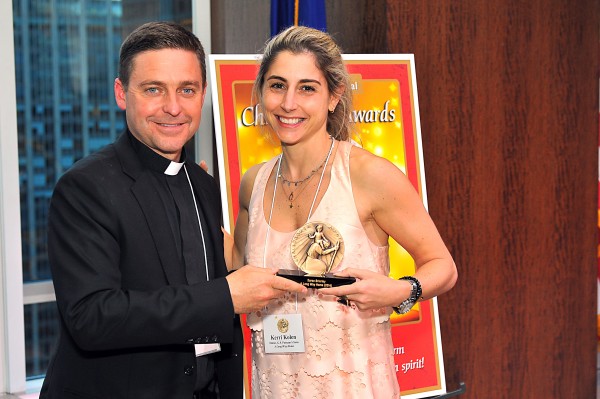 (Editor Kerri Kolen accepts author Saroo Brierley's Christopher Award for "A Long Way Home")
While begging for food with his brother at a train station in India, five-year-old Saroo Brierley accidentally wound up on a train to Calcutta 1,000 miles away. Unable to communicate where he lived, the scared child endured a harrowing month on the streets, and almost became a human trafficking victim. Child welfare authorities finally rescued Saroo and placed him with a couple in Australia who adopted him. His life with them was happy, but he always yearned to reconnect with his birth family. "A Long Way Home" chronicles Saroo's inspiring quest that finally came to fruition with the help of Facebook and Google Earth.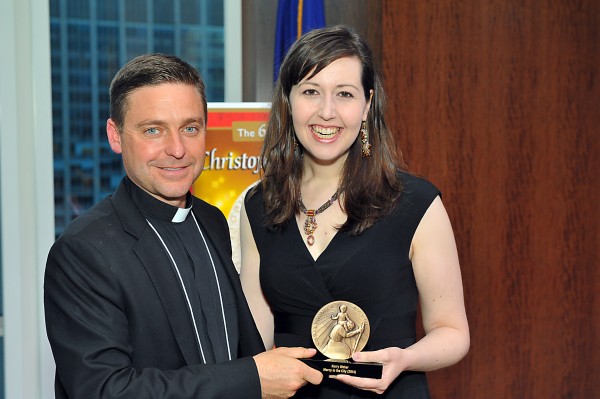 (Author Kerry Weber accepts Christopher Award for "Mercy in the City")
In order to give her spiritual life a jump start during Lent, Kerry Weber decided to live out each of the Bible's Corporal Works of Mercy. These acts of service, which include feeding the hungry and visiting the imprisoned, led her from a New York City breadline to California's San Quentin State Prison. The young writer soon found herself more drawn to loving God and all her fellow human beings. With a writing style that's a cross between Dorothy Day and Tina Fey, Kerry reminds us that opportunities to practice ordinary, tender mercies surround us every day.
Books for Young People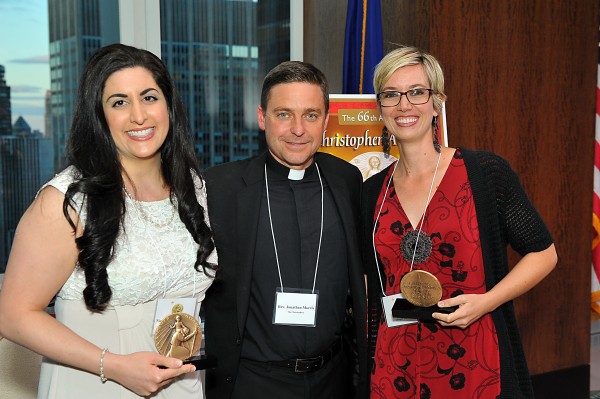 (Author Nicole Lataif and illustrator Katy Betz accept Christopher Award for "I Forgive You")
None of us get through life without needing to forgive others or apologize ourselves, so learning these virtues as children can give us a solid foundation for good relationships and inner peace. "I Forgive You" makes that learning process fun, while also touching on difficult topics like the weight of a grudge being like an elephant in your heart – and the fact that forgiveness doesn't mean letting someone walk all over you. As a primer on reconciliation, this book reminds kids, "God loves you, no matter what you do. He never says, 'I'm through with you.'"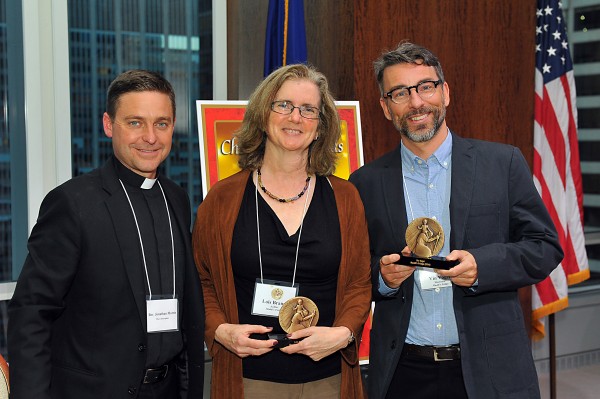 (Author Lois Brandt and illustrator Vin Vogel accept Christopher Award for "Maddi's Fridge")
Sofia's refrigerator at home is always filled with plenty of food. That's why she's surprised when she reaches into her friend Maddi's fridge for a snack – and finds it virtually empty. Embarrassed by her family's poverty, Maddi asks Sofia to keep it a secret. But Sofia knows she needs to do something – and her comical attempts finally lead to a helpful solution. ased on an experience author Lois Brandt had as a child, "Maddi's Fridge" teaches kids to take a proactive approach when it comes to generosity and fighting childhood hunger.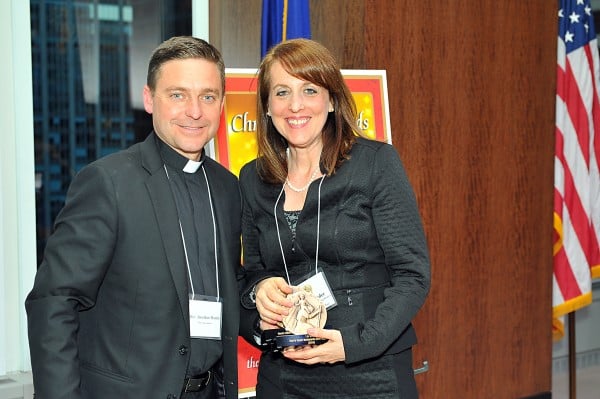 (Accepting the Christopher Award for Henry Winkler and Lin Oliver's "Here's Hank: Bookmarks Are People Too!" is Editor-in-chief at Penguin Young Readers/Early Readers/ Grosset & Dunlap Bonnie Bader.)
Second-grader Hank Zipzer has got problems. For one thing, his healthy-eating mom keeps feeding him things like soy-lami and soy-strami. In addition, he struggles with reading because the letters get jumbled in his head. When Hank can't read the script for the class play, his teacher creates the part of a silent bookmark especially for him. But Hank transforms himself into "a bookmark with personality" and becomes the comedic tour de force that steals the show. Inspired by co-author Henry Winkler's battle with dyslexia, Hank Zipzer reminds kids with similar problems that they can be just as smart and successful as anybody else.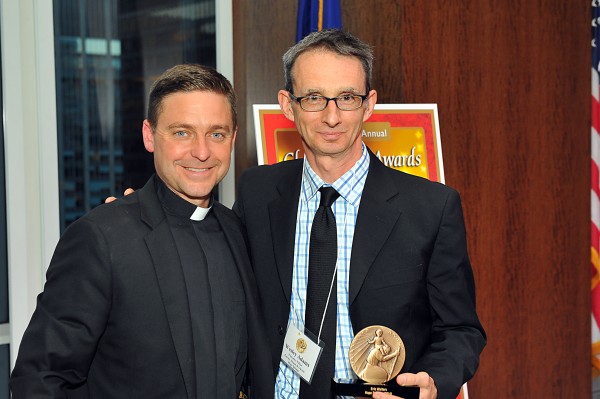 (Accepting the Christopher Award for "Hope Springs" author Eric Walters is the Executive Editor of MacMillan's Childrens Publishing Group – Wesley Adams.)
When Boniface, a young orphan living in Kenya, tries to collect water from a local spring, a villager threateningly tells him, "You are not from here…You must leave." Boniface's houseparents explain that the drought-stricken villagers responded that way not out of meanness, but out of fear for their families' well-being. After understanding this, Boniface devises a solution that will benefit everyone. Based on author Eric Walters experience at an orphanage he supports in Kenya, "Hope Springs" demonstrates the healing power of responding to anger with kindness.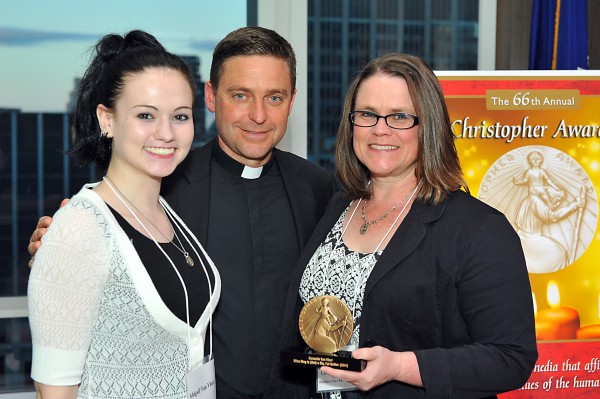 (
"Eliza Bing is Not a Big, Fat Quitter" author Carmella Van Vleet accepts her Christopher Award alongside the inspiration for the character of Eliza, her daughter Abigail.
)
Gymnastics, tap dancing, piano lessons. Eleven-year-old Eliza Bing tried them all, but quit because her ADHD caused her to get bored fast. So when she wants to take an expensive cake-decorating class, her parents say, "No." Eliza then aims to prove she can finish what she starts by taking the taekwondo class that her brother dropped out of. The martial arts challenge her ability to concentrate and work through injury. But in the end, Eliza proves to others – and to herself – that she's not a big, fat quitter – and enjoys the self-esteem that accomplishment brings.

James Keller Award – Patrick Donohue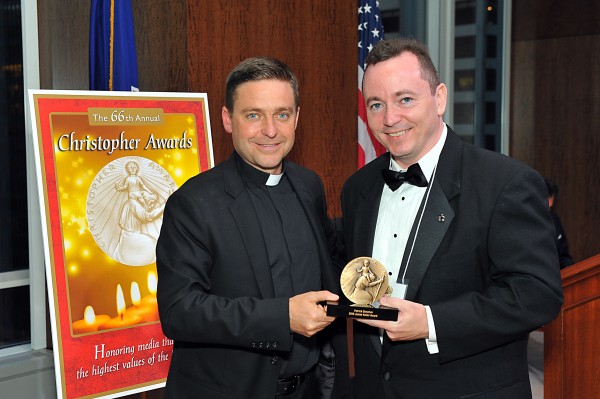 A few days after his daughter Sarah Jane was born healthy, Patrick Donohue got devastating news. Sarah Jane's baby nurse had shaken her so violently that 60 percent of the rear cortex of her brain was destroyed. Doctors gave Patrick no hope that she would ever walk or talk. Even though he was a lawyer, he started reading about the human brain and discovered how little medical science actually knew about it. He learned that 80,000 American youth are hospitalized each year with brain injuries – and 11,000 of these young people die. As a result, he spearheaded the creation of a standardized system of care that is now accessible to millions of families. Patrick also realized that kids like Sarah Jane need a school uniquely suited to their needs. With help from experts, he launched the International Academy of Hope. It is New York City's first school for children with brain-based disorders – and Patrick hopes to develop more schools nationally and globally. Where does Patrick find the strength to do all this? He credits the Serenity Prayer – the prayer that says, "God grant me the serenity to accept the things I cannot change; the courage to change the things I can; and the wisdom to know the difference." Because of Patrick Donohue's courage and wisdom, The Christophers are happy to honor him with our James Keller Award for being a voice for Sarah Jane – and for all the children and families that previously had nowhere to turn.
Feature Films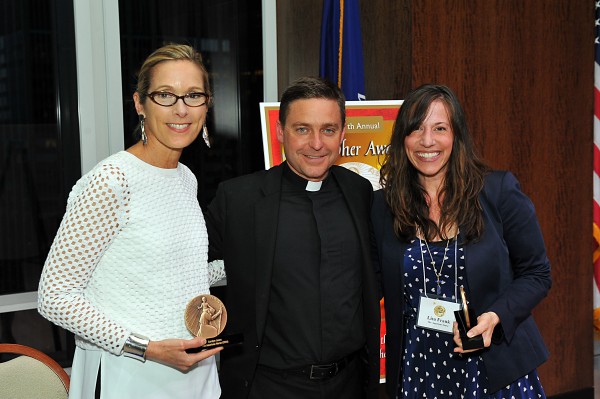 (Director/executive producer Carolyn Jones and producer Lisa Frank accept Christopher Award for "The American Nurse")
Carolyn Jones credits a special nurse with helping her get through intense chemotherapy treatments for breast cancer. That experience set her on a journey to explore the lives of these quiet, unknown healers all around the country. "The American Nurse" follows five nurses in vastly different settings as they care for dying prison inmates, the homebound poor in Appalachia, war veterans, women suffering miscarriages, and seniors who are near death. The film also reveals the hopes and tragedies that set these dedicated men and women on the road to their selfless profession.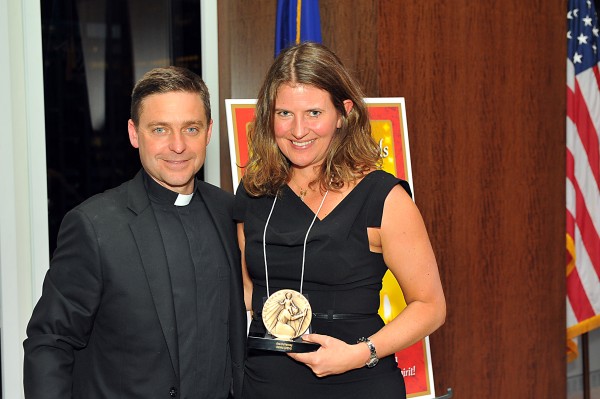 (Accepting the Christopher Award for "Selma" is the Vice President of Publicity for Paramount Pictures, Monica Sheldon.)
In 1965, African Americans in the South faced violence, intimidation, and even death for simply wanting to exercise their right to vote. Rev. Martin Luther King Jr. knew this injustice could not stand. He rallied supporters of all races and creeds to march from Selma, Alabama, to Montgomery to pressure the president to sign the Voting Rights Act. The film "Selma" masterfully takes us through these events and their human toll. It also paints a three-dimensional portrait of this country's greatest civil rights leader who faced down all kinds of adversity to change the course of history.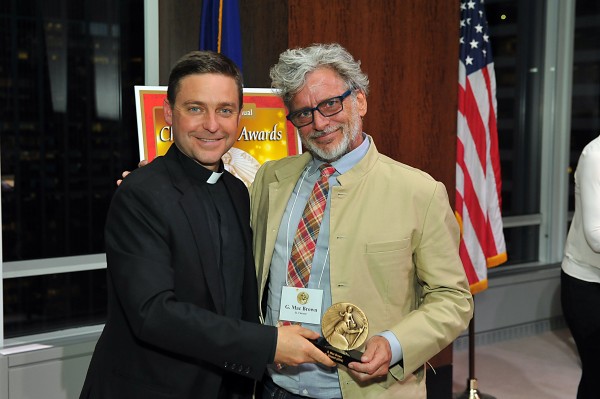 (Executive producer G. Mac Brown accepts Christopher Award for "St. Vincent.")
Vincent McKenna smokes, drinks, gambles, curses, and cavorts with a prostitute. Yet his 12-year-old neighbor Oliver thinks he's a modern-day saint. And he might be right. As their friendship develops, Oliver sees a good-heartedness in Vincent that he rarely shows the world. And Vincent comes to care about Oliver, while teaching him to defend himself from bullies and bet on horses at the race track. "St. Vincent" is an edgy and endearing comedy that shows viewers how the love of a makeshift family can help anyone's halo shine a little brighter.
TV/Cable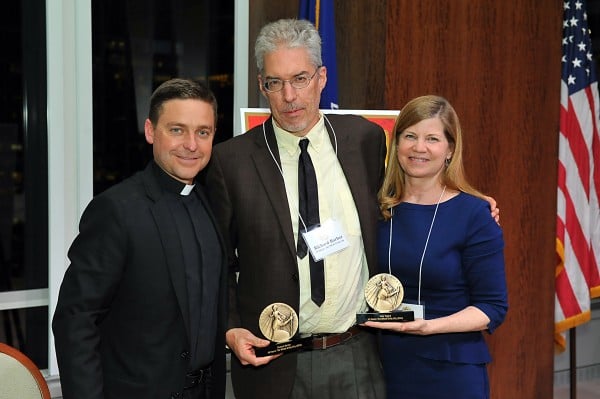 (Accepting the Christopher Award for "48 Hours: The Whole Gritty City" are producer and co-executive producer Richard Barber, and co-executive producer Judy Tygard.)
New Orleans is America's most musical city, but it's also a dangerous one where kids get drawn into the violence and crime that surround them. Thankfully, three school marching band programs have channeled students' energies toward a positive alternative for years. "The Whole Gritty City" chronicles the program leaders' efforts to talk hope and purpose into young people's lives because, as one of them says, "If they can't find love in the right place, they're gonna get it in the wrong place." Through moments of joy, tragedy and resilience, this film reminds us about the power of mentors to make a difference.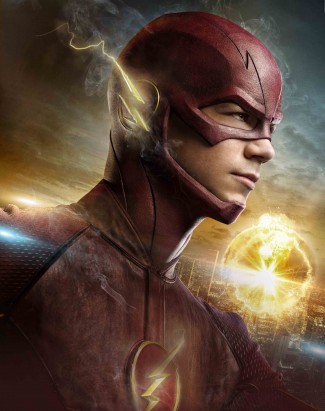 "The Flash: Pilot" – Since childhood, Barry Allen has stood up for people who got bullied. His sense of compassion only grew when his mother was murdered and his father was framed for the crime. As an adult, a science experiment gone awry makes Barry the fastest man alive, allowing him to watch over his city like a guardian angel. The pilot episode of "The Flash" introduces viewers to the DC Comics character whose moral strength is born out of pain. In a TV world often filled with anti-heroes, Barry is simply a good man who wants to make the world a better, safer place.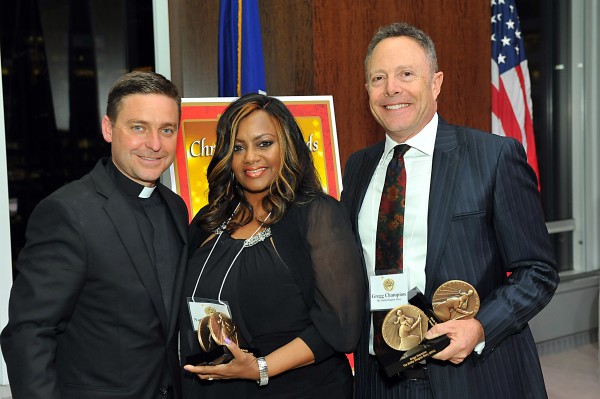 ("The Gabby Douglas Story" Christopher Awards went to executive producer and Gabby's mom Natalie Hawkins and director Gregg Champion.)
Gabby Douglas won two gold medals in gymnastics at the 2012 London Olympics, but her journey to the top wasn't an easy one. Medical problems, poverty and homelessness were just some of the challenges she and her family faced along the way. But with siblings willing to make sacrifices on her behalf – and a single mother who believed in hard work and trusting God, Gabby learned all the virtues and skills needed to become a champion. This Lifetime movie gives witness to the power of faith, family and perseverance in the life of one of our greatest modern gymnasts.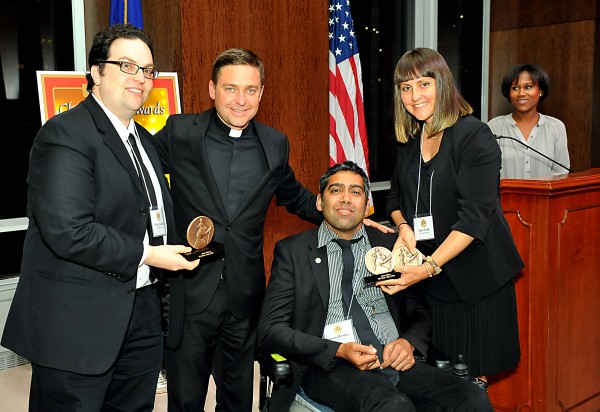 ("POV: When I Walk" Christopher Awards accepted by POV communications manager Brian Geldin and directors/producers Jason DaSilva and Alice Cook.)
When filmmaker Jason DaSilva was diagnosed with multiple sclerosis at age 25, he had the courage to turn the camera on himself. "When I Walk" provides a window both into his own battle with the debilitating disease – and into the daily struggles of all people with disabilities. Unexpectedly, the film also becomes a love story when Jason meets and marries Alice Cook, who gives his spirit a needed infusion of joy. Through triumphs and tragedies, they carry the cross of MS together, giving witness to the power of selfless love.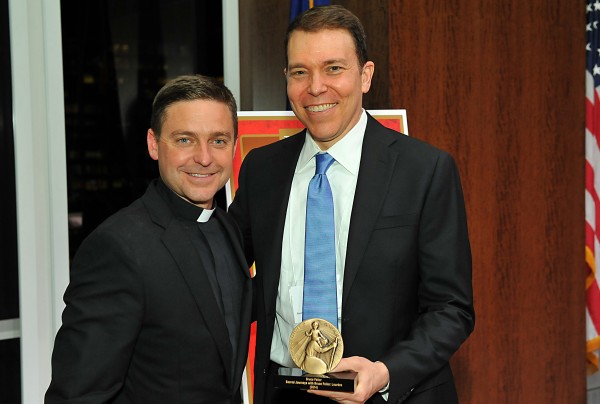 (Host and executive producer Bruce Feiler accepts Christopher Award for "Sacred Journeys with Bruce Feiler: Lourdes.")
Five million people a year visit the French Catholic shrine of Lourdes because its waters are believed to have miraculous powers. In his quest to explore the world's most popular pilgrimage sites, Bruce Feiler traveled there with members of the U.S. military wounded in Afghanistan, Iraq and other wars. Some are skeptics, others are believers. But each hopes to find healing from the physical and emotional injuries that haunt them. In the end, everyone leaves feeling that something transcendent took place thanks to God and the bonds of community.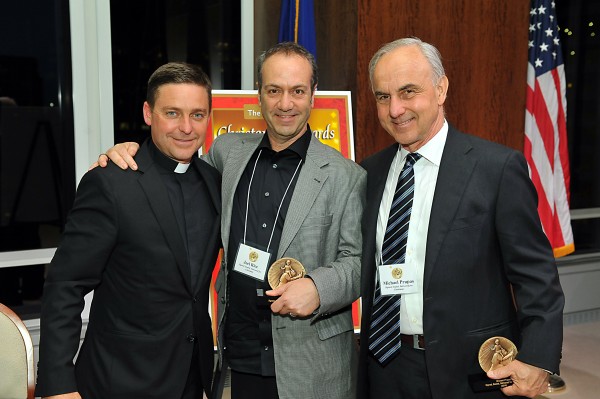 (Executive producers Joel Rice and Michael Prupas accept Christopher Award for "Signed, Sealed, Delivered for Christmas.")
The four postal detectives at the heart of the "Signed, Sealed, Delivered" series can get themselves into some comedic pickles and poignant adventures as they deliver mail that wound up in their Dead Letter Office. This Christmas edition is no exception as they strive to answer a little girl's letter to God while dealing with painful holiday memories of their own. Series creator Martha Williamson explores the challenge of believing in a loving God in a world that's often full of pain. She also reminds viewers that sometimes we need a shift in perspective to discover that answered prayers are closer than we think.
Christopher Spirit Award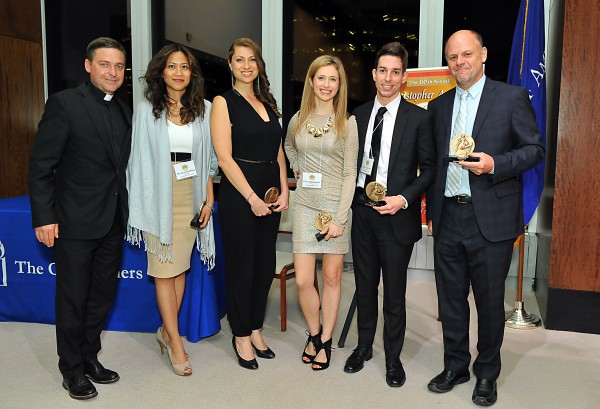 (Accepting the Christopher Spirit Award for "NY Med" are senior series producer Monica DelaRosa, series producer Aysu Grodowski, supervising producer Erica Baumgart, series producer Andy Genovese, and executive producer Terence Wrong.)
"NY Med" provides a window into the worlds of both patients and medical professionals. And it does so with an amazing amount of artistry, heart, humor, and empathy. Executive Producer Terence Wrong and his team of producers and camera people act as invisible observers in New York Presbyterian Hospital's Weill Cornell and Columbia campuses – and three other area hospitals. As a result, viewers get to witness a doctor struggling to save a man who got hit by a subway; nurses caring for a homeless woman who is a "frequent flier" in their ER; and a 19-year-old Marine who discovers he needs a heart transplant in order to stay alive. Along the way, we move beyond the labels of "doctor" and "nurse" to see the human beings underneath. Debbie Yi, for instance, left a career on Wall Street to become a doctor after seeing the care her sister got in the hospital following a major accident. Like some of the other staff featured in the series, her pain motivated her to build a life of service to others in need.
From the patients' perspective, we see how a bad medical diagnosis can focus and intensify the love that family members have for one another. And watching these families on-screen helps us as viewers to more fully embrace life. We're reminded to be kind to family, friends and strangers; to be grateful for our blessings; and to seek fulfillment in helping others. In other words, "NY Med" reflects the ideals of lighting a candle rather than cursing the darkness.
Closing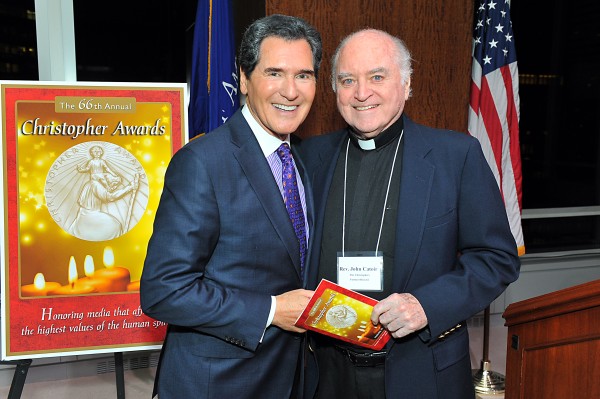 (Former director of The Christophers Father John Catoir closed the evening with some fond memories of Christopher Awards' past with the crowd and his longtime friend Ernie Anastos.)