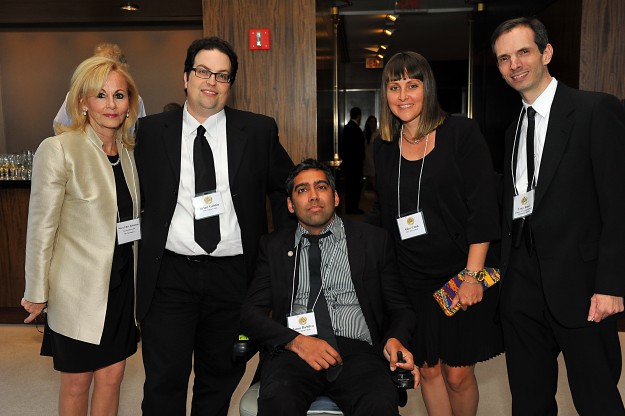 (Picture courtesy Paul Schneck. l to r: The Christophers COO/VP Mary Ellen Robinson, POV Communications Manager Brian Geldin, Directors/Producers Jason DaSilva and Alice Cook, The Christophers' Tony Rossi)
The word "hope" gets tossed around a lot, and some people may see it as a saccharine sentiment or unrealistic happy talk. In some contexts, that may be true. But one of the ideas I was left with after this year's Christopher Awards is that real hope doesn't come cheap. It is hard won through dire circumstances that might have broken other people.
For instance, there's the story of New Yorker Jason DaSilva, subject of the TV category winner "POV: When I Walk." Jason is a filmmaker who was diagnosed with multiple sclerosis at age 25. As reported by the website NewMobility.com, which named him their 2014 Person of the Year, "Not only did doctors tell him that he had multiple sclerosis when he was just 25, but they added that he had the worst kind: primary progressive MS. It's all downhill. There are no FDA-approved drugs to treat it and unlike some other types of the neurological disorder, there are no remissions."
Despite the bad news, Jason mustered up the courage to turn the camera on himself. "When I Walk" provides a window both into his own battle with the debilitating disease – and into the daily struggles of all people with disabilities. Unexpectedly, the film also becomes a love story when Jason meets and marries Alice Cook, who gives his spirit a needed infusion of joy. Through triumphs and tragedies, they carry the cross of MS together, giving witness to the power of selfless love.
Jason's journey by himself – and then with Alice – is a testament to the type of hope I'm talking about here. He slowly loses the ability to walk, finds his speech and arm movements limited, and even finds his eyesight faltering. For a filmmaker, that's an especially painful development. Even with Alice by his side helping him every step of the way, Jason could have decided to give up – and sometimes he came close. Instead, he chose hope – and he did it in two meaningful ways.
There is no greater act of hope for a couple than to have a baby, and Jason and Alice have a two-year-old son named Jase. But even the path to parenthood was littered with heartbreak because Alice endured a miscarriage, which was seen in "When I Walk." After everything else they'd gone through, that felt like a devastating blow to me as a viewer watching the documentary so imagine what it felt like for them to go through it. Once again, however, they refused to be beaten down by life. Alice got pregnant again and now they get a lot of joy from the life they created together.
In addition, Jason's frustrations getting around Manhattan in his wheelchair led him to start a project called AXSMap.com. Using the website or phone app, it maps and identifies the places in the city that are most accessible for people in wheelchairs or with other disabilities. Or at least it started in New York City. Now, Jason and Alice have generated volunteers in cities around the world to map their locales and let the disabled know the stores, restaurants, streets, and modes of transportation that can accommodate them. If you're interested in helping, you can visit the website and click on Mapathon.
Jason and Alice's example of hope in the face of adversity is one story among many from this year's Christopher Awards. But theirs is a special testament to the fact that real hope isn't happy talk; it's a world-changing force born out of pain and sacrifice.