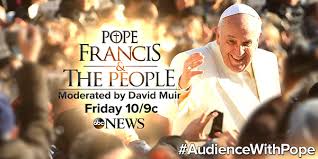 In the lead up to the special edition of ABC News's "20/20" this Friday Sept. 4 at 10:00pm Eastern featuring Pope Francis talking to Americans via video conference, anchor (and moderator of the event) David Muir answered viewer questions on the ABC News Facebook page.
Here are some of the questions and responses:
Q: This is a Terrific Coup (get) for your team — whose idea was it? (Bless you all!)

David Muir: We had a whole team working on this for more than a year.
———————-
Q: Was conducting the interview in Spanish a prerequisite to getting an interview?

David Muir: It was definitely helpful that I was willing to use my Spanish.
———————-
Q: Were you nervous meeting the Pope?

David Muir: I was a bit surprised when the Pope was supposed to emerge from behind the door when instead they waved me inside to where the Pope was waiting — He offered a private greeting first. Very moving.
———————
Q: When the doors opened and you were invited in, prior to the cameras, did Pope Francis pray with you – over you?

David Muir: Not that I'm aware of — but I was praying for myself.
——————–

Q: What did you observe about him during his unguarded moments like when the camera wasn't rolling?

David Muir: He went out of his way to shake every hand in the room and when he realized he missed a cameraman, he went out of his way to walk up to him and shake his hand too.
———————-
Q: What surprised you most about our Holy Father?

David Muir: How willing he was to listen to every word when Americans were asking him questions and sharing their stories of struggle.
——————–
Q: What did you learn about him that you didn't know before?

David Muir: I learned he was willing to speak English! He surprised us a couple of times — including one moment during which he asked a bullied teenager to sing for him. And he asked her in English. It was powerful.
To read the whole Q&A, go to the ABC News Facebook page.