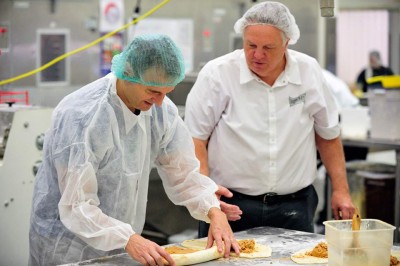 While checking my Twitter feed this morning, I saw that "Everybody Loves Raymond" creator Phil Rosenthal mentioned that Jesuit priest Father Greg Boyle would be appearing on his PBS food show "I'll Have What Phil's Having" this coming Monday, November 2nd.
In case Father Boyle's name doesn't ring a bell, he created the Los Angeles-based Homeboy Industries.
Their website gives some history:
Homeboy Industries traces its roots back to 1988 when in an effort to address the escalating problems and unmet needs of gang-involved youth, Fr. Greg and many community members developed positive alternatives, including establishing an elementary school, a day care program and finding legitimate employment for young people.

In 1992, as a response to the civil unrest in Los Angeles, Fr. Greg launched the first social enterprise business, Homeboy Bakery. The mission of Homeboys's model of social enterprises, to create an environment that provides training, work experience, and above all, the opportunity for rival gang members to work side by side. The success of the Bakery created the groundwork for additional social enterrpise businesses. Today Homeboy Industries' nonprofit economic development enterprises include Homeboy Bakery, Homeboy Silkscreen & Embroidery, Homeboy/Homegirl Merchandise, Homegirl Café & Catering, Homeboy Farmers Market, and Homeboy Diner at Los Angeles City Hall.
Rosenthal will visit Homeboy Bakery and, on a webpage called "Discover Los Angeles," he says about it: "Father Greg Boyle's vision – to rehabilitate and help at-risk youth. They bake bread, run a cafe, make their lives better, and make the world better through their work, which just happens to be delicious."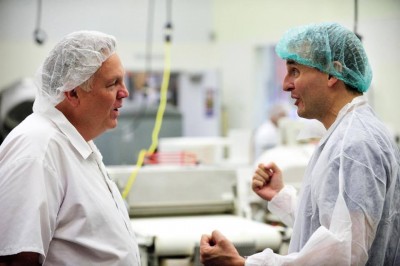 And on Rosenthal's Facebook page, he describes this picture: "From our LA episode, this is the great Herb Fingerhut, the 7th generation baker who moved from Chicago to oversee a truly wonderful place: Homeboy Industries' Bakery, where former gang members and at-risk youth bake some of the most delicious breads and pastries in the country. Herb criticized my cinnamon rolls so this is me just before I turned his lights out."
The show will also feature comedians Martin Short, Ray Romano, and Paul Reiser, among others. Check your local listings for the time and PBS station in your area.