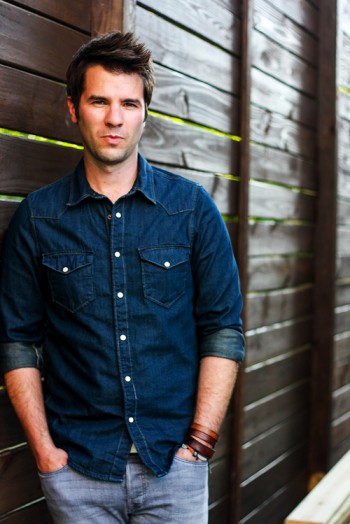 For several years now, singer-songwriter PJ Anderson has been attending the March for Life in Washington, D.C., which commemorates the date the Supreme Court legalized abortion. Going back to the days he worked as a youth minister in Chicago, he would gather with thousands of young people at the annual Youth Rally and Mass For Life, praising God from the stands and singing along with the artists on-stage.
This year will be a little different, though. Instead of being a spectator, PJ will be performing and invite the 25,000 youth at the Verizon Center to join him in singing a song he co-wrote with his wife Rachel especially for the occasion: "Love Will Heal" ( for sale on iTunes Friday Jan. 15).
During an interview on "Christopher Closeup," PJ noted that this is an issue that is close to his heart as the father of a son, a daughter, and a new baby that should be born in the next month or so. He looks around and sees so many signs of the culture of death, including "abortion, euthanasia, capital punishment, or all the crazy things happening in the world with shootings and terrorism."
"Love Will Heal" is meant to offer an antidote. He said, "Change is only going to happen through love. It's not going to happen by arguments or forcing our opinions…No law is going to change until people's hearts are changed. Only love can do that. We were all created by one Creator, by one God. There's a line in the song: 'We were all created out of the same love.' That love is God. We all deserve that same love. It's our duty to stand up for those who aren't being treated with love, [for those whose lives are] disposable in a lot of people's minds."
One of the most heartening things that PJ sees at the March are "hundreds of thousands of people standing up for life peacefully and joyfully. God created us to be full of joy."
In addition, several years ago while walking to the National Mall after the rally, PJ came across the Silent No More movement holding their own rally on the steps of the Supreme Court. Individuals who've had abortions or been affected by them were at a podium publicly sharing stories of their conversions of heart. Since then, PJ joins them for a while every year to listen and to pray.
That theme of love's healing power will also work its way into PJ's next album to be released this summer, entitled "Mercy, Mercy." He wrote the title song before Pope Francis declared this the Jubilee Year of Mercy, but it seems like serendipity now.
Just a few weeks ago during a trip to New York City, he saw the play "Les Miserables," in which a powerful theme of mercy runs throughout, especially when the bishop forgives Jean Valjean for stealing from him. But on a more personal front, he sees the vital nature of mercy in marriage.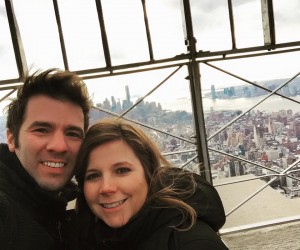 PJ said, "There's times in marriage when you fall into that trap of keeping track of who's doing what and keeping score. That's not a good way to go about marriage. More often than not, it's me that needs forgiveness and mercy from my wife because I do a lot of dumb things…But that's what's so great about being married to a woman who's so strong. She makes me better, and that's through forgiveness and through love and through the knowledge and wisdom that she has as a woman and my wife. And hopefully, I bring that to her as well."
That acknowledgment of the need to be forgiven requires humility, and PJ has incorporated a daily reminder of that in his life. Under his email signature, he includes the Scripture citation John 3:30. It's John the Baptist's quote about Jesus, "He must increase, I must decrease."
PJ originally saw that citation on the mirror of a friend while he was studying in Rome several years ago. He adopted it in his own life to keep himself humble: "I get to play guitar and write songs and sing those for people and lead people in prayer – and I call that work. It's not work. I love it! And [John 3:30] reminds me that every time I pick up that guitar and sing, it's not about me. It's about praising Jesus and giving glory to God. So He must increase and I must take a [backseat] to that. When I write an email, when somebody asks me to sign something, that's part of my signature as well. It's really not about me. I'm not that cool. It's about Jesus."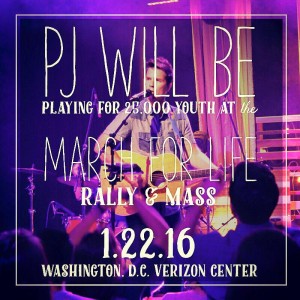 In closing, PJ noted that he hopes "Love Will Heal" will have a positive influence on those who hear it:
"I hope it inspires people to join as…one unified body of Christ to stand up for those who don't have a voice. Maybe that's a child who was never given the right to live. Maybe it's the woman who's had an abortion [and needs us] to listen to her – not to fight but to listen and pray with and comfort because it's a tough world that we live in. Hopefully, we can be that voice that's loving – not just argumentative, but loving because only love will change hearts."
(To listen to my full interview with PJ Anderson – including song clips – click on the podcast link):

RELATED: Why Getting Hit Over the Head by God Turned PJ Anderson Into a Troubadour of Hope
Stay in touch! Like The Christophers on Facebook: