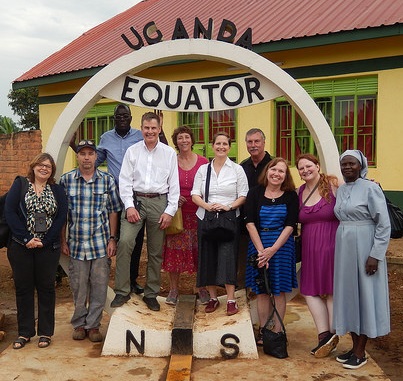 "Go and find the face of Jesus," a priest friend told John Fawley. And with a little inspiration from "Christopher Closeup," he did just that this past January by taking part in a mission trip with the foundation Medical Aid to Northern Uganda (photo, left) – or MANU, for short.
In 2014, Fawley was listening to "Christopher Closeup" on Relevant Radio in Wisconsin when he heard my interview with Chicago doctor Kevin Hunt, co-founder of MANU, and Nicole Schreiner, one of the board members. Dr. Hunt explained that in 2007, he met Father Sam Okori, a visiting priest from Uganda, after Mass one day and they began talking. Father Sam was in the U.S. taking pre-med classes because he wanted to be a doctor, and he invited Dr. Hunt to accompany him to his hometown to witness the medical conditions there first-hand.
Two months later, they were off to Africa, where Dr. Hunt was deeply touched by the sight of malaria-stricken pregnant women lying on a cold cement floor waiting to give birth. He and Father Sam drove 50 miles to town to buy beds so these women could have a little comfort. That incident also ignited a spark in Dr. Hunt, which led to him and Father Sam founding MANU in order to improve healthcare for Northern Ugandans in general.
After hearing our discussion on the radio that day, Fawley decided to get in touch with MANU through their website, manugiving.org, to ask if they could use some of the skills he developed as a volunteer first responder. They welcomed him to the team and made a medical mission trip this past January. Both Fawley and Dr. Hunt joined me on "Christopher Closeup" to discuss their work – and maybe even inspire someone else to get involved as well.
One of Dr. Hunt's first goals with MANU, which works in conjunction with Northern Uganda's Catholic healthcare system, was to update the radiology building at Pope John's Aber Hospital in the Diocese of Lira. "Their facility [and equipment] were from the 1950s," he explained, "so we got money together for that through donations. That's up and running now. Our next project is going to be an emergency room and triage center."
Dr. Hunt also notes that MANU's efforts have produced incremental positive change: "There's been improvement in communication and coordination of care. They have a lot of manpower now that they didn't have before. There's been a little bit of improvement in the amounts of medications they have available and also in the physical facilities. We were at a new facility there, and you could see the people were enthusiastic to provide healthcare to their village community."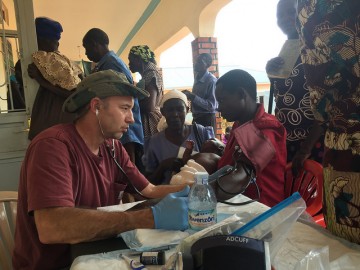 For Fawley's part, he took blood pressures, did blood screenings, and performed some basic evaluations of patients' conditions before they were able to see the doctor. While he felt a little nervous at first because news reports about Africa can be scary, he was pleasantly surprised by what he found there. In fact, he found the face of Jesus he was looking for.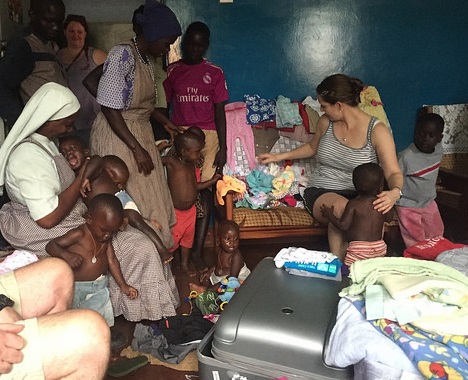 He said, "The work we do seems very little in the scope of things, but if we help one person, we've done our job. I certainly saw the face of Jesus in the orphanage. We went to an orphanage for a day. Those Sisters there, they're the real heroes of the world. [I saw Jesus in] a little boy with smallpox hanging onto his piece of corn like it was the last piece of food; the 10-year-old girl with renal failure; the girl starving to get on antibiotics; a 13-year-old boy who needed insulin but there were no needles; and all the other people who needed medication for hypertension and diabetes and all the crippled people. I also saw the face of Jesus in Father Sam, Dr. Hunt, [and the other MANU team members]. It was an incredible trip."
Fawley was also impressed by the joy of the Ugandan people and the strength of their faith in God, a faith which led him to observe that empty seats in church were hard to find. He attributes their devotion to a lack of materialism and a focus on family.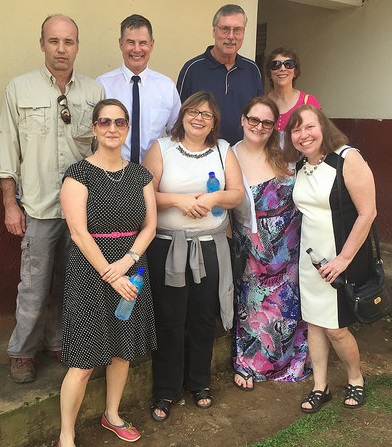 MANU's goals go beyond healthcare to the personal as well. Dr. Hunt (middle person in the back row) said, "We went with two of us back in 2007, and now we had a team of 10 people – most of which were from the United States. You feel like you're giving back and the people are responding to it – even to small things [such as] touching people or reassuring them or even looking into their eyes. They have a better outlook on things because we give them encouragement, even if it's small encouragement."
The benefits for Fawley were also evident, and he encourages everyone to volunteer in some form or another. He revealed, "I was telling Dr. Hunt I was having a lot of neck pain. I forgot to take my medicine when I was in Africa. I forgot because I was so involved in this and I felt great…Pope Francis said we've got to leave our safe port once in a while. And you don't have to travel the world. You can do this next door with an elderly person, with somebody in your family, somebody who needs help in the neighborhood. Mother Teresa said [that] we've all got our own Calcutta right by us if you just look."
Dr. Hunt also lives out that giving attitude, and he was recently recognized for it by the Northwest Medical Group, which honored him with their Martin Luther King Humanitarian Award. He expressed deep admiration for Dr. King's ability to face ongoing challenges and take risks to make the world a better, more fair place.
It also became clear during our interview that Dr. Hunt isn't a physician who just treats patients as a collection of symptoms. Rather, he sees the person at the heart of the matter, and credits his mom Alice with modeling the golden rule and giving him the foundation for that ability. He said, "My mom [taught] me to treat each person as a person. And Martin Luther King [taught] that everybody's created equal and you have to reach out to every person – the lowest person or the highest person in the world. We all are human beings, we're all going to die, and you have to treat people equally."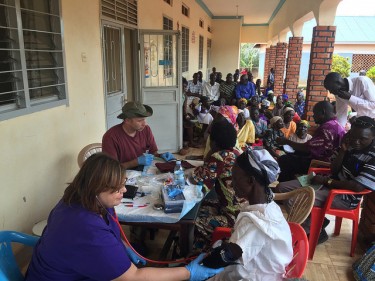 That philosophy continues to drive MANU, too, and Dr. Hunt points out that donations are put to good use: "98 percent of the money goes directly into healthcare so it would be either building the equipment, getting the equipment for the triage center like oxygen concentrators, emergency equipment, IV poles, gurneys, things like that – and also with medications – and also to help with transportation for the healthcare workers there. So all that money is basically funneled right into the projects."
And these are projects that Dr. Hunt and Fawley will both continue to have a hand in because they care so deeply. Said Fawley, "If I could go back tomorrow and work [there] forever, I would."
(To listen to my full interview with Dr. Kevin Hunt and John Fawley, click on the podcast link):

RELATED:
– Dr. Kevin Hunt and Nicole Schreiner Bring Medicine & Compassion to Uganda's Poor
– Actress Bonnie Hunt's Brother and a Catholic Priest Are Saving Lives in Uganda
Stay in touch! Like The Christophers on Facebook: