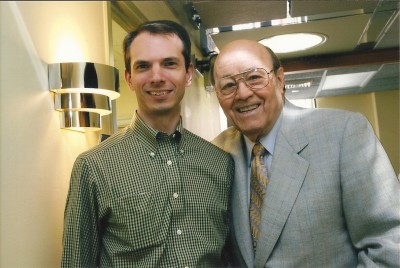 One of the people I had the opportunity to meet during my days producing the TV version of our "Christopher Closeup" show (circa 2006) was baseball broadcasting legend Joe Garagiola, who passed away today at age 90. What I observed was that Garagiola was a down-to-earth, gregarious, friendly man who was happy to chat with every crew member who approached him. He conveyed a genuine joy of life.
I was also familiar with an interview he had done with our former Director, Father John Catoir, around 15 years prior. I had only seen it on tape, but it was my first exposure to how important Garagiola's Catholicism was to him. Father Catoir wrote about that in a column a couple of years ago:
I once did a TV interview with Joe Garagiola, a former St. Louis Cardinal baseball hero and broadcaster. We were talking about faith and I asked him, "What do you say to those who claim that Catholics make too much of Mary?" He shot back, "Father, I'm lucky, I know that if you want to get to the man, you get to the mother."

We paused to laugh, but he drove right on: "We don't say enough to praise Mary, her care and protection. The same for St. Joseph, the patron saint of families. I always pray to him to protect my family, to put his arms around us. He took care of the Holy Family didn't he? What more can you ask?"
You can read the rest of Father Catoir's column here. May God grant eternal rest to Joe Garagiola – and may Mary and St. Joseph have welcomed him, too, with open arms.