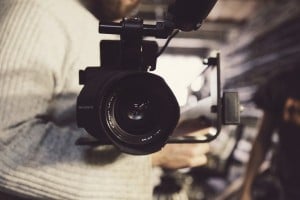 (Photo via VisualHunt.com)
NEW YORK, April 28th, 2016 – Today, The Christophers announced the winners of their 28th Annual Video Contest for College Students in which entrants were asked to create a film or video that communicates the belief that one person can make a difference.
Jake Spivack, a freshman at Tisch School of the Arts at New York University, won the top prize of $2,000 for his piece entitled "Embracing Psychological Differences." The video begins with a group of young adults identifying themselves by their disorder ("Hi, my name is ADHD," "My name is anxiety") and revealing that they've been bullied and called stupid many times in their lives because of their mental health challenges. They share their stories—and eventually their real names—in the hopes that other people will see beyond their diagnoses and discover who they are as human beings.
Embracing Psychological Differences from Jake Spivack on Vimeo.
The second place prize of $1,000 went to James Simmons, a senior at California's Humboldt State University, for "Harvest Craft," which highlights a non-profit founded by two college students to fight hunger and poverty in developing countries. The video follows Harvest Craft's leaders as they work in Haiti and Mexico to create long-term food production systems that also provide good jobs and environmental education.
Harvest Craft for Christopher's Contest 2015 from James Simmons on Vimeo.
Finally, Jacob Hopkins from Pennsylvania's Elizabethtown College earned the $500 third prize for his video "Barry's Story." When he was a homeless alcoholic and drug addict, Barry L. Davis found the help he needed at the Bethesda Mission in Harrisburg. He realized that many of his problems stemmed from his view of himself, so with God's help, he reformed his thinking and way of life. Davis now helps others in similar situations.
In addition to the top three prizes, five honorable mentions of $100 each were also awarded to the following:
– Kacie Hallman from Elizabethtown College, Pennsylvania
Video: Wrapped Around His Finger

——————————————————————————————-
– Alayna Kobayashi from Loyola Marymount University in Los Angeles, California
Video: Weaving from the Heart

——————————————————————————————–
– Jenna Schad from the University of North Carolina at Greensboro
Video: Worthwhile
Worthwhile from Jenna Schad on Vimeo.
———————————————————————————————
– Joseph Calvo from Roosevelt University in Chicago, Illinois
Video: Make a Difference Today

———————————————————————————————-
– Samuel Ti Tha Zam from Des Moines Area Community College, Iowa
Video: Helping Others (NOT CURRENTLY AVAILABLE ONLINE)
The Christophers, a non-profit organization founded in 1945 by Maryknoll Father James Keller uses the mass media to encourage individuals to use their God-given abilities to change the world for the better. The Christopher motto, adopted from the ancient Chinese proverb, is: "It's better to light one candle than to curse the darkness."