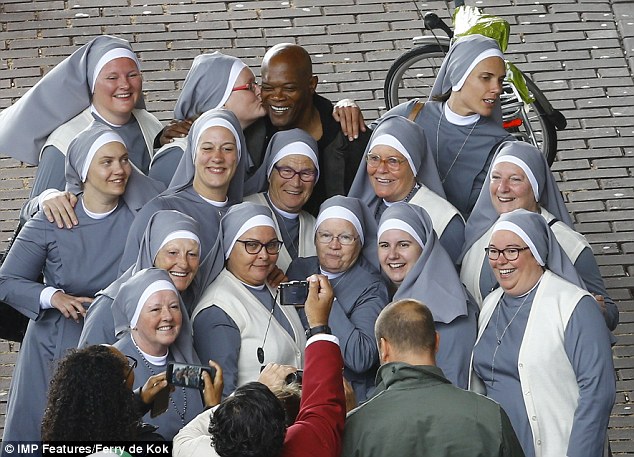 (Photo property IMP Features/Ferry de Kok)
While shooting a movie called "The Hitman's Bodyguard" in Amsterdam, Samuel L. Jackson and Ryan Reynolds appear to have been mobbed by a group of fangirl nuns. The Daily Mail reports:
Whether scripted or by chance, a van bearing the [Sacred] Heart on the side pulled up at the passenger terminal at the docks where the pair were filming, and out spilled over a dozen nuns.

The convent flocked around the two stars, jumping in for photos, with one even risking her vow of chastity and plating a kiss on the delighted-looking Pulp Fiction star.

It is likely the scene was all part of the movie, as the ladies were seen hanging out and chatting with the crew afterwards.
So we don't know whether they were real nuns or actresses. Regardless, they made for some great pictures which you can see more of at
the Daily Mail link
.
Stay in touch! Like The Christophers on Facebook: