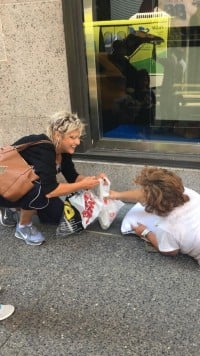 In 2011, The Christophers were happy to honor 21-year-old Shannon Hickey with our James Keller Award (named after our founder) for her work creating Mychal's Message when she was only 11 years old. Mychal's Message is a ministry for the homeless that was inspired by the death of family friend Father Mychal Judge on Sept. 11, 2001. (Read the full story here.)
Shannon, her mom Kelly, and her family continue their ministry, coming to New York City every year on or around 9/11 to serve those who have fallen on hard times. Yesterday evening, Shannon posted the following story on her Facebook page, which documents a powerful incident she witnessed between her mom and a homeless woman.
Today at the age of 26 I experienced life's greatest lesson from my mom. This woman, Crystal, was laying on the street of NYC sleeping on the hard concrete sidewalk. I stood on the corner of the street as over 100 people walked past her without even glancing her way. All of a sudden I heard my mom say "that is someone's daughter. We need to help her". Merely seconds later I see my mom bent down talking to this woman, then running down the street to get a coffee for her. I later found out that's all Crystal asked for. Not money, not a hand out, but a cup of coffee. We then went to the closest store and bought her a pillow. We came back and I watched as my mom handed Crystal the pillow and I sobbed. As we walked away I watched Crystal lay her head on her new pillow and all I could think was how that one tiny act of kindness impacted her life. I am simply the luckiest to have a mom who has literally taught me by her example. I'm still in awe of what I witnessed today and I hope one day I can show my own kids the life lessons my mom has shown me my whole life, but especially what she showed me in this moment today.
Kelly then shared her own side of the story:
Thanks for the beautiful words, Shannon. I will never forget Crystal. I will never forget her thick red hair and beautiful Irish skin. I will never forget watching people pass her by as if she was invisible. I will never forget that she likes her coffee light and sweet. I will never forget that she offered me the only thing she had – an orange. I will never forget that God chose to work through us in Crystal's life today. And I will never forget the grace God gave us in allowing us to be His servants. What a gift! It is true what St. Francis said, "It is in giving that we receive." I wanted to do more for her. I wanted to get her showered and clean, to get her into fresh clothes, and to clean the dirt from under her fingernails. But Pop began our day with Mother Teresa's words, "Do small things with great love." And so today, a pillow was a small thing, but it was done with great love – God's love through us – and so maybe it will make Crystal's night on the sidewalk a little softer, a little better. Maybe she'll hold on to that pillow and know that today, someone cared enough to make her visible.
Thanks to both Shannon and Kelly for being lights in the darkness.
Stay in touch! Like The Christophers on Facebook: