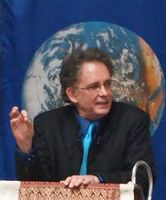 I've shared two stories with you on the experience of walking the Christ Path. The third story…a story at the core of my heart… comes from my father.
My father was a very beautiful person, very regal and very humble, very strong and very gentle. And he had a very, very profound inner life about which he never spoke, except on his deathbed when I happened, through grace, to be with him. And I asked him, "Who is Jesus for you, as you are dying now?"
And his eyes filled with tears and his face shone, and he said, "Jesus is my brother and he is with me, and he is helping me."
And then I asked him, "And how are you thinking of him at this moment?"
And he said, "I am thinking of him in Gethsemane, because I am now in Gethsemane. And as I lose everything—my family, my body, my life—as he knew he was going to lose everything, I think of him. And I ask him to give me what he found: the capacity to surrender beyond reason to the will of God."
After that conversation, I went to church, and I won't go into it, but I had the experience of Jesus directly. He appeared in the church and gave me an overwhelming vision of glory, and then took me outside, where I faced a man without legs and without arms, in a puddle, and picked him up, and had him looked after, and heard Jesus's voice, which I've never heard before or since, say, "You have been playing with your mystical experiences. You have used them to decorate your ego. Don't you understand the world is burning to death? And don't you understand that there are billions of people living like him and billions of animals whose lives are threatened, and the forests are burning and the seas are polluted? And don't you understand that you've only been given these experiences that you prize so much to make you a lover-warrior for justice and compassion in the world? And don't you understand—and I beg you to understand—that when you cross over the waters of death, you won't be asked how many books you wrote, how many people's lives you changed. You'll be asked one question. You'll be asked: What did you do while the world was burning? What did you love enough to really give your whole life for?"
And that was the experience that birthed Sacred Activism.
And after that experience, I came to see my father for the last time. And prompted by—I didn't tell him about the experience that I'd had, but I knelt by his bedside, and I said, "Daddy, I will never see you again. But I love you. And what I want to do is to thank you. I want to thank you for having been such an amazing father, for having been so patient with me." And I spent fifteen minutes just thanking him for everything that he'd poured into my being.
And then he did something which could only come from a lifelong, humble, simple adoration of the King of Lovers, of the beloved of the Beloved. He put his hands on my head and he said, "I am going to bless you. And I'm not going to wish for you fame or money or happiness even. I hope you'll have all of them, whatever you need. But that is not what I am going to bless you with now. I am going to bless you with the presence of the Christ. In the core of your life, at all moments, may you never, ever, for one moment feel abandoned or alone, because he is walking in you and he is walking by you. And if you can only trust that, whatever pain and difficulty you find yourself in, you will find the courage and the strength to remain in love with life, joyful, delighting in the fun of life, and radiating encouragement to others."
So why should the fundamentalists have all the fun? Let us reclaim this intimate mystical communion with the Beloved as our brother in the evolutionary path. And let us know that he knows everything about this path because he's lived it completely for us. He knows about all of its ordeals and rigors and horrors, and he will be in us, helping us in all the different transformations that we will go through.
Don't believe me. Open. Dare to open. Dare to begin the relationship. Dare to speak to him. He is here right now. He is alive in each of you, in me, in everybody listening, and he is waiting.
___________________________________________________________
To register for the "Cosmic Christ and Youth: The Occupy Generation," the Christ Path Seminar weekend taking place online and on-site in Burlingame, CA,  10/11-13, see http://www.christpathseminar.org/ai1ec_event/cosmic-christ-and-youth-the-occupy-generation/?instance_id=99
To order the complete 12-DVD set of recordings from the first Christ Path Seminar weekend, "Cosmic Christ and the New Humanity"– including Dr. Fox's delivery of the Saturday afternoon lecture from which this post is clipped, see http://www.christpathseminar.org/participate-by-dvd/
Be sure to sign up on the Christ Path Seminar mailing list to receive word when the DVDs from the second weekend, "Cosmic Christ and the Historical Jesus," are released!