David Murrow founded Church for Men in 2005. Murrow is not a pastor, professor or theologian. He's just a guy in the pews who noticed a disturbing trend: churches are losing their men and boys. So he wrote a book titled Why Men Hate Going to Church, which became an instant Christian bestseller, with more than 100,000 copies in print. His efforts have spawned articles in the New York Times, Wall Street Journal, and the Chicago Tribune, to name a few. You may have seen him on PBS, the NBC Nightly News, or the Fox News Channel talking about the gender gap.
About David Murrow…
David Murrow has walked four distinct career paths: television producer, book author, professional speaker and government spokesperson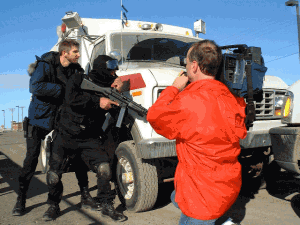 Media producer: David Murrow has produced some 800 television commercials, and more than 100 TV specials and programs, mostly in Alaska. He's contributed material to Discovery Channel, NBC, ABC, CBS, Food Network, Travel Channel, Dr. Phil, The Miss America Pageant and many others. He's produced dozens of political commercials beginning in the mid-1980s.
Book Author: David is the author of three books: Why Men Hate Going to Church (2005); How Women Help Men Find God (2008) and The Map: The Way of All Great Men (2010). His books has been reviewed in newspapers such as the Wall Street Journal, Washington Post, the New York Times and many others. He's spoken about the gender gap on the NBC Nightly News, Fox News Channel and PBS.
Speaker: In conjunction with his book, Murrow has spoken to groups as large as 3000 people in venues all over the world. He's been a trainer for Promise Keepers. He's conducted many men's retreats and rallies. He has spoken in churches of 150 to 15,000 members.
Political consultant/Government spokesperson: David produced Sarah Palin's first television commercials during her run for Lt. Governor of Alaska in 2002. After she was elected Governor of Alaska, Palin tapped Murrow as her Director of Communications. Shortly after he was hired, Gov. Palin called David into her office to announce that she was resigning! Murrow scrambled to plan the lakeside press conference at which she announced her resignation.
David went on to serve Palin's successor, Governor Sean Parnell.
Murrow has a degree in Anthropology from Baylor University. He's married with three children and three grandsons.
– See more at: http://churchformen.com/community/about-david-murrow/