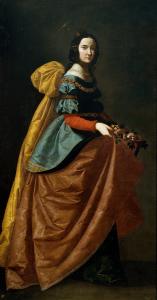 Elizabeth was a Spanish princess who married King Denis of Portugal at the age of twelve (this wasn't uncommon in the Middle Ages). She was beautiful, lovable, very devout, and went to Mass everyday. King Denis was a good ruler of the people, but he didn't imitate Elizabeth's love of prayer and virtue. This caused her great suffering as it was hard to rule alongside him and live in union with him. In fact, his sins of impurity even scandalized the people! But Elizabeth did not give up on him and continued to pray for her husband and remained faithful to him. His failings did not deter her love or her faith.
Some people were jealous of Elizabeth and her position, though, even though she was kind. One time, a page started a rumor that Elizabeth was being unfaithful to the king (as if) with another page. Denis believed it! He became so jealous that he plotted to have the accused page murdered. The plot went afoul and the page who had started the rumor was accidentally murdered instead. Denis took this as a sign that Elizabeth and the page were innocent and that God was sparing them because of their innocence. He apologized to Elizabeth in front of everyone and began to have a great respect for her.
In his last sickness, Elizabeth took care of Denis and only left his side to attend daily Mass. He died a holy death because of her. In the eleven years she outlived him, she increased her charity and penance, modeled kindness toward the poor, and made peace between members of her family and between nations. She is the patron of Third Order Franciscans, which makes sense with her humility and devotion to the poor and acts of penance.
Image courtesy of https://commons.wikimedia.org/wiki/File:Santa_Isabel_de_Portugal.jpg