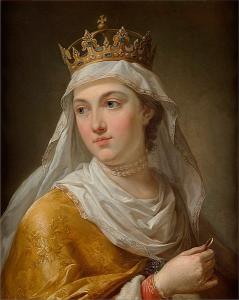 Hedwig (Jadwiga in Polish) was the first female monarch of Poland. She was the youngest daughter of Louis, King of Hungary and Poland, and Elizabeth of Bosnia. She was named for her ancestor, St. Hedwig of Silesia. Her family was notoriously holy and she, herself, attended daily Mass. Hedwig also had a special devotion to the Virgin Mary.
Hedwig and her husband were childless for over a decade. Finally, a daughter was born in 1399. The new princess was named Elizabeth Bonifacia for Hedwig's mother and Pope Boniface IX who was the child's godfather. How many people can say a pope was their godfather?! That's pretty cool.
However, baby Elizabeth Bonifacia died at three weeks old on July 13 (which happens to be my mother's, who is of Polish descent, birthday). Hedwig was also incredibly sick and died just four days after her daughter. They were buried together in the Wawel Cathedral. 550 years later, on July 12, 1949 (the day before my mom's birth), Hedwig's and the infant's tomb was opened.
Hedwig was often called the spiritual mother of the poor, weak, and ill of Poland. Renowned for her charitable works, she established new hospitals, schools, and churches, and restored older ones. She also promoted the use of the vernacular in church services, rather than Latin, and especially having hymns sung in Polish. On her order, the Scriptures were translated into Polish.
There are many legends surrounding her but here are a few of my favorites: Hedwig used to pray before a large, black crucifix in the Wawel Cathedral. One time, Christ on this cross is said to have spoken to her. It is now known at "Saint Jadwiga's cross" and is still there, with her relics beneath it.
In another legend, Hedwig was taking part in a Corpus Christi Day procession when a coppersmith's son drowned by falling into a river. She threw her mantle over the boy's body, and he regained life.
Hedwig was proclaimed a saint rather recently, in 1997, under the pontificate of Pope St. John Paul II who had a great devotion to her and shared her Polish ancestry.
Image courtesy of https://commons.wikimedia.org/wiki/File:Jadwiga_by_Bacciarelli.jpg