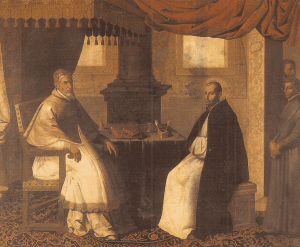 Bruno was a reluctant bishop. He didn't really want to be one. He wanted to be a monastic! But, as is often the case for many of us, he knew he was being called in a different direction and heeded that call.
Born in Asti, Italy in 1049, Bruno was educated by Benedictines. He joined them while he was still rather young and was appointed the canon of the Siena cathedral. How this came about is quite the story. Bruno was on his way to Montecassino to become a monk but on the way fell ill. He stayed in Siena for a prolonged time due to his health. Eventually, the local bishop thought Bruno would make a good canon to the cathedral and so named him as such. After this, Bruno was named Bishop of Segni.
Bruno was notable for defending the Real Presence in the Eucharist and making a heretic retract his claim that Jesus Christ wasn't present in the Blessed Sacrament. It's no shock that Bruno was incredibly devoted to the Blessed Sacrament.
He was also known for his orthodox defense of the Faith, his extensive knowledge of Sacred Scripture, and his condemnations of simony, collected in the document Libellus de simoniacis. He wrote commentaries on the Book of Job, the Psalms, and the four Gospels. Incredibly, we still have 145 homilies of his preserved, also.
Bruno served as the Vatican librarian for a time. He once tried to enter monastic life while still bishop. This only worked for a short time before the Pope told him to not shirk his duties. His theological work on the Holy Eucharist set the standard for centuries and the foundation for it he built can still be seen in modern theological scholarship. Interestingly, his only patronage is of Segni, while I would've pegged him as a shoe-in for librarians and Eucharistic adorers, too. Maybe one day he will gain those.
Image courtesy of https://commons.wikimedia.org/wiki/File:Zurbaran_–_St._Bruno_and_Urban_II.png