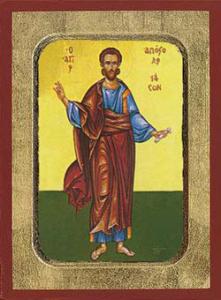 Jason met St. Paul when Paul stayed with him in Salonika. His story is told in Acts 17 when Paul was preaching and converted many. The Jews there got really mad and went to find Paul and his companion Silas, but were unsuccessful. Instead, they burst into Jason's house and dragged him in front of the magistrate. "When they could not find [Paul and Silas], they dragged Jason and some of the brothers before the city magistrates, shouting, 'These people who have been creating a disturbance all over the world have now come here, and Jason has welcomed them. They all act in opposition to the decrees of Caesar and claim instead that there is another king, Jesus.' They stirred up the crowd and the city magistrates who, upon hearing these charges, took a surety payment from Jason and the others before releasing them" (Acts 17: 6-9).
Legend says that Jason became the bishop of Tasus in Silicia. He went with St. Sosipater, the bishop of Iconium, to evenaglize the island of Corfu. They preached their to great success for some time. Eventually, though, Jason and Sosipater were thrown into jail. But that didn't stop them! While in prison, Jason converted seven thieves. All nine of them (the thieves plus Jason and Sosipater) were eventually martyred.
In another legend, he is venerated as an apostle to the area around Apanea. He was martyred there by being thrown to beasts.
Finding saints in the New Testament is super fun because, beyond the Apostles, we often don't recognize their contemporaries. I love these little gems sprinkled throughout the New Testament. It shows that Catholicism, Christianity, has been a community effort from the very beginning. The Apostles didn't just do everything themselves or take all the credit; they relied on the community.
Image as appeared on https://www.catholic.org/saints/saint.php?saint_id=293