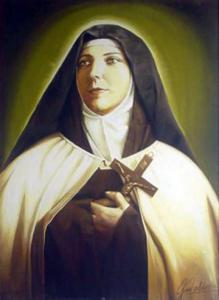 Teresa de Los Andes was a discalced Carmelite nun from Chile. She was born Juanita Fernandez Solar on July 13, 1900. Usually, saints are celebrated on the day of their deaths. Instead of being this, though, Teresa is celebrated on the day of her birth!
As a kid, Teresa had an unpredictable temperament, often being prone to anger or vanity. But this changed when she decided to become a nun. She also liked singing and dancing, playing croquet and tennis, was a good swimmer, and could play the piano and harmonium. She was known as a well-rounded child.
Teresa once read the autobiography of St. Thérèse of Lisieux (Story of a Soul) and this profoundly impacted her. It was through reading this that she decided she wanted to dedicate her life to God.
Teresa's mother once told her that she needed to receive permission from her father to enter the convent. While at school, she wrote her father a letter but never received a response. This didn't deter her. When she came home from school, her father verbally consented to her desire. In May of 1919, just before her nineteenth birthday, Teresa entered the novitiate. She was then given the name Teresa of Jesus. By October of that year, Teresa had received the habit of Carmel. She took up letter writing as an apostolate to share her thoughts on spiritual life.
Soon after this, unfortunately, she contracted a fatal diagnosis of typhus. Speculation says itt could also have been the Spanish flu, which was ravaging Chile at the time. Teresa still had six months of the novitiate before she could profess vows. But her health became so bad that she was allowed to profess her vows early in periculo mortis, "in danger of death". She died a week after Easter that year.
Fun facts: Teresa de Los Andes is the first Chilean to be proclaimed a saint! She's also the first Discalced Carmelite outside of Europe to be proclaimed saint and the order's fifth saint named "Teresa".
Carmelites and T(h)eresas represent!
Image courtesy of https://commons.wikimedia.org/wiki/File:Óleo_conmemorativo_de_la_Beatificación_de_Santa_Teresa_de_Los_Andes,_Parque_O%27Higgins_de_Santiago.jpg