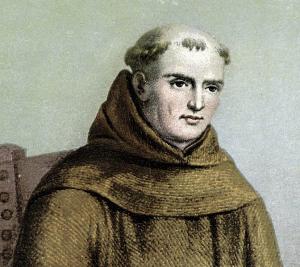 Junipero Serra was a Franciscan missionary. He took over the Jesuit missions in Mexico when the Jesuits were expelled and then established nine missions in California before he died. That number eventually grew to 21. Junipero spoke against cruelties by the Spanish government and begged for mercy on the Natives. He also always looked for similarities between the Natives and Catholics, rather than pointing out differences, and tried to learn the native languages. St. Junipero devoted himself to Our Lady of Guadalupe. He visited her shrine in Mexico City, and that had a great impact on his faith and life.
However, there's been a lot of controversy surrounding him recently, and rightfully. Critics say he was an agent of government overreach because he established missions, which is viewed as taking over lands occupied by Natives. Also, there is evidence of abuses of Natives at the missions. Statues of Junipero in San Francisco and Los Angeles have been toppled, and one in Ventura was moved to a non-public place after a petition circulated.
While it is good to understand these shortcomings, it is important to not forget the good he did. For instance, Junipero fought for the rights of the indigenous peoples and tried to create a place of equity. Many indigenous people sought his canonization and were overjoyed when he was in 2015.
As we learn more and learn better, we should do better. These conversations are all necessary on the path to healing, true inclusiveness, and transcendent love in our Faith.
This will be the first in what, I hope, will be a daily series highlighting a different saint. Each day I'll present just a short bio and facts about a saint whose feast day is that day. I hope you enjoy this! And I hope I can keep up!
Images courtesy of https://commons.wikimedia.org/wiki/File:Jun%C3%ADpero_Serra.jpg and https://www.publicdomainpictures.net/en/view-image.php?image=96265&picture=statue-father-junipero-serra