Welcome to a brand new blog series, "The Editors behind the Great Books in New Testament Studies." Here we will talk to professional editors and learn about the publishing world. We tend to admire the writers of the books, all the while these editors are working behind the scenes and often the "unsung heroes" of great books. So, I thought I would peel back the curtain to take a peek at the important work of these editors, imagining, crafting, reworking, and fortifying all those books we know and love. We kick-off with my good friend and partner in publishing crime, Michael Thomson (Cascade Books).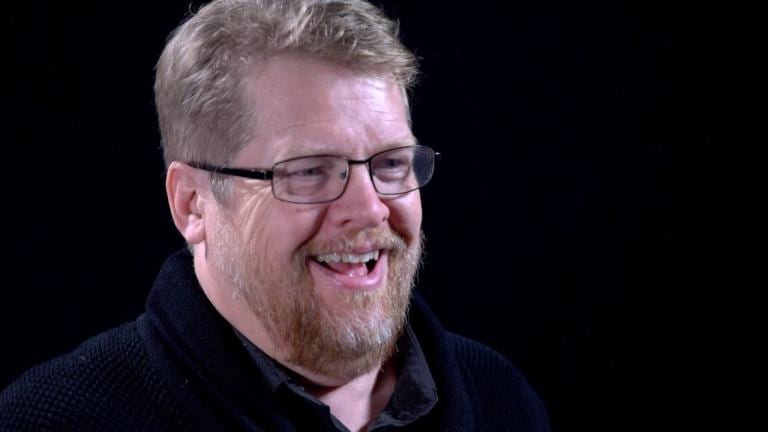 ---
Michael, Tell us about yourself and your background.
I grew up in Canada, in Montreal specifically, the son of a Baptist pastor / professor and dean of historical theology. My mother was a librarian at the theological college my Dad both helped to found and where he taught. I began to follow in his footsteps and undertook studies in philosophy and then in theology at Regent College. There I also worked at the bookstore, getting a taste for a very broad range of biblical and theological publications. I had the privilege of being Gordon Fee's teaching assistant at Regent. I felt torn, thinking of a career in teaching as well as hanging on to the desire to be a pastor. Little did I know that an invitation by Sam Eerdmans, someone I got to know when I served as an assistant manager in the bookstore at Regent, to apply for a position at Eerdmans publishing would completely change my career path. I worked at Eerdmans, in sales, then managing sales, then in editorial as acquisitions and development editor for nearly 23 years total. Just under two years ago, I accepted an offer from Wipf and Stock to work there in a similar function and have had a wonderful time leaning ever more deeply into the developmental side of the job, seeking out authors and editors for projects. I am excited for what lies ahead. Even as I left some very good colleagues behind, I found myself working with a very strong team of editors and enjoying the challenge this has brought to my professional life. I hope that some of what I do allows good books to find their way to publication, and I hope this is to the betterment of both Academy and Church.



Few editors I know aspired to be in publishing. They sort of wandered into it and ended up enjoying it. How did you become an editor? What do you enjoy about it/find satisfying?
This is very perceptive of you. I think it's true that being an editor is not often a career one chooses. In my case, it seemed to chose me. Sam Eerdmans hired me in Sales at Eerdmans and, while I loved that, I also found it exciting to be  a conduit for authors I would run into (or that I knew) into the company. Early in my tenure there, in sales, Bill Eerdmans saw that in me and encouraged me to bring in manuscripts if I could do so without compromising my sales responsibilities. Sam Eerdmans also encouraged that when he saw that I was managing to bring in the likes of John Collins, Joseph Fitzmyer, Stanley Grenz, Luke Timothy Johnson. Once I was able to work in acquisitions full time, this broadened significantly, allowing me to work with Michael Gorman, Thea Portier-Young, Susan Eastman, and the notorious Nijay Gupta. 🙂 Thus, I became an editor because I seemed to have a knack with networking with authors. I felt proud that I helped extend the brand of the company I worked for as I am now doing with Cascade / Wipf and Stock where in my first couple of years I have worked with some of these same authors as well as the likes of Douglas Campbell, Martinus DeBoer, Craig Keener, Nicholas Wolterstorff, and Lisa Bowens.



---
What are some things that stand out to you in a book conversation with an author or a book proposal that grab your interest?
I really get excited when I come across something that is a genuinely new proposal, by which I don't just mean novel. That is, when someone has a constructive perspective and frames an argument that then offer insight into subject matter in a way not heretofore done. I will give two very different examples of that. I was quite excited to work with Susan Eastman on her book with Eerdmans, Paul and the Person, as she drew on concepts of personhood from ancient to contemporary, and revealed a surprisingly deep and nuanced view of the self in Paul. Nothing quite like this had been done. A completely different sort of book came from John Kaltner and Steven McKenzie. They pitched and have since published, a book introducing the art of Biblical Interpretation drawing analogies from the field of Crime Scene investigation. The book, recently published, Sleuthing the Bible, offers a clever entree to critical reading for those with no critical background to Biblical studies. 
---
What are your book proposal pet peeves? And what are common, but correctable mistakes (more broadly) that authors make when trying to pitch their book idea?
I'm not sure I have pet peeves per se. I would say that at the outset the most common errors in submitting a book proposal has to do with either offering too little or too much information. Too little information is far worse because the author assumes that, as you are an editor in the field of biblical or theological studies, surely you must be able to fill in the backstory as said editor must of course be fully current with their particular corner in research. I read in cover letters or hear in conversation such things as: "of course you know this is a major trend in the field…" and the field may be something as specific as the relationship between certain forms of psychology and a particular theological tradition. Editors are often generalists to some degree, but none of us has the reach to cover every eventuality. Thus, when sending information, offering context of the project, academic, personal, historical, is very helpful. Pointing us towards other literature can help as well, allowing us to look up an article or find someone to consult. The opposite error occurs when I receive a proposal that is 25 -30 pages long because the author goes into painstaking detail in summarizing chapters and in providing short book reviews of other books in the field. More is sometimes requested when someone sends something adequate (5-10 pages is usually ample for an initial introduction to a project). We also have a form we prefer authors to use. I think most publishers go this way. It helps if an author uses these as it helps us in our meetings to navigate key questions. Of course, additional supporting documents are encouraged and welcome (writing samples, CV, reviews of previous projects by said author in some cases can be helpful). In short, provide adequate information, don't presume the editor knows your corner of academia as well as you do, provide material in a requested format if at all possible as this helps acquisitions committees to review the material efficiently.
Talk about one or two books that you acquired or edited that you are especially proud of and why.
I will cheat here and list three.

1. Douglas Campbell's book, Deliverance of God, which was a behemoth but which did serve to shake up some of the conversations around Pauline theology. I discovered Doug in a session at SBL where he was defending his work in a panel on Pauline theology which included N. T. Wright, J. Louis Martyn, and a few other established giants. The panel was not about Campbell, but it wound up being centered on Campbell with everyone responding to him and his responses. It was remarkable. His book came in much larger than contracted and published at nearly 1400 pages, but for all that sold very well.

2. I was thrilled to be the editor that brought in John Barclay's book, Paul and the Gift, which led to subsequent books by him forthcoming at Eerdmans. Barclay's book may have been one of the most anticipated books I've worked with in the field. The discussion of his book was broad and it shifted the discussion in Pauline theology in ways still felt today.

3. Gene Green's Vox Petri is a book that I have long journeyed with. I was able to scoop it when getting to Cascade as it didn't wind up being picked up by Eerdmans after I left. I was very happy with that outcome as Gene has offered us a reading into the trajectory of early Christian theology that makes in clear that the shadow of Peter plays a much larger role in the development of Christian thought than is very often acknowledged. I am a Paulinist in interest, but this book offered a way into Peter's legacy that made sense of how he loomed large in the early church even though writings attributed to him (and that hold up under scrutiny as actually going back to him in some way) are very few indeed. It's an important book and the wide range of endorsements on the back cover testify to its significance. I hope it will continue to be read and argued over. 

---




There are many good pieces of scholarship by biblical scholars, but we are not necessarily good at the art of writing. If you were to help an author improve their writing and communication skills, what would you recommend?

It really depends on who said biblical scholar hopes to write for. One of the problems with writing not just for the fellow members of the guild, but, say, for the classroom or the church, is that by the time one gets to do this as a biblical scholar, one has written a PhD thesis and spent additional time shaping it for publication with an academic publisher, and then often spent the next half dozen years writing a second and maybe a third very academic monograph and likely a good number of academic articles, all for fellow members of the guild. Thus, whatever drove someone into Biblical Studies, often with some motivation at least to give back to their faith community or with students in mind, all one's writing chops have been formed in the deep groove of SBL level writing. Thus, by the time, often mid-career, a scholar wants to write more accessibly, they have all but lost their instincts in communicating. They have lost the power of persuasion if not of teaching by a formal, and rigidly academic style. Good writing begins with a firm grasp of one's audience. When I receive a proposal that says the readership is: "scholars, students, pastors, general readers," I know the author has no clue what it means to write for general readers. They may as well add "preschoolers and chimpanzees" as they do not know who they are aiming to communicate with. Good writing begins with the choice of the bullseye audience and then, leaving the appropriate bits on the cutting room floor. Thus if you are writing for church goers, you do not need citations from scholarly or refereed journals. If you are writing for scholars, you most likely do not need that lovely story about your grandchild. This advice is general of course, exceptions may make sense. The other thing I would say is that it helps not to assume your readers know everything you do, and thus, anything that may either be too specialized, or, even with academic writing, from a particular subset of the academy, should be given some context. Lastly, I think it helps to keep your sentences tight and shorter. Better three sentences than a 12 line sentence with many hanging clauses, even is you have to repeat a reference to keep the flow moving.

---

Explain how you define and interpret "success" in your industry?

Again, there is no one answer. Success may be that a book has had the desired impact by how much it has been reviewed or discussed in both journals and blogs. Success for an established author may be measured in quantities of books sold, but even there it will depend on what sort of book they have written. The collected essays of N. T. Wright will sell because he has a huge platform, but not nearly as well as his forthcoming Harper-Collins book is likely to do. In each case the success for a book is considered in light of sales (meeting expectations, be they those of an academic book or a classroom text or a book for pastors or a book for lay readers). Each of these will prompt a publisher to calculate what they believe or hope will happen (not always the same thing), and that will drive such things as how much money or time to invest in development (editorially, marketing wise, etc). Success is meeting a range of benchmarks for a book given its givens. A book that brings together conference papers may meet that benchmark at a much lower tier of sales than say the next major book by an established biblical scholar with a large following.

Can you give some thoughts and predictions about how publishing in biblical studies can and/or should change in the next 10 years?
This is very slippery territory. When I began 24 years ago, if you had told me that the retail sector for books would all but have collapsed and that books were sold primarily by the amount of online discussion could be generated (what was "online" 24 years ago?), I would have given you a blank stare. I am heartened that the indie bookstore is making a small comeback. I hope that can be continued and that book buyers will support that effort. I think the field of Biblical Studies itself will be under increased pressure to be absorbed by other canons, say reading biblical texts as part of either ancient near eastern texts, or early Christian and gnostic (and other) bodies of literature. That is already happening of course, but the pressure will increase. The role of biblical theology will be complicated by the tendency to read biblical texts in strictly historical terms. There are fine examples of scholars doing biblical study and interacting constructively with the historical disciplines while maintaining a relevance to biblical texts as biblical, but those pressures I think will continue to be felt and, if the UK and Europe are an indication, and continue to marginalize those writing from an avowed confessional social location. I hope that publishers will continue as now to represent the best from across the confessional and non confessional spectrum. I do think some publishers will double down in a narrower confessional space while others will seek to be open. I know I cannot predict what getting it right will look like.

 

I think publishing will also increase in various modes, and possibly expand. Thus more scholars will blog. Some will lean more deeply into open access space. However, as long as Academic trajectories exist that are related to publishing, I believe there will be a rich and diverse role for publishers to ply their trade and maintain publishing trajectories and traditions that can benefit authors and readers.
If you were wanting to invite "fresh talent" to publish with your press, what is your pitch (right here and right now!)? How do you express your press' identity and purpose (don't just recite it from a website) and how do you want to shape biblical studies?
Each press brings a number of strengths to the table. I have good friends at many good presses. Thus, I would not discourage anyone from following their best judgment when choosing a publisher.
With that said, let me say that I am proud to be working for a publisher that does all it can to maintain a rich and diverse program across its publishing imprints. We do all we can to support academic and other writers offering quality work to readerships of various sizes. Thus, we have Pickwick. That is our imprint for publications that are truly inner-guild in nature. If you are writing with your fellow academics in mind, this may be where your book finds it's home with us. We do publish dissertations. These often land in Pickwick. They need to receive a strong (or several strong) endorsements as to why they should be published. Here too we may pick up an Academic conference. More technical monographs or series find their home here.
If you are writing for scholars, but also for students or pastors, then we may well have a home for you on our Cascade imprint. This is our imprint that is the pulsating heart of the Wipf and Stock Academic program. That does not mean Pickwick is insignificant, but rather, that this is the part of the program where we believe a book has an opportunity to find a wide range of readers. Established authors very often publish with us on Cascade, from Nijay Gupta, to Michael Gorman, to Susan Eastman (forthcoming), and many many others. 
If you are writing a book that is either not an academic book or that is a good learned book, but you do not have the Academic platform to draw in most academics, and IF we like your book, we'd be glad to consider it for our more general imprint, Wipf and Stock. 
What I love about the company I work with is that what drives a publishing decision if first and foremost this question: "Is this a good book? Is it well done?" The second or third question will wrestle with the realities of author platform, and size of audience for a given project. These are asked and answered but not then to reject a good project, but to map a way forward that allows us to publish it for said audience and find the right strategy for supporting it.
Another key value of our press is keeping books as affordable as we possibly can given the givens. If we publish articles on Jonathan Edwards, the book will be a bit more expensive than say a book by Walter Brueggemann. However, it will not be priced out of the range of the student or pastor. That is a key value for us and that may mean we will receive a more modest return on a given project. We are driven first and foremost by the love of the book itself, the rest are logistics. Of course they matter, but they do not drive the publishing decision. We will publish a book if we think it's worthy, then we will strategize on how to make the most of it. In some cases that means a true best seller with books selling year after year in good numbers. However, in the cases of those conference papers, it most likely will be a much more modest rate of return. If we crunch or numbers carefully, we can manage to do both. That is why I love to be here. We can support academy, authors, and readers with a wide range of offerings.