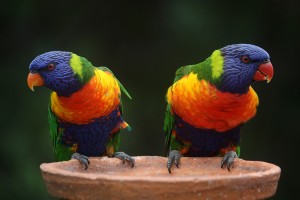 On Tuesday nights since last September, I and my friend Diana have been co-leading our RCIA program. We're a smallish parish, and in the time I've been involved we've usually had maybe two people preparing for baptism and a few preparing just for first communion/confirmation. We're a good team; I joke that I'm the talking head, and Diana's the loving heart.
The RCIA process finished up at Pentecost, naturally. But Diana and I had been thinking…the newly baptized and confirmed still need a place to come and ask questions, and on top of that inquirers come to the parish year 'round. So instead of shutting down until September, we're going to continue meeting through the summer—not as RCIA, as such, but simply as a resource for inquirers. Anyone who wants to come, from the never-baptized to the long-confirmed, can come on Tuesday night and ask questions or just participate in the discussion.
Of course, that's pretty much our policy during the RCIA season as well; but during the season there are particular topics we need to cover.
Last week was our first venture; and I spent the time chatting and reading through the Pentecost Sunday readings with an older woman who had been coming to our last couple of months of RCIA meetings, and who plans to enter the Church next Easter. It was a lot of fun. I expect she'll be back tonight, and I'm eager to see whom else we might have as the word gets out.
Prayers are welcome, if you're so minded.