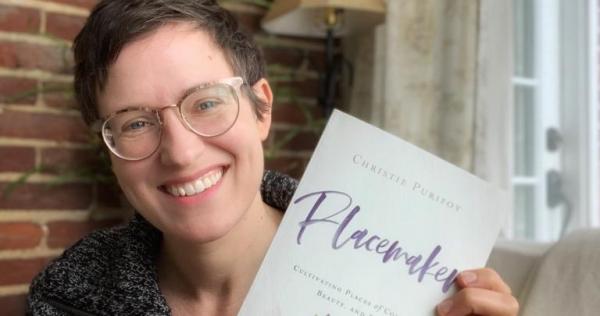 That's the claim I make in this book: like the God to whom we belong, we are placemakers.
That's right. All of us.
Whether we have green thumbs or not. Whether we live in old farmhouses or share a dorm room with two others. Whether we are travelers or homebodies. We are all standing in some place, and we can choose to tend that place.
We can choose to cultivate beauty, comfort, and peace right where we are.
Maybe not all of the time and in every season. Maybe right now, someone is tending a place for you.
But we are made in the image of a placemaking God. God's love for particular places and their particular trees and even their particular weeds is something handed down to us.
What will we do with our urge to create?
What will grow when we lean in to our longing for beauty or our longing for peace?
Placemaker: Cultivating Places of Comfort, Beauty, and Peace is on sale today wherever you like to buy books. Here is a brief excerpt, a small taste. I hope it whets your appetite for more.
Thank you for celebrating with me today!
*
For more than twenty years, my husband Jonathan and I have learned to care for others by caring for the places in which they dwell.
Creating and cultivating shelter has brought us happiness and heartache and more than a few unanswered questions, but there is one thing I know absolutely: making and tending good and beautiful places is not a dishonorable retreat. It is a holy pursuit.
Our maker has made a home for us sheltered by trees, bounded by rivers, and illuminated by both stars and the white-blooming flowers of evening.
Yet we were never meant merely to consume the gifts of creation.
We were made to collaborate.
We were made to participate.
*
Readers, my new book Placemaker: Cultivating Places of Comfort, Beauty, and Peace releases today! It's a call to tend the soul, the land, and the places we share with one another. It's a reminder that the cultivation of good and beautiful places is not a retreat from the real world but a holy pursuit of a world that is more real than we know.
I hope you'll order your copy today.