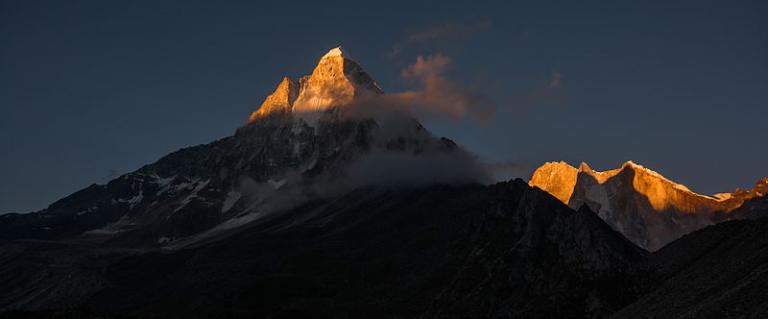 We were out to dinner with friends again last night, (at their request) at the La Jolla Groves. Excellent food, once again.
Tonight, we went out for a quick bite with another couple of friends. (Hey! How am I supposed to maintain my slim, youthful physique while eating out so often?) She is a very serious violinist (master's degree level) and so, after dinner, we attended a performance at BYU by the BYU Philharmonic Orchestra.
Under the baton of Kory Katseanes, who was my assistant zone leader while I was serving as a missionary in Interlaken, Switzerland, they played the Carnival Overture (Op. 92), by Antonín Dvořák, and Till Eulenspiegel's Merry Pranks (Op. 28, Till Eulenspiegels lustige Streiche), by Richard Strauss.
Introducing the second work, Kory spoke briefly of Strauss's great tone poem Tod und Verklärung ("Death and Transfiguration"). He mentioned an apparently commonly told story that I had never heard, according to which, when Richard Strauss lay dying in 1949 (exactly 60 years after writing Tod und Verklärung), he said to his daughter-in-law: "Funny thing, Alice, dying is just the way I composed it in Death and Transfiguration." Some say that he actually set to music the "white light" commonly mentioned in near-death experiences.
Strauss explained the underlying idea of Tod und Verklärung in an 1894 letter:
"It was six years ago that it occurred to me to present in the form of a tone poem the dying hours of a man who had striven towards the highest idealistic aims, maybe indeed those of an artist. The sick man lies in bed, asleep, with heavy irregular breathing; friendly dreams conjure a smile on the features of the deeply suffering man; he wakes up; he is once more racked with horrible agonies; his limbs shake with fever — as the attack passes and the pains leave off, his thoughts wander through his past life; his childhood passes before him, the time of his youth with its strivings and passions and then, as the pains already begin to return, there appears to him the fruit of his life's path, the conception, the ideal which he has sought to realize, to present artistically, but which he has not been able to complete, since it is not for man to be able to accomplish such things. The hour of death approaches, the soul leaves the body in order to find gloriously achieved in everlasting space those things which could not be fulfilled here below."
In a note written to accompany a performance of Tod und Verklärung at the Kennedy Center in Washington DC, musicologist Peter Laki comments on the piece and on the 1894 letter as follows:
"The stages of the hero's last hours, as Strauss described them in his letter, are somewhat analogous to the phases of anger, denial, and acceptance found in Elisabeth Kübler-Ross's famous (and, of course, much later) book on dying."
Following the intermission, the BYU Philharmonic Orchestra came out again. This time, they performed Ludwig van Beethoven's Violin Concerto in D Major for Violin and Orchestra (Op. 61), accompanying an apparently well-known fiddler — he's appeared several times on Sesame Street — by the name of Itzhak Perlman. Mr. Perlman was, I have to say in all fairness, pretty good. Seeing how easily he played the Beethoven piece, though, I've concluded that fiddling can't really be all that hard. I would be able to master it in a week or two, I'm sure. If I cared to try.