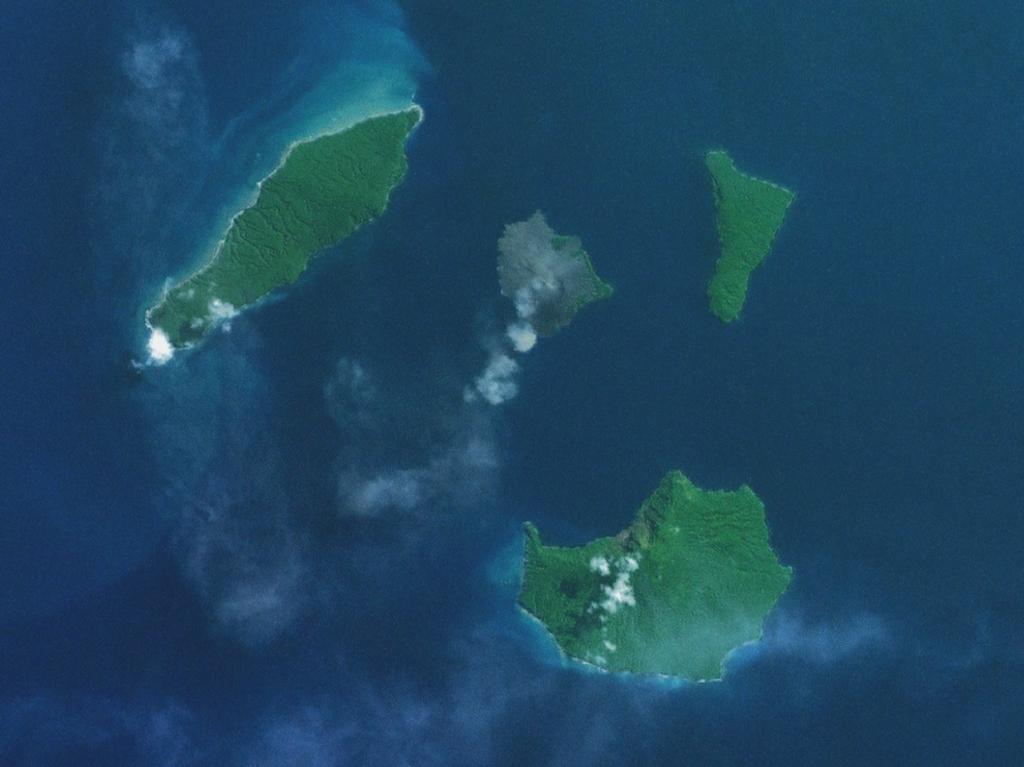 Volcanoes have been on my mind of late.  (Oddly, perhaps, when maybe I ought instead to be thinking about plagues.)  That's why, last night, I watched an interesting 31-minute YouTube item on "Krakatoa — Chronology — 416 AD to 2019."  I enjoyed it (if enjoyment is actually the right word) and found it quite informative.  Perhaps you will, too:
"Krakatoa — Chronology — 416 AD to 2019"
This was interesting, as well:
"Tambora vs. Krakatoa: Which Was Worse?"
The eruption of Krakatoa in 1883 was enormous, killing more than forty thousand people, and it is justly famous.  But that of Tambora (located essentially at the opposite end of the Indonesian island of Java) in 1815 was vastly larger.  (It's the one that is known among Latter-day Saints for its impact on global weather and, therefore, on the family of Joseph Smith Sr.)  The poorer communications of 1815, as opposed to 1883, simply didn't give it its due.  Here, though, are some facts that will give some sense of its magnitude:
The 1980 eruption of Mount Saint Helens spewed forth roughly one cubic kilometer of volcanic material, somewhat less than a cubic quarter mile.  By comparison, Krakatoa belched out about 11 cubic miles or 45 cubic kilometers in 1883.  But, as a result of its 1815 explosion, Tambora sent 38 cubic miles of material into the atmosphere.  That's 160 cubic kilometers.
***
I've now completed the short series of notes that I extracted mostly from an article written by a longtime friend of mine, the Latter-day Saint geologist Dr. Bart Kowallis, about the natural catastrophe described in the Book of Mormon as occurring in the New World around the time of the death of Christ in the Old World:  Bart J. Kowallis, "In the Thirty and Fourth Year: A Geologist's View of the Great Destruction in 3 Nephi," BYU Studies 37/3 (1997-1998).  Here is a short index to the blog entries that contain my notes:
"Geology and Third Nephi (1): The Time of Darkness (A)"
"Geology and Third Nephi (2): Santorini and the Land of the Pharaoh"
"Geology and Third Nephi (3): The Time of Darkness (B)"
"Geology and Third Nephi (4): An Explosive Volcanic Eruption?"
"Geology and Third Nephi (5): Evidence from Ice Cores?"
"Geology and Third Nephi (6): Storms and Tempests"
"Geology and Third Nephi (7): "Shaking and Quaking""
"Geology and Third Nephi (8): An Interim Update"
"Geology and Third Nephi (9): Cities Burned, Buried, and Drowned (Part One)"
"Geology and Third Nephi (10): Cities Burned, Buried, and Drowned (Part Two)"
"Geology and Third Nephi (11): Cities Burned, Buried, and Drowned (Part Three)"
"Geology and Third Nephi (12): "Whole Face of Land Changed" (Part One)"
"Geology and Third Nephi (13): "Whole Face of Land Changed" (Part Two)"
"Geology and Third Nephi (14): "Broken and Scattered Rocks" (Part One)"
"Geology and Third Nephi (15): "Broken and Scattered Rocks" (Part Two)"
"Geology and Third Nephi (16): "Thick Darkness" (Part One)"
"Geology and Third Nephi (17): "Thick Darkness" (Part Two)"
"Geology and Third Nephi (18): Finis"