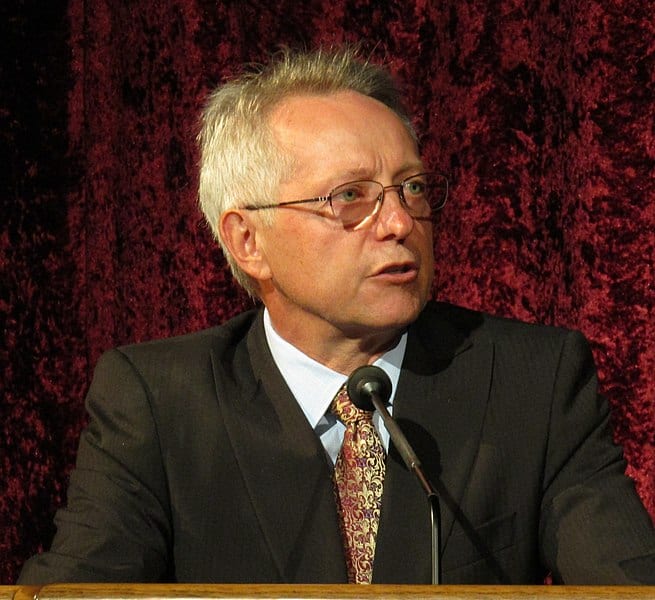 But, first, the latest installment of my bi-weekly column for the Deseret News has now appeared:
"The irony of St. Simeon the Stylite, who lived atop a 60-foot column: St. Simeon, a monk who lived in ancient Syria, wanted time to meditate and pray, but was pursued but those interested in his hermit lifestyle and others seeking advice or help supplicating God"
***
My admiration for Terryl Givens, already considerable, has soared with the publication of his essay "A Latter-day Saint Defense of the Unborn." It took courage, even (sadly) within the Latter-day Saint community, to publish this piece, and I expect that it has earned him fierce criticism from so-called "progressives." I enthusiastically commend it to your attention.
I also commend to your attention an excellent blog entry from Terryl's son, Nathaniel Givens, responding to critics of of his father's original piece:
"Pro-Life: A Fiercely Held Moderate Position: The Legal Status of Abortion, Revisited"
***
I published the article below in the Deseret News all the way back 0n 22 July 2010. A lot has happened since then, including, on the positive side of the ledger, the publication of numerous books by Terryl Givens and his wife, Fiona, as well as his leaving Virginia for Brigham Young University:
During the past decade, Terryl L. Givens, who holds the James A. Bostwick Chair in English at the University of Richmond in Virginia, has become one of the most prominent and prolific authors in Mormon intellectual circles. Armed with a Ph.D. in comparative literature from the University of North Carolina, he teaches courses on romanticism, 19th century culture and the Bible and literature. He also published a book for children, "Dragon Scales and Willow Leaves," late in 1997.
It was with his first book, "The Viper on the Hearth: Mormons, Myths, and the Construction of Heresy" (Oxford, 1997), however, that Givens began to build his now-towering reputation in Mormon studies. Drawing on 19th century mystery novels, westerns and popular romances in which Mormons were frequently cast as stock villains, he demonstrated how popular fiction constructed an image of the Mormon as a religious and social "Other." Ironically, some Utah booksellers, reading the title, are said to have decided (quite mistakenly) that it was an anti-Mormon work and declined to stock it. Nevertheless, although its sales lagged somewhat in Utah and surrounding areas, it did well enough nationally that Oxford University Press next asked him to write a volume on the Book of Mormon.
"By the Hand of Mormon: The American Scripture that Launched a New World Religion" (Oxford, 2003) was Givens' breakout publication. It made him a star. Furthermore, although a few biographies (of Joseph Smith and Brigham Young) and other books about 19th century Mormonism had appeared from reputable publishing houses over the years, "By the Hand of Mormon" represented a new milestone: A sympathetic discussion of the Book of Mormon written by a practicing Latter-day Saint — though he wrote dispassionately and never announced his personal faith, Givens is a former bishop — had been published by arguably the most important scholarly press in the English-speaking world. And it was well received.
Yet "By the Hand of Mormon" is significant as more than a mere symbol. It is a highly intelligent account of the coming forth of the Book of Mormon, the controversies surrounding it and its unique teachings. Perhaps particularly important is Givens' discussion of what he calls "dialogic revelation." The Book of Mormon's most significant, revolutionary and controversial contribution to religious thought, in his judgment, is its insistence that concrete, specific, personal revelation is available to ordinary people, not solely to prophets. In fact, in Moroni 10:4-5 the book makes its own validation rest upon that claim. (For a short statement of his position on this matter, see Terryl L. Givens, "The Book of Mormon and Dialogic Revelation," in the "Journal of Book of Mormon Studies" 10/2 [2001], which is available online.)
After "By the Hand of Mormon," the books flowed rapidly. "The Latter-day Saint Experience in America" (Greenwood, 2004) treated such diverse subjects as anti-Mormonism in American history, Mormons as Christian "heretics," the Mormon scriptural canon, Mormon worship, the church and politics, and the intellectual and cultural life of the Latter-day Saints.
Givens returned to the latter topic in more detail with "People of Paradox: A History of Mormon Culture" (Oxford, 2007), covering Mormon intellectual history, architecture and city planning, music and dance, theater, literature and the visual arts with remarkably broad learning and often-surprising insight.
Four years later, Givens edited an anthology of articles by 15 contributors, Mormon and non-Mormon, titled "Joseph Smith, Jr.: Reappraisals After Two Centuries" (Oxford, 2008) with Reid L. Neilson. The following year, he published "The Book of Mormon: A Very Short Introduction" (Oxford, 2009) as well as a fascinating book plainly arising out of his own religious background but ranging far beyond Mormon sources, titled "When Souls Had Wings: Pre-Mortal Existence in Western Thought" (Oxford, 2009).
His current projects include a biography of Parley P. Pratt, to be published by Oxford in 2011, that he is writing with Matthew J. Grow of the University of Southern Indiana; a sourcebook of documents on Mormonism in America to be published by Columbia University Press in 2011 (with Reid Neilson of Brigham Young University); a history of Mormon theology (with Steven Harper, also of BYU); and a study of the idea of human perfectibility in Western civilization.
Terryl Givens has already made major contributions to the Latter-day Saint intellectual tradition. Fortunately, he shows no sign of slowing down.