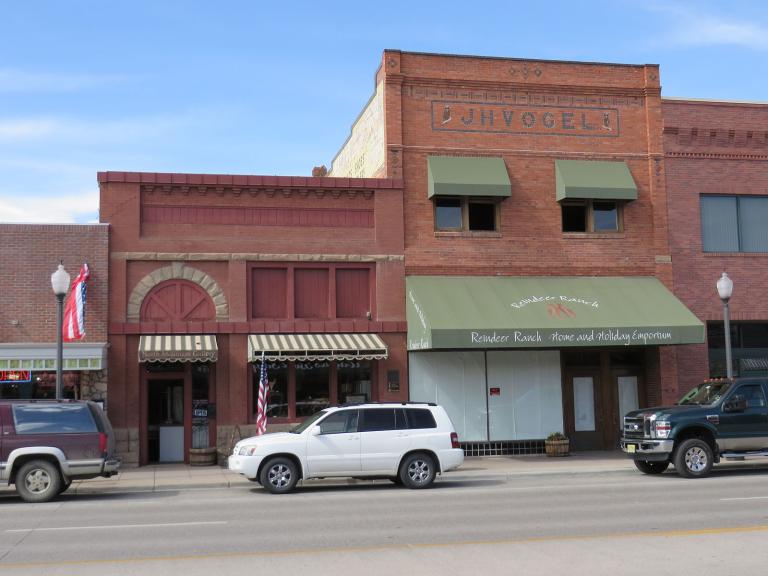 For some reason, the tune of "The Devil Went Down to Georgia" is going through my mind.  I'm told that something with political implications may have occurred there.  But, for reasons that I've explained earlier, I no longer post on partisan politics or follow partisan politics or even know that there is such a thing, so I'm going to return to a topic on which I dare to have an opinion:
I've posted on three prior occasions here about the controversy that has been swirling around the proposed Cody Wyoming Temple.  (See, in chronological order, "A small tempest about a small temple in Cody," "In the world after the Fall," and "Once More, on the Conflict in Cody.")  Now, it seems, the temple project is once again back on hold:  "Cody's Mayor Halts LDS Temple Building Permit."
At a distance, and without any polling data, it's impossible to know whether those who oppose the construction of the temple in Cody — or (the three positions are distinct, and all three have been expressed) those who oppose the construction of the particular temple design announced for Cody, or those who oppose the building of the temple in the particular location within Cody for which it has been announced — represent a majority of the residents of the town or merely a small but vocal minority.
It's also impossible to know to what extent the opposition is driven by genuine concerns about location, height, and lighting and to what extent the opposition is driven by implicit religious animus.  (Not all such animus has remained implicit.  Some has been overt and unashamed, though open religious hostility cannot constitutionally be admitted as legitimate grounds for public policy or, in this case, for a "planning and zoning" decision.)  An interesting and perhaps representative sampling of the reasons given for opposition to the Cody Wyoming Temple can be viewed on the Facebook page of the organization coordinating that opposition, which calls itself Preserve Our Cody Neighborhoods.  It's from that site that I draw my impressions of the views of those opposing the temple.  (Be sure, if you decide to take a look there, that you request to see "All comments."  Otherwise, many of the most brazenly anti-Mormon statements will likely be filtered out.)
I've suggested more than once that concern over the temple's lighting is very likely misplaced, since it's a virtual certainty that, if the neighbors want it, the temple's lights will be substantially dimmed after some appointed hour in the evening.  This is, as I and many others know from direct personal observation, the practice at numerous temples both in Utah and beyond.
There are some who profess to be disgusted by the purportedly low quality of the temple's architecture.  People can, of course, debate the aesthetic merits of this particular temple design or any other.  But the aesthetic objection strikes me as likely to be at least somewhat disingenuous.  I don't mean to be insulting, and I admit that I haven't been through Cody for several years now, but I've never had the impression that the town is widely known for the distinguished quality or the artistic beauty of its architecture.  Neither Eero Saarinen nor Frank Gehry nor I. M. Pei nor Frank Lloyd Wright seems ever to have visited Cody.  Pierre Charles L'Enfant didn't lay out its streets.
I hope that he won't mind my citing him, but Raymond Swenson posted a comment here a few days ago that makes this point in perhaps rather unflattering but very clear terms:
What exactly are opponents of the temple and its spire supposed to be defending? Cody is not some architectural wonder of the world with some established visual theme that would be disrupted by the temple. As is visible in Google Earth views of the vicinity, Cody has lots of sagebrush and standardized franchise stores like Autozone and MacDonald's.

The historical fact is that LDS temples enhance property values in their surrounding neighborhoods. There is a premium on the price of homes in walking distance for many LDS families, especially older retired.people who plan to volunteer substantial hours of service in the temple.

LDS temples contrast favorably with many church buildings of other denominations. In my own community of 360,000 in eastern Washington, all the churches built by other denominations since 1960 are either basic chapel with steeple, not much different than a standard LDS ward meetinghouse, or big cubic auditoriums with no particular architectural distinction, surrounded by huge asphalt parking lots. Our small temple is covered in granite and surrounded with nice landscaping and a fountain, certainly more pleasant to look at than the barn-like megachurch a mile up the street. The 4 lane road that serves the temple and its adjacent stake center segues into a Safeway, a Starbuck's, a fire station, dental and doctor clinics, and a Walgreen's. The temple is clearly the most upscale structure in its vicinity. On the hillside overlooking the temple are 3-story homes with balconies that are close to the temple in size. There is nothing objectively objectionable about the temple.
A principal focus for criticism of the current Cody Wyoming Temple design is its spire, which is indeed tall and for which the Church of Jesus Christ of Latter-day Saints has sought a variance.  (Incidentally, by the way, it's been reported over and over again that the Church has filed two lawsuits against the city of Cody.  I'm not an attorney, but I'm told that, strictly speaking, these aren't lawsuits but, rather, petitions asking that the city's Planning and Zoning Commission follow its own procedural rules, which it seems not to have done in the matter.)  I've suggested here before that the spire might well represent an opportunity for compromise, but I also want to draw attention once again to the demonstrable and demonstrated fact that, even with such a tall spire, it simply isn't true that the temple would dominate or "loom over" the town of Cody.  For those who really care about empirical evidence, here's some that seems pretty difficult to refute:  "Cody WY Temple views from town."
So are there hidden reasons of religious bigotry motivating opposition to the temple?  In some instances, such bigotry isn't hidden at all.  Rather, it has been clearly, explicitly, and shamelessly on display, though I'll make the charitable (and, I hope, accurate) assumption that it's not what motivates most of those who have taken an opposing stance.  However, I was apparently wrong the other day to say that "no Latter-day Saint meetinghouses in Cody have been burned to the ground," and I've been corrected on the point by a couple of readers:  It seems that a nearly-finished stake center in Cody was, in fact, destroyed by fire in 1980, and that, although the perpetrator of the fire was never identified, the suspected cause was arson.  (See "U.S. agent probes Mormon church fire," in the 12 June 1980 issue of the Billings Gazette.)
Posted from St. George, Utah