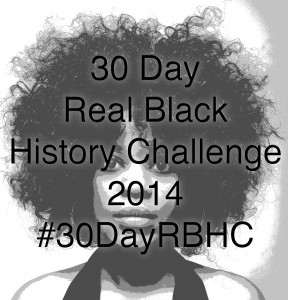 It has been a whole year since I was motivated to start the 30 Day Real Black History Challenge. What started as a deep seated frustration with some comments on facebook turned into a spiritual quest leading to one of the most memorable processes of my life. In the (now) 38 years of my life, this is the one moment that I feel I was able to explore my cultural identity from a structured perspective, with a goal in mind. And don't get me wrong, after the first 36 hours of what started on my Facebook page as a big… show of force…. quickly transformed into one of the most spiritual turning points of my life. I am grateful for the ignorance of others when it motivates change, and that is what it did for me.
The 30 Day Real Black Challenge was an example of what life has often been like for Black people in our historical experience, taking those moments of disgust at life and transforming them into meaning. I am so very happy to be a part of that transformation within myself, and to see how one ripple, one facebook post, one comment, one research study, one book, one discussion, one smile, one example, one experience, one hug, one exchange….. can motivate change in the world. I am honored to be able to continue a path of exploration for myself that might motivate others to do their own research.
So this year, the 30 Day Real Black History Challenge will continue; Same time, same bat channel. This year I plan to focus a little more on exploring the concepts of Black culture, and the application of intersectionality to the experiences of Black people past and present. Just the word privilege can incite a riot on the discussion boards, and in almost any conversation with others, and so it is one concept I think we should continue to explore over and over again. If we cannot understand what privilege and intersectionality is, then we will not be able to recognize the impact of it has on the various populations of people whom we claim to serve, protect, and care for. It is imperative that we make opportunities available to wrestle with and explore concepts that would otherwise feel foreign to the average person, and evoke divisiveness among our communities. We cannot change what we do not understand, and we cannot empathize with those we are unwilling to acknowledge.
So, this year the Real Black History Challenge (#30dayRealBlackHistoryChallenge, #30DayRBHC) will attempt to challenge understanding around what we think we know about privilege, concepts of intersectionality, racism, transgenerational trauma, and the effects that this has on the past, present and future perceptions of Black culture.
I am excited, anxious, and grateful to have the privilege to embark on this journey once again. And I am hopeful that you, the readers, will walk this with me, and share it with those around you. It takes a village, and we have to create a village rooted in true cultural empathy that is willing to create the outcome we want. In order to do that, we must work to "get" what many people do not get, so that we know what direction we are fighting in.
Thank you for being a part of our community, and for joining the fight for empathy, equality, and justice for Black people, and for all people of color.