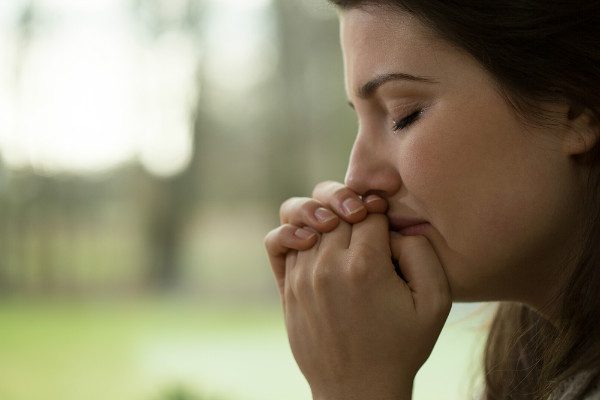 We've all faced moments of struggle, heartbreak or frustration when life just doesn't seem to make sense. Billy and Katie Anne Lester recently walked through a heartbreaking season which shook their faith to the core. Their family's journey has given me new perspective for those moments when life doesn't seem to make sense.
My wife Ashley grew up with Katie Anne and they've stayed connected through social media even though our families now live in different states. A few years ago, Katie Anne and her husband, Billy, encountered some unexpected news that instantly changed their lives. Their precious little girl, Bennett, was diagnosed with cancer.
The prognosis wasn't good, but they prayed and believed that their little girl would be healed. The harder they prayed, the worse Bennet's condition progressed. Katie Anne couldn't imagine life without her daughter, but the heartbreaking reality of the situation finally started setting in. She began initiating conversations with her three-year-old daughter about heaven. Bennett would respond with fearless faith by saying, "Mommy, don't cry. If I go to heaven before you do, I'll send you flowers."
Precious Bennett went to heaven after her brave battle with cancer. Katie Anne had always been joyfully optimistic, but this tragedy had left her feeling numb and even angry with God. She questioned her faith and how a loving God could have allowed this tragedy to take place. She started wondering if she'd ever experience true joy again or if the dark cloud of this crippling loss would hang overhead forever. On a particularly discouraging day just a few weeks ago, she found praying in desperation, "God, I could really use some of those flowers from heaven that Bennett promised. I just need a sign to help me keep going."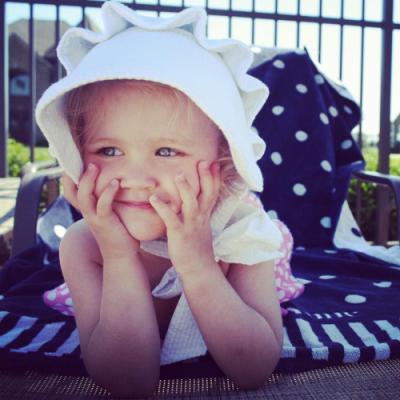 Read Katie Anne's story in her own words by clicking here.
Katie was cleaning up the house right afterwards and underneath a rug that had been there for years, she found a puzzle piece face down on the floor. She thought it odd because they didn't own a puzzle. She picked up the puzzle piece and flipped it over to see what was on it and it took her breath away to see that the puzzle piece had a picture of a beautiful bouquet of flowers.
It was as if God was whispering to her, "I know your heart is broken, and I know that none of this makes sense to you, but you only see one tiny piece of the puzzle. Someday, in heaven, you'll see how all the pieces fit together to create a masterpiece and you'll be with me and with Bennett forever in a place where there is no more cancer or death or tears. In the meantime, trust me. I'm in control and I'm never going to leave your side. I know this doesn't take the pain away, but I pray it gives you some peace and perspective in the midst of the pain. I will carry you through this."
I pray you never have to face the kind of pain that Bennett's parents are facing now, but whether in moments of unimaginable tragedy or in momently of everyday frustrations, we'll all face times when life doesn't seem to make sense. How we choose to respond in these difficult moments will have a huge impact. When you face life's struggles and life doesn't seem to make sense, please remember these three simple truths.
1.God is in control even when life feels out of control.
"And we know that God causes everything to work together for the good of those who love God and are called according to his purpose for them." Romans 8:28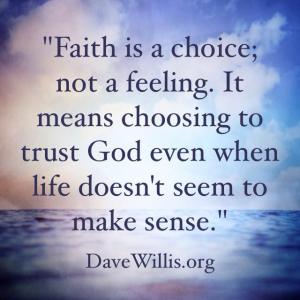 2. Because of Jesus, all our pain is temporary and all our joy is eternal.
"He will wipe every tear from their eyes, and there will be no more death or sorrow or crying or pain. All these things are gone forever." And the one sitting on the throne said, "Look, I am making everything new!" And then he said to me, "Write this down, for what I tell you is trustworthy and true." Revelation 21:4-5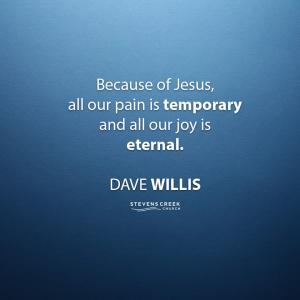 3. You will face struggles, but you'll never face them alone. God will carry you through this.
"The Lord himself goes before you and will be with you; he will never leave you nor forsake you. Do not be afraid; do not be discouraged." Deuteronomy 31:8
For daily encouragement please connect with me on Facebook and Instagram.
IF THIS POST ENCOURAGED YOU, PLEASE SHARE IT USING THE LINKS BELOW SO WE CAN ENCOURAGE OTHERS TOO.