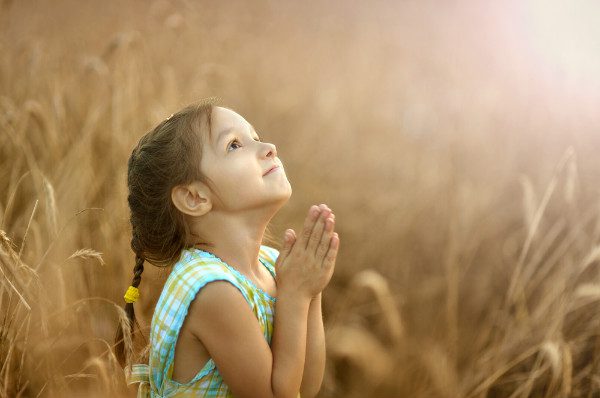 One of our favorite family traditions is to take the birthday boy or girl out to eat at his or her favorite restaurant. Once our rowdy bunch has finished the meal, we go around in a circle and each say something we love and appreciate about him or her. It might sound cheesy, but it's a wonderful way to express our encouragement and affirmation in a way we don't normally do. My mom started the tradition, and it continues on a generation later for birthday boys and girls of all ages (you never outgrow it)!
After the words of encouragement, we finally get to the song and the cake! We'll sing at the top of our lungs (usually way off key) and we'll party like it's 1999 as we cheer for the guest of honor. It's usually a wonderful time, but there have been many years where the restaurant server has turned the celebration into uncomfortable awkwardness. This "awkwardness" became a powerful and unexpected teaching moment about God and how we should approach Him, adore Him and pray to Him.
Have you ever been to a restaurant when you are celebrating somebody's birthday? For me, one of the most painfully awkward experiences on earth is the moment when your server tries to recruit a bunch of fellow servers to gather around your table and force some false enthusiasm as they sing a birthday song. It creates a pretty funny contrast. My family is wildly, passionately, joyfully singing at the top of our lungs to honor the Birthday Boy or Girl while we're being flanked by people singing the same song to the same person but without any heart or passion.
The contrast comes because one group of those singing actually knows and loves the one they're singing to and the other group does not. The family is celebrating a loved one within a bond of family intimacy and love. The workers are a group of people who are going through a mindless ritual, because they see it as part of their duty. They don't have any desire to know or love the one they're singing to. They're simply hoping to get something out of it (a tip) it they'll clap their hands and chant the words like they've been taught.
What's the point here?
Sadly, many churches seem to be full of people who sing songs to God with the half-hearted enthusiasm of the Singing Servers at a chain restaurant. The reason why there is no joy might be because they are singing to a Stranger! They're singing to someone they don't know in the hopes that maybe they'll get a "tip" (or some kind of blessing) as a result of carrying out their duty.
Nobody (including God) enjoys that kind of "worship." God is looking for loving family members around the table with Him laughing and learning and singing and feasting and just enjoying His company. He wants to give you much more than a "tip." He wants you to inherit the Keys to His Kingdom. He wants your worship to flow from your love for Him. He wants to give you a relationship; not just a "religion".
Out of that relationship, you'll begin to discover that every part of your life can be an act of worship. Connecting with God is not confined to Sunday mornings or youth camps. He will be a constant presence in your life and as you grow in your love for him, your life (and your songs) will develop an intimate sense of love, passion and joy for God.
These are the simple lessons we're trying to teach about faith and worship in our family. We want our kids to not only know about God; we want them to know God. We don't want them to see worship as a once-a-week ritual to be dutifully performed, but rather, as a lifestyle of growing closer to the One who loves them more than anyone.
Below are four basic principles we're trying to teach our kids (and trying to learn ourselves too). These are not the only four aspects of faith, but these are a really good start! 
1. Pray instead of worrying.
Every relationship is strengthened through consistent communication. Your relationship with God is no different. The Creator of the universe wants to hear from YOU. Seriously. Your voice is the sweetest sound in the world to your Heavenly Father. He wants to communicate with you and He wants to do a lot more than just bless your meals. Pray often.
"And pray in the Spirit on all occasions with all kinds of prayers and requests. With this in mind, be alert and always keep on praying for all the Lord's people." Ephesians 6:18
2. Worship is a lifestyle; not just a weekly service.
Clearly, gathering together with the church to worship corporately is an important part of the Christian life, but it's also important to remember that it's only one part of the Christian life. The other 99% of the week is important too! Everything we do can and should be done as an act of worship. We don't visit God at the church building; we carry His Holy Spirit within us everywhere we go. We are the church building for His Spirit and everything we do should be for His glory.
"So whether you eat or drink, or whatever you do, do it all for the glory of God." 1 Corinthians 10:31
3. God loves you and He wants you to love Him too.
Jesus summed up the most important command in the entire Bible and it all comes down to loving God. Jesus didn't come just to invite us into a religion. He came to invite us into a relationship. The more we love God, the more capacity we will have to love everyone else. Jesus (God's son) died on the cross to pay the debt of our sin so that we could be in a forgiven, restored relationship with God through our faith and His grace. Jesus has sent you a "friend request." Have you accepted it?
"Teacher, which is the greatest commandment in the Law?" Jesus replied: "'Love the Lord your God with all your heart and with all your soul and with all your mind.' This is the first and greatest commandment." Matthew 22:36-3
4. God is much more interested in your heart than your ability.
Sometimes, we may feel unqualified to worship, because we've defined worship as just singing songs or performance-based activities where we don't necessarily feel like we measure up. We think, "I'm not much of a singer or a preacher, so my worship doesn't count as much." God is looking at your heart; not your ability! My kid's "artwork" proudly hangs on my refrigerator, because they colored it with love and gave it to me as a gift. So, to me, it's more priceless than any Picasso! If God had a refrigerator, your pictures would be all over it. God changes the world with people who have a willing heart; not a perfect resume.
"God is spirit, and his worshipers must worship in the Spirit and in truth." John 4:24
Make worship a celebration, just like our birthday gatherings. Look for ways to point them to the truth of God's word as often as you can. It doesn't have to happen in "formal" lecture-style lessons. It can happen while you're coloring pictures, jumping on a trampoline, throwing a ball, eating your breakfast cereal or telling a bedtime story. Each day presents countless opportunities to share God's love and God's truth in practical ways.
Your kids will learn some of these lessons in church, but the most powerful lessons about faith are usually taught within the home. As you teach your children these lessons, make sure you're striving to live them out in your own life. You might feel unqualified or intimidated by the thought of teaching them, but we're all unqualified apart from God's grace!
When you blow it (like we all do), don't try to cover it up. Use it as a teaching moment and talk about God's grace and forgiveness. Our kids aren't looking for our perfection, they're just looking for our authenticity, so they can be pointed to God's perfection. He's the only perfect parent.
For more tools to help you build a stronger faith and family, please connect with me on Facebook and also on Twitter.
If this post encouraged you, please share it using the links below so we can encourage others too!