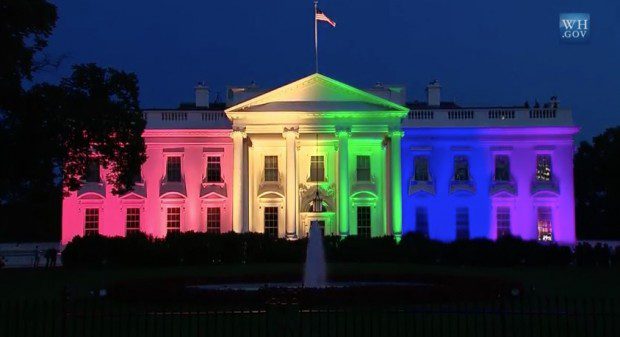 Today, the United States Supreme Court issued an historic ruling making same-sex marriage legal in all American states and jurisdictions. The White House was lit in rainbow colors following an official statement announcing a new chapter had begun in our nation.
There has been (and will continue to be) fierce debate around issues related to same-sex marriage. Whether you are thrilled with the verdict or you're disappointed by it, one thing we can all agree on is that today marks a defining moment for how our culture views the institution of marriage.
As a pastor and as the Founder of The Facebook Marriage Page, I'm asked all the time what my views are on same-sex marriage. I've already written My beliefs about gay marriage (which you can read by clicking here), but instead of adding more of my commentary to the debate with this particular post, I'd like to do something more constructive. I'd like to talk about YOUR marriage (and mine).
When it comes to marriage, I should more concerned with what's happening in MY house than what's happening in the White House. I think we might be putting too much emphasis on court rulings about marriage and not enough emphasis on our own marriages.
When I stand before my Savior one day to give an account for my life, I don't think His first question will be, "So, why didn't you get more involved in the whole gay marriage debate?" But, I'm pretty sure He will want to know, "Did you love your wife the way that I love my church?" 
So, here's my challenge for us (it's pretty simple)…
What if we took all the energy we're tempted to spend debating, condemning or celebrating the verdict, and used this moment instead to bring a time of renewal and rebirth in our own marriages.
God created the rainbow (it wasn't created by the LGBT community or anyone else). It was created to be a symbol of renewal and rebirth, so let's use this moment not to focus on all that is wrong with our society, but rather, let's focus on what could be renewed and made stronger within our own marriages. That's a cause worthy of our best efforts!
I'm not saying we shouldn't have spirited discussions and debates around these and other social issues; I'm simply suggesting that the most practical approach you and I can take always starts in our own homes. If we truly believe in the holy sacredness of marriage, let's live it our in our own marriages.
For some practical ways to help you begin a new era of renewal in your marriage, check out our free 7-Day Marriage Challenge (by clicking here).
If this post encouraged you, please share it using the links below so we can encourage others too.