I've never written a book before, so I wasn't exactly sure what to make of the fact that Cop Under Fire: Moving Beyond Hashtags of Race, Crime and Politics for a Better America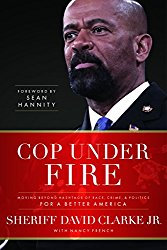 seemed to already be selling well online.
My publisher noticed too:
#CopUnderFire by @SheriffClarke is climbing the charts. (Written w/ @NancyAFrench & foreword by @seanhannity). Preorder now! pic.twitter.com/bzg8OtLrKc

— Kyle L. Olund (@KLOlund) January 5, 2017
Well, that's not a bad way to start off the year. My book cracked the top one hundred, even though it's not on shelves yet. Don't be left behind! Pre-order yours today.