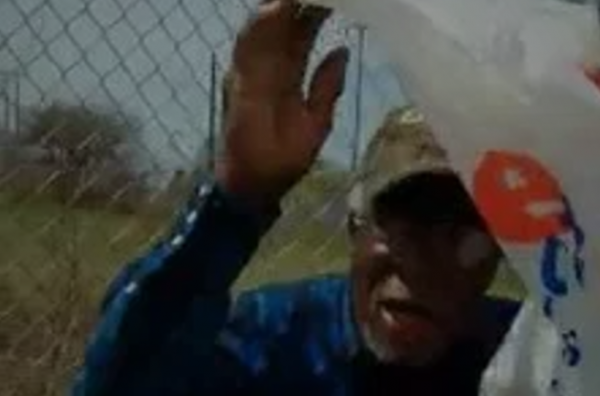 This is horrific. A man named Steven Stevens went out and shot a complete stranger, to get back at his girlfriend breaking up with him.  On Facebook, he claims to have killed fifteen people in an "Easter Day Massacre" — and this murder he posted to his social media for all to see.
Heat Street has the details:
Stephens can be seen driving down the road and he says, "Found me somebody I'm going to kill, this guy right here, this old dude," before exiting his vehicle. He walks up to the man and begins talking to him, asking how old he is before pulling out a gun.
Chillingly, he asks this older gentleman to say his ex-girlfriend's name.
"She's the reason this is about to happen to you," he told the man. The man tries to shield himself before Stevens shoots him in the head.
I just spoke with a man and woman who said the man killed in the FB live video was their 78 year old father @cleveland19news pic.twitter.com/Gpf3EUafLM

— Shanice (@ShaniceDunning) April 16, 2017
First of all, why should anyone be appalled that criminals are now video taping their crimes and posting them on social media? They got the idea from cop haters demanding the video taping of every police contact for their entertainment. Everybody demands police wear body cams so all can see video of the use of force. They know the appetite in many people for reality TV.  (I also get a kick out of how all kinds of sites are posting the video under the warning "graphic video." That alone will have people opening it so they're not the only person who did not see it.)
The same liberal whites and race baiting blacks who flaunt their sensitivity over every police use of force against what they like to emphasize as an unarmed black man need to be made to comment on this. That includes all those dweebs on CNN, MSNBC, ESPN, New York Times, Washington Post and Huffington Post.
By the way have we heard from Brittany Packnett one of the leaders of the the black self hate movement Black LIES Matter? Have we heard from some black university student whining about a safe space? It is the unarmed victim in this gruesome video that was in need of a "safe space" away from this black killer. And who is responding looking for justice for this black life? The Cleveland police, not Deray McKesson.
BLM won't have time for this however. Last I heard, They were seen protesting in North Dakota at the Dakota Pipeline Access location. They have been kicked to the curb by the Democrat Party and have had to adopt an environmentalist agenda and statehood for the Palestinians to keep getting George Soros funding.
And have we heard from our former Race Baiter in Chief Barack Obama?
Of course not. In the meantime, the Cleveland police are out there trying to find justice for this unarmed black man while these black activists do NOTHING.
UPDATE Homicide suspect Steve Stephens' actual vehicle has Ohio Temp tag E363630 pic.twitter.com/tE3r5u4BNN

— Cleveland Police (@CLEpolice) April 17, 2017
And one more thing. When this creep is captured alive, he'll be another black man added to the disproportionate black male incarceration rate. Maybe the lib media can ask the crusaders of the myth of mass incarceration about this black perpetrator being adding to the total?
For more on race, hate, and politics in America, read my book: