There used to be a few places of refuge in America. Schools and churches were among them. But Columbine shattered the safety zone for schools and now nearly every school has some sort of protective measures to guard our children.
Churches are now following suit and playing defense against the unthinkable. Congregations are analyzing their security and in many cases, adding uniformed and civilian protectors.
I know I'll be thinking about all of this when I go to church this week and I bet you will too. Could my church be next?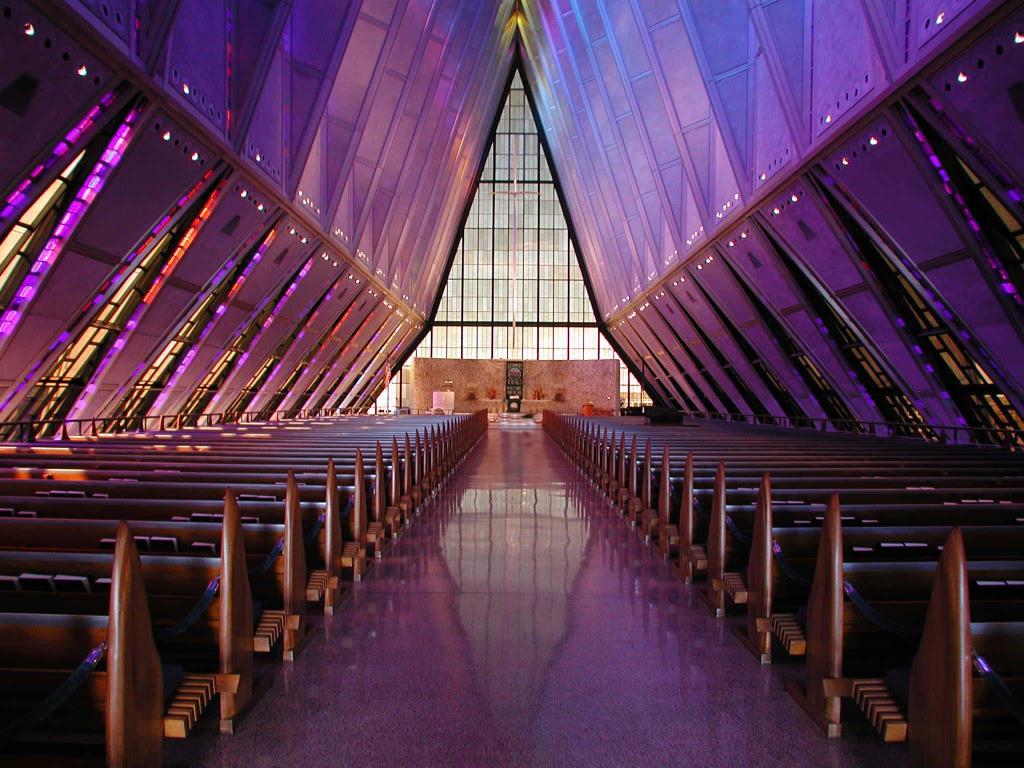 It could happen in my church
I go to a church with security. It's big enough where they have planned for this, no doubt thoughtfully and prayerfully and yet with a steely resolve to protect the flock. There are men and women who always wear large vests, covering what's strapped on their belt.  I'm strangely comforting seeing them. They're always at church early. Their eyes are moving, scanning the crowd.  These silent sentries are a sad reality in a church my size.
Your church may not have this kind of security. But I guarantee you there are some men and women who have thought about just such an incident and are prepared to rush the attacker with fists or with a drawn weapon.
It's a ghastly reality, to have to have our prayer and worship interrupted by thoughts of defending the innocent.
Embed from Getty Images
Targeting the faithful
A few years ago the church safety zone was punctured by a Colorado killer. He first went to a Youth With a Mission (YWAM) training center in Denver, shooting four people and killing two others. He then drove south to Colorado Springs and killed two others at New Life Christian Church before a church security guard stopped his progress with a  single shot to the heart.
At the time of those attacks in my Colorado backyard, I wrote this:
"Targeting people of faith with weapons may be a logical step of our coarse culture. Evangelicals are targeted by the press, mocked on television, derided by secularists and pressed on every side. It's no wonder that some may take up arms to press their hate toward those who first calling is love." 
It took ten years, but this prediction may be coming true.
450 deaths at churches
Last year, a white supremacist,  Dylan Roof went to a prayer meeting at  the Emanuel African Methodist Episcopal Church in downtown Charleston, South Carolina.  His white face stuck out among the mostly older attendees, yet still they welcomed him. Near the end of the meeting, he decided to pull out a weapon and kill nine people.
Earlier this year  a 25-year old black man, Emmanuel Samson, attacked a Tennessee church of parishioners. His motive, according to a note left in his car, was to take revenge for the Charleston killing.
But these are just the incidents that make the headline news. There have been more than 1,500 "deadly force incidents" and 450 deaths at faith-based organizations since 1999, according to Carl Chinn, who tracks this kind of violence.
Embed from Getty Images
The black church knows what it's like to be targeted
For years, black churches lived under the threat of white supremacists who burned and bombed them in an effort to terrorize these communities.
The 1963 Ku Klux Klan bombing of the 16th Street Baptist Church in Birmingham, AL, killed four girls, a tragedy that ignited the civil rights movement.  This capped a string of more than 45 church bombings.
They died between the sacred walls of the church of God," Reverend Martin Luther King said of the incident. "And they were discussing the eternal meaning of love."
The list of violence against black churches is staggering.
The haters always knew where to strike where it hurt the worst – at the place where people gather to worship, and to love and to commune with each other.
And the Church in the Middle East
The church in the Middle East has long been targeted by terror.  Churches in Syria, Egypt, and Iraq have most recently been destroyed by enemies of the fiath.
I spent some time in the Middle East, interviewing Christians who were targeted by ISIS.  One by one they recounted standing for their faith in the midst of persecution.
One woman, living with her family of five in a 8 x 15 temporary shelter for refugees shook my world. They lost their homes, their jobs and their security.  Their church was taken over by terrorist and destroyed.
I asked her if she doubted God through it all.
She shook her head and said, "No, my faith is getting stronger."
I asked her if she was angry at the people who scattered her 8 brothers and sisters, who forced them to leave their home.
"Jesus said, 'People will persecute you in my name,'" she said without thinking. "And he also told us to pray for our enemies. So I pray that God will rescue all the Christians in Iraq. And I pray for Daesh that their hearts will change."
These stories changed my outlook. They changed my life.
Our best defense is not necessarily a good offense – It's love
Some advocates will talk about the need for arming the citizenry. And others will talk about disarming everyone. I'm not going to get into all of that. I'm going to focus on how Jesus told us to prepare.
The Red Letters of the Bible tell us to shock the world with our love, our forgiveness and our grace.
John reminded us of this reality, " Do not be surprised, brothers, that the world hates you." Jesus also said, "you will be hated by all for my name's sake. But his advice was different,  "Love your enemies and pray for those who persecute you."
We are also told to "Repay no one evil for evil, but give thought to do what is honorable in the sight of all."
The patriarch of the family that lost nine members in Texas said this about the attacker. "I don't hate him by any means; I just feel sorry for him."
The son of the Charleston pastor who was killed said this to Dylan Roof. "I forgive you. I know that you don't understand that, but God requires me to forgive you. I forgive you." His sister said to Roof at his sentencing,  "I wanted to hate you, but my faith tells me no. I wanted to remain angry and bitter, but my view of life won't let me."
The Colorado director of the YWAM that lost two teens said this, "Our belief is that only God is the judge and our place is to forgive and that's a difficult thing to do, but really, I think it's the right thing to do."
If the unthinkable  happens in my church this Sunday. If an attacker turns his hate on me, then I will die in the place that I have cherished, among the people I love, in front of the Savior I worship. My last breath will be words of love for family and forgiveness for the killer.
"He knows not what he does."
—————–
For Further Reflection:
A church in Cairo, Egypt was attacked at a Christmas Service in 2016. A group of attendees sang a song of forgiveness, the video shot inside the bombed out church. Read the English words of the song sung in Arabic and see if it changes your life.
Please subscribe to receive all future posts.