It was spectacular!
In college, a bunch of us bored underclassmen went out to the vacant BLM land and collected all kinds of fallen timber, leftover boards and trash into a single heap.
Then, one of my brilliant classmates took a gallon of gasoline and doused the woodpile. An even smarter fellow, I think he's a firefighter now, threw a cigarette into the mass, and with a whoosh it exploded, sending all of us scurrying.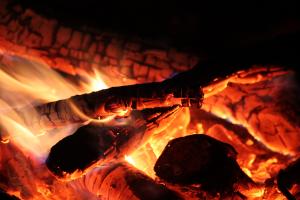 The flames burned for hours as we stood around, laughing and marveling at our feat. But before midnight, the fire was gone and there were just some smoldering coals. The thrill was gone.
All we had after that were some fading coals and eventually a distant memory.
We'll never get that moment back. 
There is a natural progression in emotions. Whether it's passion for a new job, energy for a new project, emotion for a new love — these things will temper with time. The entropy of emotion means that these things will never be like they were at the beginning. Like fresh snow that sees the brilliance of a new sun and soon it will begin to melt and congeal and take on other forms that are more practical, but perhaps not as brilliant.
And the newfound joy in faith is
Just letting things fade
I've been behind some big ideas — only to see them flame out. The great vision was fantastic, and there was plenty of excitement. It's new. It's different.  But I have found that I constantly stoke the coals and add new fuel, the fire will die.
I've lost friends just because I didn't pay attention. I've lost love relationships because I let the fire burn out. I lost drive in a job because there wasn't anything new to rev my engines.
It can be that way with writing, or a hobby, school plans, or career goals. There has to be a way to throw on another log and then stand back in heat.
Neil Young famously sang, "it's better to burn out than to fade away."
What about you? What have you seen fade away in your life?