Yes, he is Syrian. And he's one of the Christian refugees who carries the hope that he and his family can immigrate. They cannot go home because there is no home.
He carries himself like an athlete – upright, strong and proud. 28 year-old Sha'ady Majain doesn't look like he changes his mind once it's made up.
But war has a way of determining direction, regardless of will.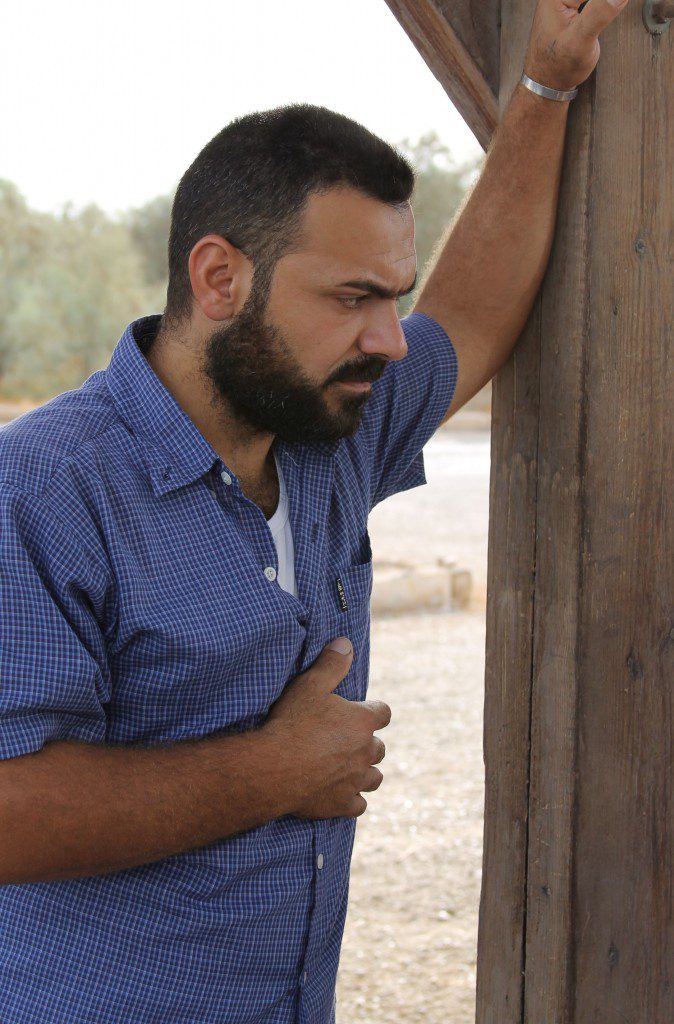 He and his young family lived in Faryouzh, a Christian area in the city of Homs, Syria. The neighborhood found itself at the crossroads of competing forces – Syrian President Bashar's Army, the FSA Rebel forces, and other protesting entities.
He lost three of his close friends, all from rockets shot into the neighborhood. He never was sure who did the killing.
His wife Dema didn't sleep solid for two years. "Every time I heard a rocket, I would wonder," she said. "Could it be on my mother, my friend, my neighbor?"
Sha'ady had volunteered to serve in the Army to protect his country. Of course, "volunteer" isn't as clear as it sounds. "Join or be killed."
He hated the monster he was becoming before he ever put on a uniform. "I began to dream of killing people," Sha'ady said, looking out the window. "I didn't want to harm anyone. I am not a killer."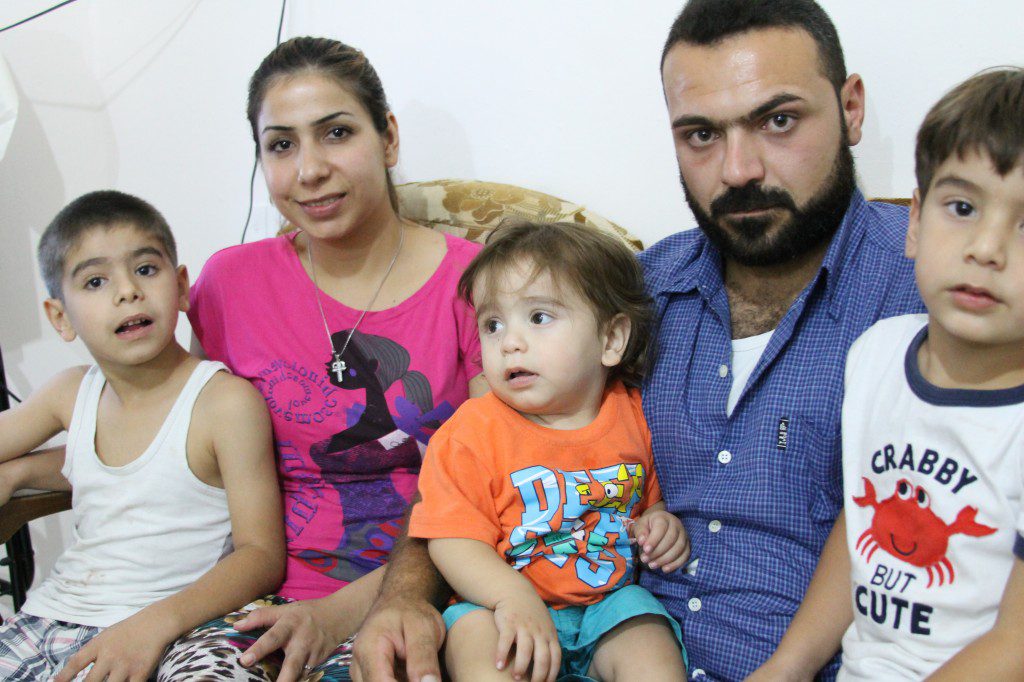 Before he could be conscripted,  Sha'ady and most of the extended family left Homs, They scattered. Some to Lebanon. Others to rural Syria. Sha'ady, his wife and three children ended up in Jordan. His father however stayed to fight the terrorists. It was a fateful decision.
With an ongoing battle with no clear champion to cheer, the civilians in Syria have become pawns in the ongoing Civil War. It was the U.S. backed rebels that killed many of his neighbors – and his father.
He first heard about rumors of his father's death through friends. But when he actually saw the battle on a YouTube video, he was livid, shaking with anger.
"I wanted revenge," he said.
But his wife and the fellowship of other Christians helped keep him from crossing the border back into Syria. And ultimately it was Scripture that backed him down. "Vengeance is mine, says the Lord. I will repay."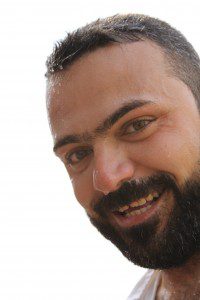 Turning anger into obedience
"I still have big anger inside me," he admits. "But God relieves it. I have to believe His promise. That's what gives me comfort."
Two days after this interview, I watched Sha'adi get baptized in the Jordan River, very near the site where John the Baptist eased Jesus into the water.
His new joy was evident. He told me was giving his anger over to God.
"Baptism for me means I am a new man, with a new heart. I want to change my life," he said. "Today, it starts."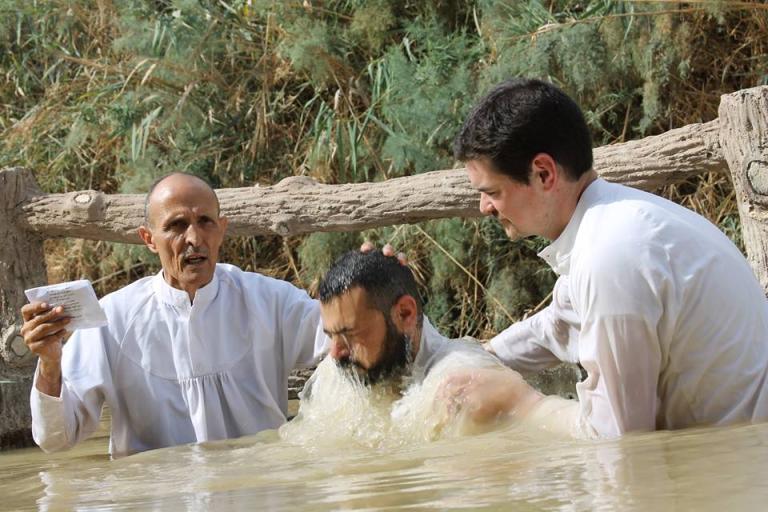 ####
Telling #RefugeeStories
This story is part of a series written after a journey to Jordan in October where I met with Syrian and Iraqi Christian Refugees. Please read and consider sharing each of them.
Kneejerk: The Paris killings are bad for Christian refugees
ISIS interrupted their wedding plans, but not their love
Syrian Refugee: "Whenever I look in my baby's face, I think of home"
Family of five: We pray for ISIS
Nowhere to go: Refugee families escaped persecution, but cannot escape captivity
This Syrian family is looking for home
The straw that broke the camel's back
Ancient town finds revival because of Syrian refugees
Miracles in the Middle East: Is there hope in the Chaos?
A Christian (and sane) response to the Middle East refugee crisis
How you can help
You can help by sharing each of the stories above by email, Facebook or Twitter. This is not to build any kind of personal following, but to help these stories somehow, someway reach the right people who can change the face of the refugee crisis. There is power in a simple click. You can also subscribe here to receive all the future posts and I ask that you share them broadly as well.
There are many opportunities for attention and money, but I want to remind you what the Apostle Paul said.
"So then, as we have opportunity, let us do good to everyone, but especially to those who are of the household of faith."
Many of these people stood up for their faith under the threat of death. And as a body of believers, we need to rush to their side, to remind them that they are not alone. We do not do this by condemning Islam. Painting broad strokes of fear does not help in any way and only serves to isolate the innocent from Christian love. The enemies are those who terrorize, in any name.
Please share this message with your friends, as this is a chance to give real, immediate aid to those on the front lines without any bureaucracy or middlemen.
You can also give online here. Under Missionary/Project Name, "Madaba – Refugee Fund"
Checks can go to Team Expansion, POB 91294, Louisville, KY 40291, memo line, "Refugee Fund"
I would also encourage you to become a regular supporter of these people who are working every single day on behalf of the gospel for the sake of Syrian and Iraqi refugees. I've seen how they use money and how they live and I'm a believer that this is a worthy cause.