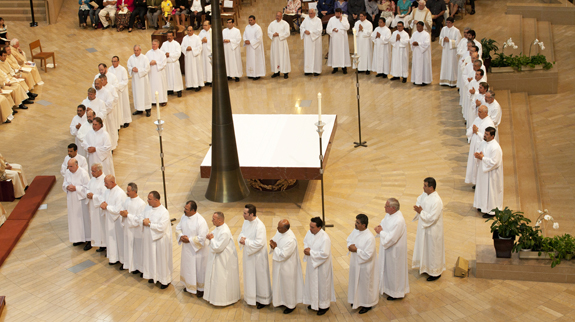 A reader sent this my way: a long and comprehensive look at where deacons are thriving, where they aren't, and why:
In 1967, Pope Paul VI issued general norms for the restoration of the permanent diaconate where requested by episcopal conferences. More than four decades later, 46 percent of the Church's 37,203 permanent deacons serve in the United States, according to figures published in the 2011 Catholic Almanac, while an additional 5 percent serve in other parts of North America. A third of the Church's deacons minister in Europe, 13 percent in South America, and approximately 1 percent each in Africa, Asia, and Oceania. There are more permanent deacons in the Archdiocese of Chicago than in all of Africa and Asia combined.

By a very wide margin, the Archdiocese of Chicago leads the United States in the number of permanent deacons (643), followed by Galveston-Houston (386), New York (374), Trenton (357), San Antonio (352), Los Angeles (315), St. Louis (274), Hartford (272), Rockville Centre (265), and Boston (258). Twenty dioceses have more than 200 permanent deacons, and an additional 39 dioceses have between 100 and 200.

Just as some episcopal conferences have not deemed it prudent to request the restoration of the permanent diaconate, some US dioceses have yet to ordain a permanent deacon, though they permit permanent deacons ordained elsewhere to exercise their ministry there. There are 15 dioceses with fewer than 10 permanent deacons, and another 15 with between 10 and two dozen.

The 20 most "deacon rich" dioceses in the United States—those with the highest ratio of permanent deacons to Catholics—are Fairbanks, Tyler (Texas), Amarillo, Bismarck, Lexington (Kentucky), Rapid City (South Dakota), Pensacola-Tallahassee, Omaha, Tulsa, Peoria, Marquette (Michigan), Nashville, Oklahoma City, Superior (Wisconsin), Knoxville (Tennessee), Memphis, Mobile, Des Moines, and Savannah. Statistics show that there is no conflict between fostering the permanent diaconate and fostering priestly vocations. In 2008, seven of these dioceses—Amarillo, Bismarck, Lexington, Nashville, Rapid City, Tulsa, and Tyler—were among the 20 in the US with the highest ratio of seminarians to Catholics. Tyler was particularly "deacon rich" and "seminarian rich," ranking second in the nation in both categories.

According to the 2011 Catholic Almanac, whose information is current as of January 2010, the dioceses in the United States with the lowest ratio of permanent deacons to Catholics include Greensburg (Pennsylvania), Kansas City (Kansas), Las Vegas, Lincoln (Nebraska), San Jose, El Paso, Fresno, Wichita, New Ulm (Minnesota), Grand Island (Nebraska), Owensboro (Kentucky), Pittsburgh, Fort Wayne-South Bend, Brownsville (Texas), Madison, Los Angeles, Orange (California), San Bernardino, and Monterey. Since January 2010, a few of these dioceses have ordained large numbers of deacons: Bishop Joseph Pepe of Las Vegas has ordained 19, and Bishop David Zubik of Pittsburgh has ordained 43.

One of these "deacon poor" dioceses, the Diocese of New Ulm, has begun a diaconate formation program, and Bishop John LeVoir is scheduled to ordain a dozen deacons next April. "In the history of the restored permanent diaconate, we have come to our formation program late; in the history of the Church, it is only a very minor delay," says Deacon Mark Kober, director of the diocese's diaconate program, who explained that resources were scarce "in a large geographic diocese without a seminary or Catholic university."

Of the 20 "deacon poor" dioceses, five—El Paso, Las Vegas, Los Angeles, Orange, and San Bernardino—are also particularly "seminarian poor," being among the 20 in the nation with the lowest ratio of seminarians to Catholics in 2008. However, three dioceses—Lincoln, Owensboro, and Wichita—are simultaneously "deacon poor" and "seminarian rich," with Wichita ranking fourth and Lincoln ranking first in the nation in the ratio of seminarians to Catholics.

"Beginning a formal permanent deaconate program has been discussed in the past in our presbyteral council, among our pastors, and in other forums in the diocese, and, in each instance, it was recommended that our bishop not begin such a program," explains Amy Pavlacka, the Diocese of Wichita's director of communications. "Because there is not a need for additional ordained ministers in our diocese, having a permanent deacon program in our diocese has not been our top priority."

"We have a need to have all of the laity in our diocese involved in the work of the local Church," she adds. "To this end, our efforts have focused more broadly in forming catechists, forming holy families, [and] creating an atmosphere of stewardship whereby everyone takes an active part in their faith."

"The question of whether or not to ordain permanent deacons has been discussed on multiple occasions by the presbyteral council of the diocese, and the presbyteral council has not recommended that we ordain permanent deacons," says Father Daniel Rayer, chancellor of the Diocese of Lincoln. "We have a large and very rural diocese with many small parishes, and we do not suffer from a severe shortage of priests as some dioceses do. In light of this, there are questions about whether there is a genuine need for permanent deacons in the diocese, concerns about the practicalities of a training program in such a vast territory as our diocese, and also concerns that a permanent deacon program could negatively impact vocations to the priesthood."

Deacon-rich dioceses

Bishops and other officials of deacon-rich dioceses typically attribute their high numbers to pastoral need and active recruitment.

"I believe necessity—the shortage of priests and women and men religious—brought about the response of many native men to become permanent deacons in our Yup'ik Eskimo region," says Bishop Donald Kettler of Fairbanks, the nation's most deacon-rich diocese. Because many villages are visited by a priest only once every four to six weeks, "our deacons celebrate Communion services and Liturgy of the Word services in the absence of the priest, [as well as] baptisms, funeral liturgies, marriages, and the catechesis for all of these sacraments and services. Most important, they bring their own native culture and understanding to their diaconate ministry in the villages where they have lived most of their lives."

"We actively recruit in areas where there are no deacons, hoping to find a vocation that will assist parishes and communities in need," says Deacon Max Schwarz, who leads the Archdiocese of Oklahoma City's diaconate ministry. "This is a large archdiocese in area, with much of it being rural. There are many small parishes serving large areas…. The deacon, because of his ordination, can bring a number of ministries to these areas."
There's much more.  Read it all.