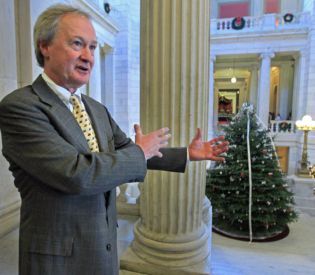 Trouble is taking root, and spreading:
Rhode Island Gov. Lincoln Chafee unwrapped a Christmas conundrum when he erected a "holiday" tree in the Statehouse, incensing the Roman Catholic Church, many residents and even the tree farmer who donated the 17-foot-tall spruce.
The holiday hubbub comes to a head Tuesday evening when Chafee presides over a tree-lighting celebration at the Statehouse. The event will feature Santa Claus, a gingerbread house, examples of "holiday" trees from around the world and a specially decorated tree honoring military service members.

In protest of Chafee's secular spruce, a Republican state lawmaker plans to light a Christmas tree an hour later at her legislative office. The Catholic Diocese will host its own Christmas tree lighting just up the street.

Local talk radio host John DePetro of WPRO has taken to calling Chafee "Gov. Grinch" and is urging listeners to crash the holiday tree lighting while singing "O Christmas Tree."

Chafee, an independent, insists that he's simply honoring Rhode Island's origins as a sanctuary for religious diversity. Religious dissident Roger Williams founded Rhode Island in 1636 as a haven for tolerance, where government and religion would forever be kept separate. Chafee also notes that previous governors have used the term "holiday" tree.

"Use of the term `holiday tree' is a continuation of past practice, and does not represent a change of course on my part," he said in a statement.

Chafee's attempts to diffuse the controversy have so far backfired. He encouraged his critics to use their "energy and enthusiasm to make a positive difference in the lives of their fellow Rhode Islanders."

Instead, his office received 3,500 calls of protest, with all but 700 coming from out of state. According to a tally by Chafee's spokeswoman, his office received only 92 calls supporting his choice of words.
Bishop Thomas Tobin, head of the Roman Catholic church in Providence, said the governor's decision to call it a holiday tree was "most disheartening and divisive." The diocese said it would hold a competing lighting — of a Christmas tree, naturally — at a parish a block from the Statehouse.