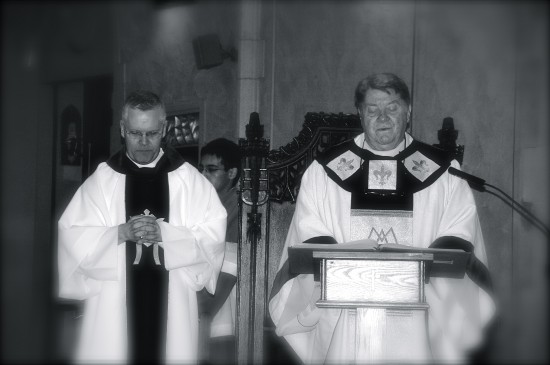 Over at Catholic Sensibility, blogger Todd Flowerday is walking through the GIRM and has come to a section about Mass with a Deacon:
171. When he is present at the celebration of the Eucharist, a Deacon should exercise his ministry, wearing sacred vestments. In fact, the Deacon:

a) assists the Priest and walks at his side;

b) ministers at the altar, both as regards the chalice and the book;

c) proclaims the Gospel and may, at the direction of the Priest Celebrant, give the Homily (cf. no. 66);

d) guides the faithful people by giving appropriate instructions, and announces the intentions of the Universal Prayer;

e) assists the Priest Celebrant in distributing Communion, and purifies and arranges the sacred vessels;

f) carries out the duties of other ministers himself, if necessary, when none of them is present.
Todd then notes:
There is a virtue in a parish, if not a diocese, being fairly consistent on these functions. In my experience these six points have plusses and minuses in practice.

As a cleric, 171a and b seem quite appropriate, as is the prescription for liturgical involvement when present at Mass.

171c implies preparation. Even when not preaching, proclaiming the Gospel is a significant task that a person is hard-pressed to "wing" without preparation. As such, every deacon candidate should probably be an above-average lector.

171d is the prescription about which I have the most doubts.
What do you think?
Visit Catholic Sensibility and join the discussion.