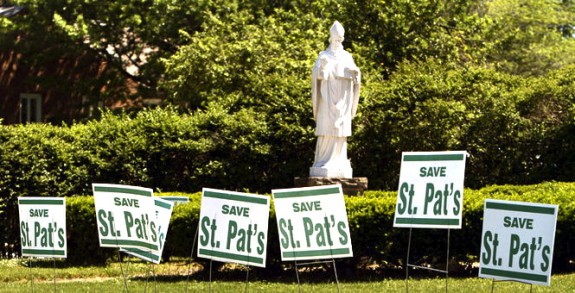 It's a rare reversal — and one that should give other parishes around the country cause for hope.
In an extraordinary move, the Vatican has reversed Bishop Richard Lennon's closings of 13 churches in the Catholic Diocese of Cleveland, saying the parishes must be restored and the sanctuaries reopened for worship, according to activists who fought the closings.

The diocese could appeal the reversals.

The 13 parishes had filed appeals with the Vatican after Lennon, between 2009 and 2010, closed 50 churches in the eight-county diocese, citing changes in demographics and shortages of priests and cash.

Since the closings, parishioners have been swamping Rome with flurries of letters, arguing that their parishes were vibrant communities wrongfully snuffed out by the diocese.

Some parishes like St. Patrick in Cleveland's West Park neighborhood hired Boston activist Peter Borre and canon lawyers in Rome to argue on their behalf.

Borre, who regularly traveled to Rome representing Cleveland parishes, said Wednesday that the reversals of Lennon's closings are "unprecedented for Catholic America."

Borre said the Vatican's Congregation for the Clergy, the panel that handled the appeals, ruled in favor of the parishioners regarding both closing procedures and canon law.

"This is very significant because it means that Lennon erred procedurally and substantively," Borre said in an email to The Plain Dealer. "If he had been reversed only procedurally, he could re-boot, start the procedure again and fix the procedural error.

"But he cannot fix a substantive error [regarding canon law]."

Borre said Lennon can either comply with the Vatican's decrees or, within 60 days, appeal to the Apostolic Signatura, the Vatican's supreme court.

The bishop could also stall, saying he doesn't have enough priests or money to reconstitute the parishes, said Borre.