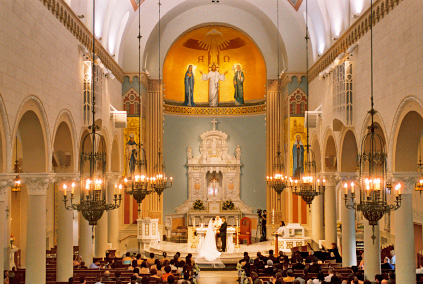 Some provocative insight on the state of marriage from the church in Australia:
Women should marry earlier and not be too picky to avoid an Aussie man drought, the Catholic Church has warned.
Australia is experiencing a huge decline in the number of available men, with the church telling women they should also forget about living with their partners before tying the knot.

Statistics have revealed that there are dramatically fewer eligible blokes than single women aged 25 to 34.

The dire outlook has been backed by Federal Liberal MP Kevin Andrews, who is researching changes in marriage and families in Australia and has suggested the swing towards de facto partnerships wasn't helping.

But Fr Tony Kerin, episcopal vicar for justice and social service in the Archdiocese of Melbourne, said today's women wanted the best of both worlds.

"Are women getting too choosy? I'd say yes," Fr Kerin, speaking on behalf of the archdiocese, said.

"I think many are setting aside their aspirations for later, but by the time they get around to it, they've missed their chance. In trying to have it all, they end up missing out."

Fr Kerin said the rate of marriage in Australia had halved despite nearly four in five people still wanting to settle down.

"For many, it remains an unattainable dream," he said.

Statistics show that 78 per cent of Australian couples now lived together before they married.

But Fr Kerin said de facto relationships were twice as likely to break down compared with couples who had not lived together.