"There's a recovery phrase that says, 'Stay on the bus; the scenery will change.' It can apply to almost anything where you feel unhappy."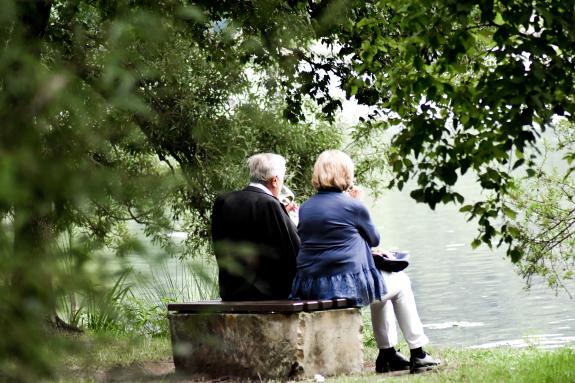 Writer Peggy Drexler looked at Jimmy and Rosalynn Carter's long marriage — 73 years! — and offers some ideas:
The secret to the Carters' success might be as simple as the fact that, well, they chose to stay together. W. Bradford Wilcox, director of the National Marriage Project and associate professor of sociology at the University of Virginia, has said that long-lasting couples adopt a commitment to "marital permanency," as he told the Washington Post in 2016. "They don't see divorce as an option."

Or, at the very least, they don't act on it. In her book "Wedding Toasts I'll Never Give," the writer Ada Calhoun recounts asking her mom, in a fit of frustration with her husband, how she had stayed married. Her mother's response: "Don't get divorced."

The actor Jamie Lee Curtis expressed a similar sentiment when asked about her longtime marriage to actor-director Christopher Guest. "It's a fascinating thing," Curtis told Today in 2015. "I could write a book on marriage called 'Don't Leave.'" She later elaborated in an interview with Good Housekeeping. "There's a recovery phrase that says, 'Stay on the bus … the scenery will change,'" she said. "I think it can apply to almost anything where you feel unhappy in that moment. I'm not a wild romantic. I'm a realist. I respect him. And I just don't leave."

At the core of this philosophy is an understanding that happiness is elusive, and often as much a result of a deliberate decision as it is of external circumstances. Buddhists believe that contentment is a choice, a conscious act of feeling secure with what you have, and who you are, right in the moment. The Carters aren't Buddhists, but it's not unreasonable to think this may be an attitude they share with many others who've managed to weather the ups and downs of marriage. Their partnership has endured because they chose to make it endure.
I remember celebrating an anniversary dinner with my wife several years back.  The server at the restaurant asked us how long we'd been married — it was 26 or 27 years, I think. She was flabbergasted and wanted to know our secret.
"Patience," I replied.
"Prayer," said my wife.
Which tells you all you need to know about what it's like to live with me.