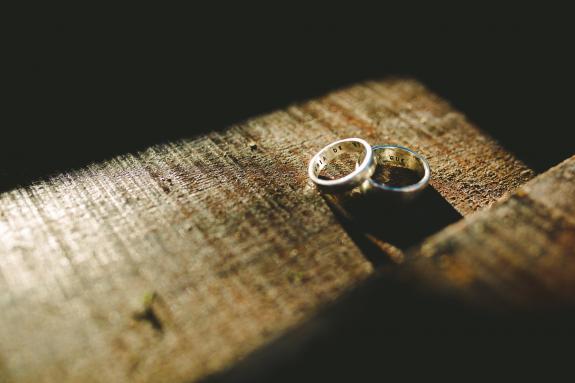 A wonderful idea, via America: 
There are certain things you have to accept when you are one of 25 couples getting married during a single ceremony. If you are the bride, for example, you will not be the only woman dressed in white. You also do not choose the readings. And if one of the couples is late to the ceremony, you have to wait.

"We will begin a little late this afternoon," the Rev. Thomas Bennett says in Spanish to the congregation gathered on June 1 at Queen of Peace Catholic Church in Mesa, Ariz., explaining that one couple has been delayed. "I'm happy to announce that, this time, it is not my fault."

The 24 couples roar with laughter. They are sitting next to each other in pews. Some are in their 20s, but others are in their 40s and 50s. Some couples have been living together for years already. Some are in common-law marriages, while others are civilly married. With their families, they easily fill 25 rows of pews on the north side of the sanctuary.
It's a group marriage ceremony, and it's offering a genuine sense of community and witness:
"You are not only sanctifying this people, but the body of Christ, the church," Father Bennett says in his homily. "This is something that can be felt throughout the community. God is blessing us through this sacrament. You are giving your very self to your spouse."

…Queen of Peace has been doing multiple weddings during a single Mass for at least 13 years. In many ways, the ministry reflects the priorities of Pope Francis' "Amoris Laetitia," although the group was formed long before the apostolic exhortation. It is an extension of a couples ministry begun by Jaime and Martha Whitford. Mr. Whitford is a deacon and Ms. Whitford is a licensed social worker; both are from Nicaragua. The community weddings offer the couples—most of whom are immigrants—a way into the sacrament of marriage that is free and low-pressure and offers a supportive community for the sacred rite.

Many of them have been civilly married for years and want to be married in the church to receive Communion. In some cases, they feel unwelcome because of their marital status and have fallen away from the church. Parishes in a number of dioceses, including Los Angeles, Phoenix and Chicago, offer community weddings as a way to bring them back.

"I think one of the great successes of this ministry is that couples do not feel marginalized," Deacon Whitford says. "Instead, they are received and welcomed. They feel like they are an important part of the church."