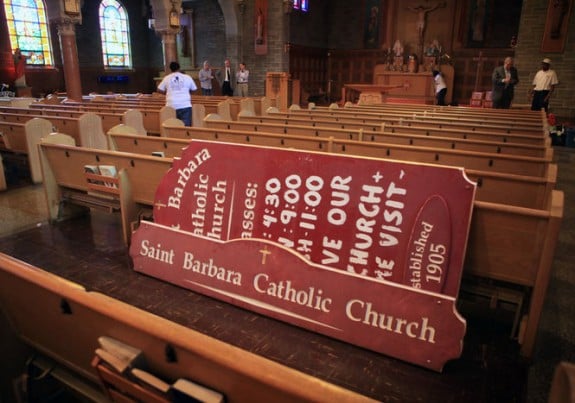 Details, from the Cleveland Plain Dealer:
Cleveland Catholic Bishop Richard Lennon is expected to announce the appointments of up to five pastors Wednesday as he moves forward toreopen 11 mothballed churches.

The bishop had said last month that he hoped to have all 11 — most of them closed for more than two years — reopened by the beginning of August.

Most of the sacred artifacts already have been returned to the closed churches and today work crews began cleaning St. Barbara's on Cleveland's West Side.

"Lots of Murphy's Oil Soap," said the diocese's facilities services director Larry Murtaugh, overseeing the work.

The 11 churches were among 50 the bishop closed over 15 months beginning in 2009 as part of a financial-driven downsizing of the eight-county dioceses.

Parishioners of the 11 appealed to the Vatican in Rome seeking to overturn Lennon's closing orders. While under appeal, the diocese could not sell the properties.

In March, the Vatican issued decrees upholding the appeals, saying Lennon did not properly follow canon law or procedure when he closed the churches.

Lennon had the option of appealing the Vatican ruling, but, instead, he announced in April that he would reopen the churches.

Diocese spokesman Robert Tayek said Tuesday that the first Mass in one of the reopened churches could occur as soon as next month.

"It will be up to the new pastors to announce the opening Masses," he said.
Read the rest and see a photo gallery here.
Photo: Gus Chan/The Plain Dealer