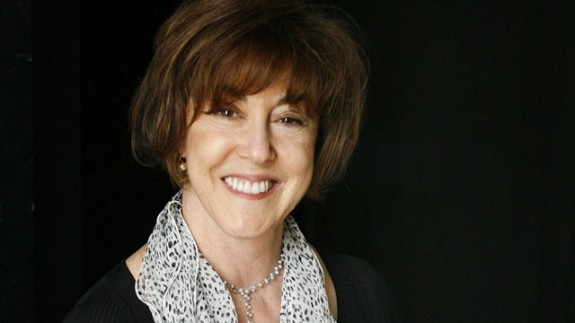 Sad news for all writers, journalists, movie lovers and people who couldn't get enough of "When Harry Met Sally" and "Sleepless in Seattle":
Nora Ephron, the writer and director of American film classics such as "When Harry Met Sally" and "Sleepless in Seattle," died today at the age of 71.

Ephron died in a New York City hospital after a long battle with leukemia and taxing chemotherapy treatment, friends of hers told ABC News.

The three-time Academy Award nominee was a prolific author, screenwriter, playwright and director who made a name for herself as a pioneer in Hollywood, where she was one of the first women to write and direct her own films. She contributed essays and journalism to outlets including the New York Times and the Huffington Post, for which she last wrote a story in June 2011.

She had most recently written the play "Lucky Guy," a drama based on the life of Pulitzer Prize-winning journalist Mike McAlary, which was expected to open on Broadway in 2013 with Tom Hanks in the starring role.

Ephron's marked film career was known for her charming romantic-comedies that often starred such silver screen icons as Meryl Streep, Tom Hanks, and Meg Ryan, with whom she worked multiple times throughout her career. Streep starred in Ephron's first hit film, 1983's "Silkwood," which was directed by Mike Nichols and earned Ephron her first Academy Award for screenwriting.

The pair worked together again on Ephron's memorist film "Heatburn" in 1986, which she based on her tumultuous relationship with her second husband, the journalist Carl Bernstein. Bernstein, who helped crack the Watergate story open at the Washington Post in the early 1970s, reportedly cheated on Ephron during their marriage, which ended in divorce. The couple had two sons before they split, Jacob, now a journalist, and Max, a musician.

Ephron then went on to get two more Oscar nominations for the hit films "Harry Met Sally" and "Sleepless in Seattle" in the 1990s.

A native New Yorker, Ephron was raised by screenwriters in Beverly Hills before attending Wellesley College in Massachusetts. She interned for President John F. Kennedy in the White House after college, but soon decided to pursue journalism rather than politics, she wrote in her 2006 book, "I Feel Bad About My Neck."

"I realized to my sadness that I was probably the only person in the entire Kennedy White House that JFK had not made a pass at. I like to think it was because I had a really bad permanent wave. But I don't know," she wrote. "After I was an intern for JFK, it was very clear to me that Washington was probably not a great place for women."

Ephron eventually returned to live in New York City when she married author and filmmaker Nicholas Pileggio, her third husband, in 1989, with whom she lived until her death.

The last 30 years of American cinema saw frequent hits written or directed by Ephron, including "Michael," "You've Got Mail," and, most recently, "Julie and Julia," but she was also a bestselling author and, late in life, a playwright.

Ephron's 2006 collection of essays about aging, "I Feel Bad About My Neck," was a New York Times bestseller, and was followed up by her 2010 collection, "I Remember Nothing." She co-authored a hit Off Broadway play, "Love, Loss, and What I Wore," with her sister Delia.
Thank you for the wit, the wisdom, and all those words, Nora.
UPDATE: I found this online, a great essay about her years in journalism from her last collection of essays, and printed in Elle. It concludes:
I believed in journalism. I believed in truth. I believed that when people claimed they'd been misquoted, they were just having trouble seeing their words in cold, hard print. I believed that when political activists claimed that news organizations conspired against them, they had no idea that most journalistic enterprises were far too inept to harbor conspiracy. I believed that I was temperamentally suited to journalism because of my cynicism and emotional detachment, which I sometimes allowed were character flaws, but didn't really believe.

I married a journalist, and that didn't work. But then I married another, and it did.

Now I know that there's no such thing as the truth. That people are constantly misquoted. That news organizations are full of conspiracy (and that anyway, ineptness is a kind of conspiracy). That emotional detachment and cynicism only get you so far.

But for many years I was in love with journalism. I loved the pack. I loved smoking and drinking Scotch and playing dollar poker. I didn't know much about anything, and I was in a profession where you didn't have to. I loved the deadlines. I loved the speed. I loved that you wrapped the fish.

I'd known since I was a child that I was going to live in New York eventually, and that everything in between would just be an intermission. I'd spent all those years imagining that it was going to be the most exciting, magical, fraught-with-possibility place I could ever live; a place where if I really wanted something, I might be able to get it; a place where I'd be surrounded by people I was dying to know; a place where I might become the only thing worth being—a journalist. And I'd turned out to be right.