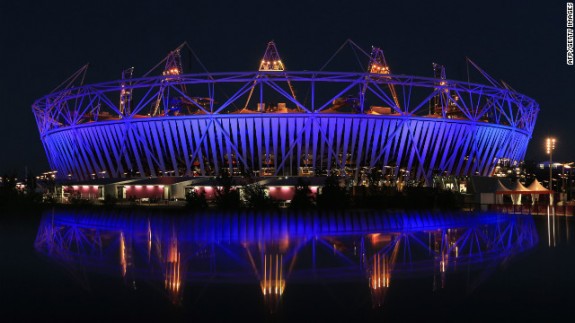 They aren't just playing.  They're praying: 
The Catholic Church of England and Wales is taking advantage of the Olympic Games to evangelize London locals, the thousands of tourists in the city for the events, and the athletes as well.

Speaking to Vatican Radio, James Parker, Catholic executive coordinator for the Olympic Games, reported that not only is daily Mass celebrated within the Olympic Village, it also has the "highest attendance at any of the religious services."

"There are a number of athletes and officials from various nations who are coming there every day and they are placing Christ at the beginning and the center of all they do," he said.

"People are beginning to come out of their homes they want to meet, to be together for festivities. The Churches have been preparing for this. The Catholic Church and other Christian communities have organized festivals to harness this community spirit. So that people have the opportunity to speak about what brings joy to their lives and an opportunity to speak about Christ," Parker said.

One year ago this month, Pope Benedict XVI told the future of the global Church that their task was to bring Christ to the ends of the earth and among contemporary society. Again this month he repeated this mandate in his missionary prayer intentions for August: "that young people, called to follow Christ, may be willing to proclaim and bear witness to the Gospel to the end of the earth."

Proving that they earnestly take him at his word, young Catholics from 21 nations have invaded London's Olympic borough, pitching their tents on the green lawns of Bonaventure's Catholic high school, creating their own "Joshua Camp."

Over the next three days, these young men and women, boys and girls will be attending daily catechesis, prayer vigils, Eucharistic Adoration and Mass in the shadow of the Olympic stadium.