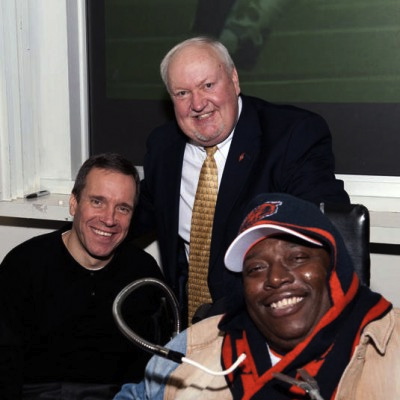 With football season here, now is as good a time as any to take a look at the remarkable work being done by a deacon in the sports field — but OFF the field.
He's Deacon Don Grossnickle from the Archdiocese of Chicago, and he is the co-founder of Gridiron Alliance, described thusly:
The Gridiron Alliance was organized to help improve the lives of student-athletes who have been seriously injured or paralyzed playing school sports and to advocate for school sports safety to help prevent such injuries from occurring in the future.

Despite best efforts to improve school sport safety, every year, a dozen young athletes will become paralyzed from injuries they received from high school football alone. The injured students will continue to fight their injury long after the game is over and the spectators have gone home.
From Deacon Don's biography:
The Gridiron Alliance provides resources, programming, and mentoring for student-athletes who rehabilitate from these life-altering injuries.  Grossnickle was the National Executive Director of the Center for Compassion and Healing 2010-2011.Grossnickle's accolades include being presented with the St. Stephen the Deacon Award by the Chicago Archdiocese leader Cardinal George Francis in 2006, which recognized his work with spinal cord injured athletes. He received the prestigious Horace Mann Lifetime Achievement Award for his service to the school community by the Illinois Principal's Association. In 2004 he was recognized by the World Ability Federation and was presented with the Ann Sullivan-Helen Keller award. Today, Grossnickle continues to serves a half-million Catholics throughout Chicago and its suburbs as Director of Outreach for Persons with Disability, a regional program administered by the Archdiocese of Chicago.
As if that weren't enough, he's just published an inspirational book, "Unbreakable Resilience":
Since the mid 1970s, eight, Chicago area high school athletes have suffered catastrophic, spinal cord injuries in hockey and football. With their bodies no longer capable of moving as it did once before, the nightmare is compounded by the polarizing response of others: even the most loyal of friends begin to slip away, anxious to move past the event, and get on with their own lives.

But for author Don Grossnickle, Ed.D., the effect is in reverse; he is drawn to their plight while others flee.  As a minister, he discovers something remarkable about the durability of the human spirit, and the ability of that spirit to reinvent itself amid tremendous odds. Dubbing them the "eight broken neck boys of Illinois ," Grossnickle immerses himself in the comeback world of short and long term comeback stories seeking to discover and share the secrets of being able to successfully tap into unbreakable resilience.

Unbreakable Resilience provides insight on what it is like to live inside an immobilized, disobedient body that is otherwise bound to an active mind, heart, spirit and soul.  For most, living with a catastrophic, spinal cord injury is a fate worse than death. Each young man must rally on a daily basis to manage and lift his spirits. It's this determination that captures Grossnickle's attention.
I can't think of a more profoundly diaconal ministry—serving, uplifting, ministering to and inspiring the people of God.
Do yourself a favor and check out the website for Gridiron Alliance.  And check out the one for "Unbreakable Resilience," as well, along with Deacon Don's blog, where he notes:
As a boy scout camp counselor I dove into the lake and pulled a drowning swimmer from the bottom, did CPR and restored life. Next, while on a camping trip a friend slipped and fell off the top of a canyon rim and tumbled 60 feet to the shallow water below. God helped me jump down, perform first aid for his broken neck, ruptured spleen, and bleeding from the head. Thankfully he recovered through a miracle of God. I no longer wonder, as it is clear, at least part of my mission in life and my mission as a deacon is life-saving: COMEBACK RESILIENCE. I think every person has this calling to be willing to "lay down one's life for another"…at least try and do something tangible to relieve the suffering of another. Unbreakable resilience benefits from the synergy of a helping hand-a friend in need, that is always a friend indeed!

I think that the days since ordination in 1988 have afforded me opportunities to shape my ability to rescue others in peril. I thank God for the vision to see the plight of others and mobilize feelings of compassion and healing to attack suffering. Suffering I have learned can give way when struggle replaces helplessness and hopelessness. I am clear that my witness in walking the journey with persons with disability has taught me the benefit of never walking the comeback journey alone. Ideally, the power to rise after a fall comes from within. However, the solidarity of encouragement, love and support and be a catalyst, a difference maker. I am called by the Cardinal and Vicar for Deacons to spring forth a new day of caring and compassion now to lift up those who must deal with disability. What a burden and joy it is to call and ask others to be helpful and leave behind their comfort zone to reach out and lift up those who cannot rise because the burden alone is too much to bear. How satisfying it is when another ventures forth and says: "here I am Lord,I come to do your will"..what can I do to lift up someone who needs a miracle? It is in the begging and humility that transformation and transcendence becomes enlivened. We are each potential puzzle pieces of fulfillment in another's comeback journey, that is if, we can foresee the beauty of the life mosaic that sparkles with the brilliance of wholeness, healing, completeness.