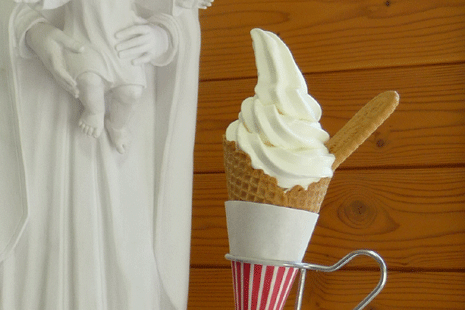 They've given us everything from fruitcake and fudge to candy and soap and even bonsai trees and caskets.
(Of course, let's not forget ale!)
Now, the Trappists are getting into the ice cream business. Details:
Scrumptious cookies, artisan butter, and fine butter-based candies: these are some of the products of Hokkaido's Trappist abbey for male Religious, and they are famous throughout Japan.

Last year, these Trappists launched a new line of soft-serve ice cream. At 320 yen (about US$4), it is on the expensive side, and it can only be purchased at Our Lady of Pharos Monastery in Hokuto City, Hokkaido, some 670km north of Tokyo. Ever since the ice cream's introduction, rave reviews have appeared online for its "unforgettable taste."

The soft-serve will remain on sale through early November. When eaten together with one of the renowned Trappist cookies, the result is "double delicious."

Tourists visiting the Trappist shop had been requesting ice cream, so Abbot Kunihiko Yoshimoto put the idea to the rest of the abbey about two years ago. A team of 12, including both monks and lay employees, was assembled, with Brother Makoto Kamata at the head.

This team collaborated with industry experts to refine the recipe in a process including three tasting sessions and lots of research and discussion. The distinctive taste of the resulting ice cream comes from its use of the famous Trappist butter. The butter is cultured with lactic acid, giving it a rich flavor and a tantalizing aroma.

The monastery is somewhat removed from civilization, causing Br. Kamata to worry. But as rumor of the soft-serve spread, the monks found a hit on their hands, with 20,000 people served in just the past year.